Today marks 14 years since Funsho Williams was assassinated and Nigerians have taken to social media to again demand justice for his murder.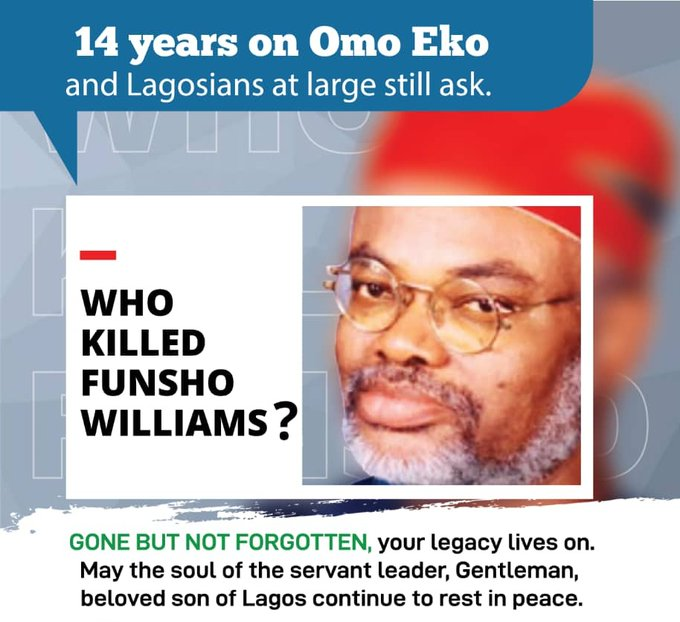 Funsho Williams was assassinated on July 27th, 2006 at his Ikoyi residence.
His death came a few months before the 2007 governorship election in Lagos state where has been tipped to emerge.
The former Commissioner under Colonel Olagunsoye Oyinlola's Military Administration in Lagos had grown in influence in the state that many was 'convinced' he would become the state's governor after the 2017 elections.
The six suspects arrested for his murder have since been released after the court claimed there are no sufficient evidence against them
See how Nigerians are remebering the late political sage below:
Those who think that by ending a life they can erase a legacy or destroy a memory must be in discomfort today as in many areas of Lagos, Engr. Funsho Williams is being remembered today, 14 years after his brutal murder.

Kudos bro, @GRVlagos for the effort – history remembers! pic.twitter.com/0rkRCfVYpv

— Demola Olarewaju (@DemolaRewaju) July 27, 2020
The painful question still echoing across Lagos, 'Omo Eko' still desperately listening for a response goes unanswered!!
WHO KILLED FUNSHO WILLIAMS?!!!

A thread . pic.twitter.com/bAFk4vRoC7

— GbadeboRhodes-Vivour (@GRVlagos) July 27, 2020
Today we remember the life of a great leader; Engr. Funsho Williams , he was an excellent politician that cared for his people.
He was murdered in cold blood, and years later his killers are still free roaming the space in Lagos.
May his gentle soul continue to Rest In Peace. 🙏🏼

— Somto Onuchukwu (@chosensomto) July 27, 2020
Today July 27th makes it exactly 14 years that Funsho Williams was assassinated in his Ikoyi home at Dolphin Estate. Nigeria is yet to unmask Who or those responsible for the gruesome assassination. #WhoKilledFunshoWilliams pic.twitter.com/CVNmbOhsWn

— Towolawi Jamiu (@jharmo) July 27, 2020
14 years ago Funsho Williams was assassinated, till date the murderers are yet to be caught. pic.twitter.com/yaItraVbv4

— Edo Boi (@Eromosele6) July 27, 2020
14 years ago @OfficialPDPNig lost his top striker for the 2007 gubernatorial elections, till today the killers of funsho williams are not known. A day like this well meaning supporters of the PDP should ask the @MBuhari government to investigate the death.

we will never forget. pic.twitter.com/QqDdINg6q9

— Iyanuoluwa (@omobabaijebu101) July 27, 2020
Funsho Williams was assassinated at his residence in the early hours this day (27th, July) in 2006. He's generally regarded as the best Governor Lagos never had. Who killed Funsho Williams?

— 👑LORD Marshal👑 (@rugzzy) July 27, 2020
Today In History:
14 years ago today, Funsho Williams was assassinated.

I remember after almost every news bulletin on Radio and TV they will as the question "WHO KILLED FUNSHO WILLIAMS"?

— If¥™ (@nnekei) July 27, 2020
Towards the gubernatorial contest of 2007, Funsho Williams was set to run again and this time he was even more formidable and a massive threat .He had to be stopped and he was stopped so brutally' bound, strangled and stabbed to death on the 27th of July, 14 years ago, today.

— GbadeboRhodes-Vivour (@GRVlagos) July 27, 2020
Funsho Williams was offered the senatorial seat of Lagos East but he ceded it to Adeseye Ogunlewe , same thing he did when offered a federal appointment, keeping his eyes firmly on alausa.

— GbadeboRhodes-Vivour (@GRVlagos) July 27, 2020
When I saw Funsho Williams trending, I thought they have finally apprehended the killers after 14years. MAY HIS SOUL CONTINUE TO REST IN PEACE pic.twitter.com/0kScRfJAGx

— OLU SAGE (@mideloxine) July 27, 2020
The thought of Funsho Williams death breaks my heart.
Continue to rest Man of Honour.

— Premier (@SodiqTade) July 27, 2020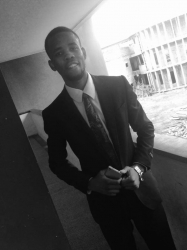 Latest posts by Adelowo Adegboyega
(see all)

Submit press release, news tips to us: [email protected] | Follow us @ODUNewsNG