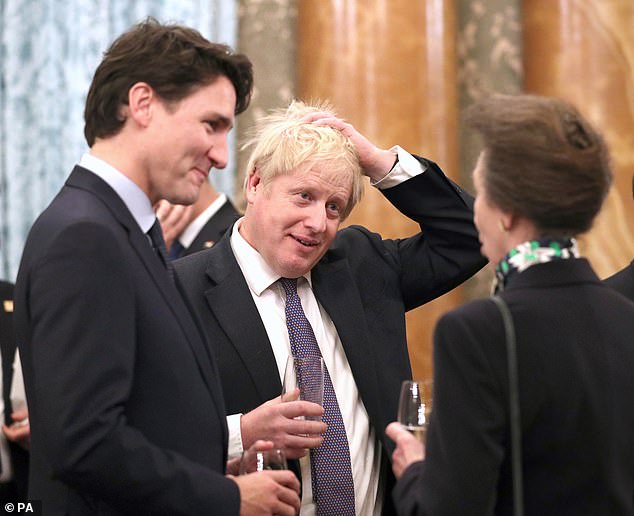 Canadian Prime Minister Justin Trudeau was caught on video  alongside British Prime Minister Boris Johnson and Macron making jokes about Trump and the video has since generated lots of reactions.
The world leaders at the ongoing NATO summit are celebrating the 70th anniversary of the transatlantic alliance.
See the video below:
WATCH: World leaders appear to joke about President Trump during NATO summit in London https://t.co/Yo351VfYY4 pic.twitter.com/93MVj0xR40

— CBS News (@CBSNews) December 4, 2019
The United States President has however reacted to the video.
Trump tagged the Canadian prime minister, Justin Trudeau, as 'two faced'.
Honestly with Trudeau, he's a nice guy,' the president added after a long pause.
He then explained his theory on why Trudeau said what he did, arguing the prime minister mocked him because he gave Trudeau grief during their sit down on Tuesday about Canada not paying enough in fees to be a member of the NATO alliance.
'I find him to be a very nice guy but you know the truth is that I called him out on the fact that he's not paying 2 per cent and I guess he's not very happy about it,' Trump said.
'He's not paying 2 per cent, and he should be paying 2 per cent. It's Canada. They have money. And they should be paying 2 per cent. So I called him out on that, and I'm sure he wasn't happy about that, but that's the way it is. Look, I'm representing the U.S. And he should be paying more than he's paying. And he understands it. So I can imagine he's not that happy. But that's the way it is,' he added.
At their Tuesday meeting, Trump noted Canada is 'slightly delinquent' in its NATO payments but added: 'But they'll be okay. I have confidence.'
'Some are way below 1 per cent and that's unacceptable. And then if something happens we're supposed to protect them and it's not really fair and it never has been fair and they're paying up,' he added.

Submit press release, news tips to us: tips@odunews.com | Follow us @ODUNewsNG