Following the Central Bank's decision to redesign the naira notes, there have been fears among many Nigerians about differentiating between genuine new notes and fake ones.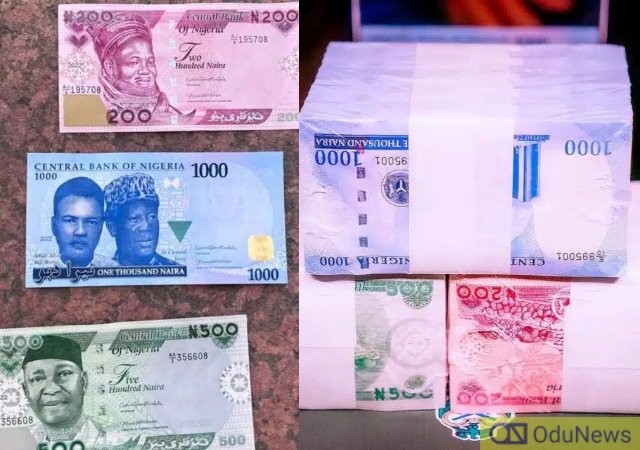 There are reports that the fake notes are already in circulation. It is based on this that OduNews presents five easy ways to identify the fake new note.
According to the CBN, the new notes are protected by several security features to recognise genuine notes easily. The distinguishing features which can be recognised by touch and visibility are the raised print, the security thread and the watermark. The portrait, lettering and the denominational numerals on the obverse and reverse of the notes are embossed.
Below are the five easy steps put together by OduNews to differentiate between fake and genuine naira nites:
There is a gold seal at the bottom right-hand side of the original note and this seal cannot be erased when scratched. The fake note may not have this gold seal and if it does, you should try to scratch it. The seal genuine note will remain there when this is done but the fake will be erased.
There is a slim-like strip that runs from the top to the bottom. This strip or thread is always present in every original note. A fake note cannot have this strip but can only have a line that resembles it. You should pay close attention to this strip as it is an effective way to differentiate between a fake and genuine note.
Another way to identify the fake new naira note is the picture quality. The drawings and colours on a genuine note are usually precise and sharp while that of the fake notes look blurry and botchy. To test its colour quality, you can place the note in front of a light. If the note is fake, the inks will be seen spilling out of the images.
To determine whether a naira nite is fake or genuine, you can apply water or other liquid. To do this, immerse the note in water or petrol and rub it gently against your palm. If the note is fake, you will see the colours on the note washing off.
A mercury bulb, if available, can also be used to identify the fake new naira note. Some features on the notes are hidden and can only be seen when placed under a mercury bulb.

Submit press release, news tips to us: tips@odunews.com | Follow us @ODUNewsNG