Introduction
The blue checkmark, a symbol of verified identity on Twitter, has undergone a significant transformation ever since Elon Musk took control of the company in October. With the relaunch of the subscription-based Twitter Blue service, the platform has not only revamped its verification process but also introduced new features for paying users.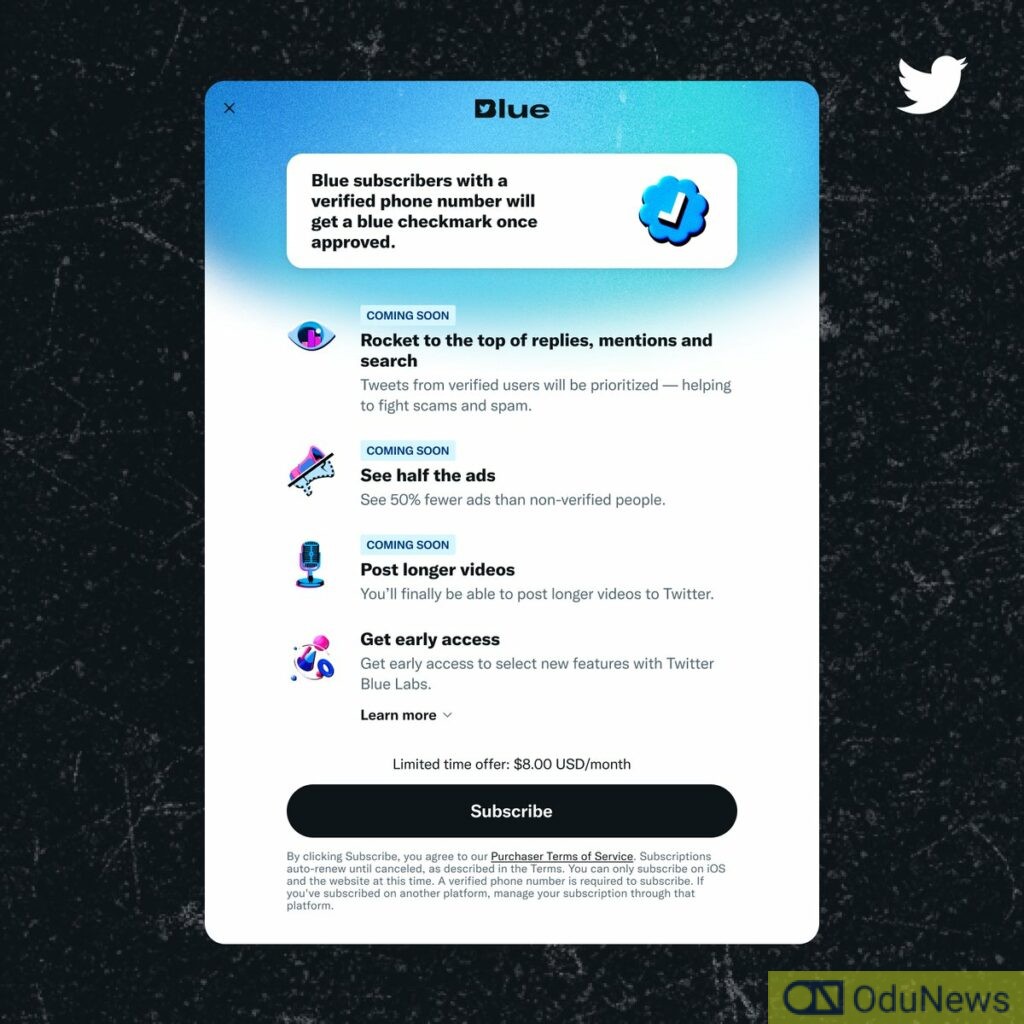 Twitter's Blue Checkmark: A Notable Shift
Historically, Twitter's blue checkmark served to confirm the identities of high-profile users such as government officials, corporations, journalists, and celebrities. However, Musk's disdain for these groups has prompted a change in the platform's approach to verification. Starting April 1st, Twitter will wind down the legacy verified program and remove legacy checkmarks, urging users to sign up for the Twitter Blue subscription to retain their blue checkmarks.
The Rise of Twitter Blue
Initially launched in 2021, Twitter Blue offered power features like undoing a tweet and saving bookmarks to folders. The relaunched version, introduced by Musk in November 2022, includes the blue checkmark for paying users, alongside other features such as editing tweets up to five times within 30 minutes, creating tweets with up to 4,000 characters, posting HD videos, and prioritized placement among replies, mentions, and searches. Additionally, Twitter Blue users will see 50% fewer ads in their home timelines. This subscription costs individuals $84 a year or $8 a month, while organizations pay $1,000 a month for the main account and $50 a month for each additional related account.
Challenges and Revisions
The relaunched Twitter Blue initially faced issues with counterfeit accounts impersonating notable figures, leading to a temporary suspension of the program. Twitter addressed these concerns by implementing stricter measures for reviewing and approving subscribers, ultimately relaunching the program in December 2022.
starting today when you subscribe your account will get access to subscriber-only features including Edit Tweet, 1080p video uploads, reader mode, and a blue checkmark (once your account has been reviewed)

— Twitter Blue (@TwitterBlue) December 12, 2022
intrigued? new and previous subscribers can learn more about purchasing or upgrading their subscription here: https://t.co/8KFv0SbGcK

— Twitter Blue (@TwitterBlue) December 12, 2022
Expanded Verification Options
Twitter Blue is now available worldwide, offering the blue checkmark to individual subscribers for $8 per month ($11 through the iOS app). Organizations can apply for grey checkmarks, designed to verify government officials and organizations, as well as their multilateral institution counterparts. Criteria for obtaining a grey checkmark are more stringent, requiring applicants to use government IDs or valid email addresses and describe their positions and functions. Businesses can apply for gold checkmarks.
Twitter Blue is now available globally! Sign up today to get your blue checkmark, prioritized ranking in conversations, half ads, long Tweets, Bookmark Folders, custom navigation, Edit Tweet, Undo Tweet, and more. Sign up here: https://t.co/SBRLJccMxD

— Twitter Blue (@TwitterBlue) March 23, 2023
Conclusion
The transformation of Twitter's verification system is a reflection of the platform's shifting priorities under Musk's leadership. By monetizing the verification process and introducing subscription-based features, Twitter seeks to diversify its revenue streams and move away from reliance on advertising. The success of this strategy will ultimately depend on whether users find the additional features of Twitter Blue worth the investment.

Submit press release, news tips to us: tips@latestnaija.news | Follow us @ODUNewsNG