Speaker of the House of Representatives, Femi Gbajabiamila, and his deputy, Ahmed Wase, were engaged in an open heated exchange during plenary on Wednesday.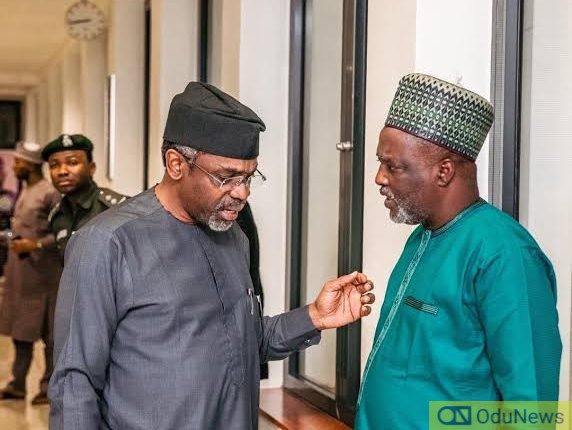 Both men openly disagreed over the duration of Thursday's plenary as the speaker insisted that proceedings should be short enough to allow him and other members attend the official commissioning of the permanent site of the National Institute for Legislative and Democratic Studies.
The deputy speaker on his part maintained that the work of parliament should come first and members who would like to attend the commissioning should do so without affecting Thursday's plenary.Towards the end of the session, Gbajabiamila asked the Chairman of the House Committee on Rules and Business, Abubakar Fulata, to prepare a light order paper for Thursday as the sitting should close by 2 pm to allow members to attend an event at the National Institute for Legislative and Democratic Studies.
Miffed by the announcement, Wase said, "Mr Speaker, I'm getting to see this getting so funny and we have lost quite a number of periods of time. For the commissioning of projects for God's sake! Why do we have to shelve a lot of activities that we have just to go and witness the commissioning of a project of NILDS?
"I want to beg, sir, that we should do our functions. Those who have the interest to go, they have the right to. But our main primary function in this parliament is to make law and our citizens should be our priority."
As Gbajajabiamila was responding, saying, "Perhaps, DS, you don't appreciate the importance of NILDS like some of us do. I think NILDS is very important," the Deputy Speaker interjected, "I have every information and idea of what NILDS is!"
The Speaker stated, "It was set up by this same institution by statute. We are not adjourning the House to go to NILDS; what I said was, 'Let's try and make it light and leave here by two.' If you want, we can resume by 10(am). We will do our work but we will adjourn this House at 2 pm. I will witness the NILDS (event) because it is important to me."
Rising against, Wase replied to the Speaker, "The parliament is about us, not about 'I.'"
Shocked by the Deputy Speaker's outburst, Gbajaabiamila said, "Mr Deputy Speaker, this is the first time in history…I have been in this House for many years, perhaps even longer than anybody here…this is the first time in history that a Deputy Speaker will be challenging what the Speaker is saying."
Wase fired back, "I don't understand what you mean by challenging, sir. That I should not make my contribution?"
Ignoring the Deputy Speaker's last comment, Gbajabismila said, "Let me repeat please: Chairman Business and Rules, please make the order paper very light. We are adjourning this House by 2 pm tomorrow."
Wase had protested the zoning formula of his party, the All Progressives Congress (APC) for the leadership of the about-to-be inaugurated 10th National Assembly while Gbajabiamila had backed the party's endorsement of Abass Tajudeen (Kaduna) as his successor and Ben Kalu (Abia) as Wase's successor.

Submit press release, news tips to us: tips@odunews.com | Follow us @ODUNewsNG