The National Economic Council (NEC) has made a passionate appeal to the Nigerian Labour Congress (NLC) and the Trade Union Congress (TUC) to reconsider their impending indefinite nationwide strike scheduled to commence on October 3, 2023.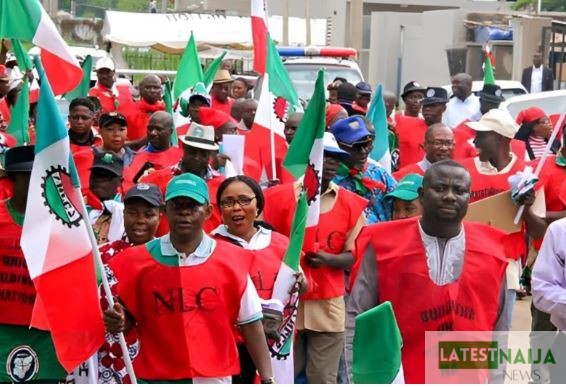 This appeal was made during a NEC meeting chaired by Vice-President Kaashim Shettima on Thursday in Abuja.
The NLC and TUC had earlier directed their members to prepare for an indefinite strike action to press for various demands, raising concerns about the potential repercussions on the nation's economy.
Speaking to newsmen after the NEC meeting Caleb Mutfwang, Governor of Plateau State and a prominent member of the NEC emphasized the need for continued dialogue between the organized labor unions and the federal government to find lasting solutions to the issues at hand.
He disclosed that several state governors had taken proactive steps to engage with the labor unions in their respective states.
"The National Economic Council (NEC) deliberated on the planned indefinite strike by the National leadership of the Nigeria Labour Congress (NLC) to proceed on an indefinite strike on Oct. 3, 2023," Governor Mutfwang said, acknowledging the gravity of the situation.
"The council noted further the implications of the planned strike on the economy and the nation and thus urged members to continue to engage with the leadership of their respective states."
Governor Mutfwang extended the NEC's appeal to the organized labor unions, requesting them to temporarily suspend their strike action and prioritize constructive dialogue with the Federal Government. He stressed the importance of finding a peaceful resolution to the issues raised by labor.
In addressing the concerns raised by the NLC, the NEC expressed its belief that President Bola Tinubu would be addressing the nation on October 1, 2023, and it anticipated that some of the labor concerns would be addressed in the President's speech.
"It is, therefore, important to note that it's a federation issue, so whatever happens, labor is represented in all the 36 states and the Federal Capital Territory (FCT)," Governor Mutfwang added. "And NEC is appealing that discussions should continue at the state levels because there will be peculiarities as to the issues to be addressed concerning the demands of labor, and therefore, dialogue is the way to go."
The NEC's call for continued dialogue reflects a growing concern about the potential consequences of an indefinite nationwide strike on the Nigerian economy. As the nation watches closely, both labor unions and the government are expected to engage in further discussions to find common ground and resolve the issues at hand.
President Bola Tinubu's forthcoming address on October 1st holds the promise of shedding more light on the government's stance and its commitment to addressing the concerns raised by labor.

Submit press release, news tips to us: tips@latestnaija.news | Follow us @ODUNewsNG