In a shocking turn of events, an explosion and subsequent fire engulfed the Rivers State House of Assembly complex on Sunday night.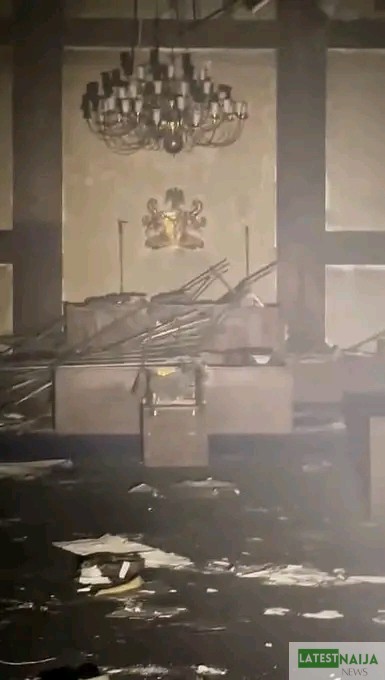 The incident unfolded at approximately 10 p.m. on Sunday night, shrouded in mystery as the cause of the explosion and ensuing blaze remains unknown as of our report's filing.
Efforts to combat the raging fire were swift and massive, with more than ten fire trucks dispatched to the scene to bring the inferno under control. The billowing smoke and flames that emanated from the iconic assembly building created a grim spectacle, drawing the attention of onlookers and concerned citizens.
The security situation surrounding the Assembly complex escalated rapidly, with security agents from the nearby Rivers Police Command taking immediate control of the premises. Furthermore, a fire truck remained stationed on the grounds as a precautionary measure, underscoring the severity of the incident.
This unsettling occurrence transpired amidst swirling speculations regarding an impending impeachment procedure against Governor Siminilayi Fubara.
Rumors abound that lawmakers within the House of Assembly were gearing up to commence impeachment proceedings against the Governor, alleging a longstanding discord between the executive and legislative branches of the state government.
Reports suggest that the strained relationship between Governor Fubara and his predecessor, who now serves as the Minister of the Federal Capital Territory, FCT, Nyesom Wike, may have contributed to the escalating tensions within the state's political landscape.
The true dynamics of the political situation in Rivers State and the circumstances surrounding the explosion at the Assembly complex are expected to come to light in the coming week as investigations unfold.
The incident has thrown the state into a state of unease, as citizens await answers regarding its cause and potential implications on the political future of the state.
Authorities have assured the public of a thorough investigation into the incident and the maintenance of security in the area while urging residents to remain calm during this period of uncertainty.
LatestNaija.news will continue to closely monitor developments in this evolving situation and provide updates as more information becomes available.

Submit press release, news tips to us: tips@latestnaija.news | Follow us @ODUNewsNG