The Chief Justice of Nigeria, CJN, Justice Olukayode Ariwoola, says that the Supreme Court now has the lowest number of Justices in its history.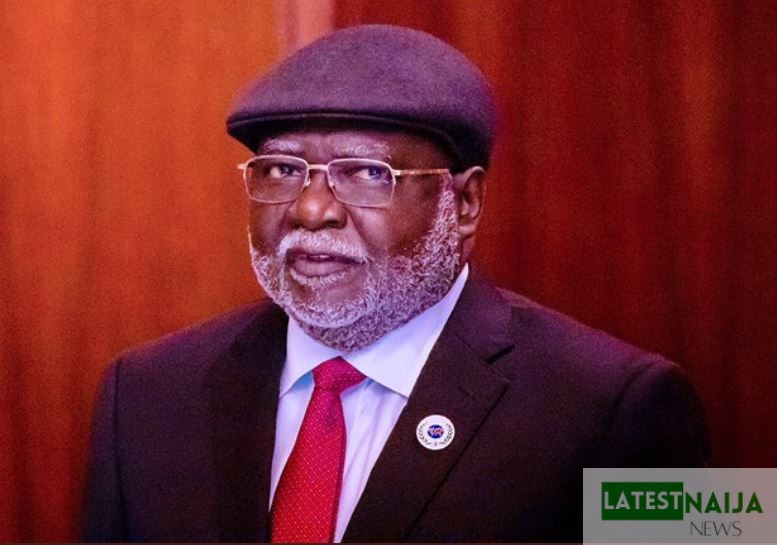 According to him, the apex court has only 10 Justices on its bench to tackle the heavy workload of pending cases.
Justice Ariwoola disclosed this on Friday on the occasion of the retirement of Justice Musa Dattijo Mohammed who attained the mandatory retirement age of 70 years.
The CJN, however, assured that efforts are on top gear to elevate a sizeable Justices to the bench of the Court.
"With Justice Musa Dattijo leaving us today after the retirement of Hon. Justice Adamu Amina Augie a few weeks ago, we are now left with just 10 Justices on the Supreme Court Bench; being the lowest we have ever had in contemporary history of the Court.
"However, I can confidently assure all the litigant public that efforts are in top gear to get on board a sizeable number of Justices to boost our rank and complement the tremendous effort we have been investing in the business of the Court."
The CJN paid glowing tributes to the retired Justice saying, "My Lord Hon. Justice Musa Dattijo Muhammad in whose honour we assemble here today, is an epitome of jurisprudential finesse; an insuperable lion with an irrepressible voice in the temple of justice.
"We are here to identify with an accomplished jurisprudential iconoclast that has offered the best of his intellect to the advancement of the legal profession through his several years of unblemished and incontrovertible adjudications at different levels of Courts in Nigeria.
"His Lordship has, by all standards, made an incisive inroad into the revered history books of the Nigerian judiciary as that gallant and eminent Justice at the Supreme Court bench who inviolably held sway in the discharge of his judicial functions.
"As second-in-command in the hierarchy of the Supreme Court, my Lord, Justice Dattijo, skilfully aided and supported me virtually in every sphere of administration. He is a specimen of hard work, industry, discipline and high moral rectitude.
"He willingly offered every support and encouragement that any leader would always wish to enjoy from a deputy to effectively meander the often stormy coast of court administration.
"So, by this event heralding his 70th birthday anniversary, the time has come to cease from functioning as a Judicial Officer. Immediately after this Court session, a new page will ultimately open in the life of my Lord, which His Lordship and an entirely different set of people, that destiny had already assembled along the path of the second phase of his life, will begin to write on.
"He is, indeed, a jewel of inestimable worth and an icon worthy of celebration and adulation. His Lordship is one judicial officer that could be blunt, even to a fault; and is never known to be afraid to say things the way they are; and also never shies away from calling a spade by its name, irrespective of whose ox is gored.
"Through his mien and conduct, His Lordship has succeeded in erecting an edifice of hope and optimism in the minds of his teeming admirers; and even generations yet unborn who will be privileged to access and behold his great works in the judicial landscape that have already been well-documented and displayed conspicuously in the shelves of various libraries across the world.
"My Lord, before I end my speech, I will urge you to passionately cherish and relish every moment of your life because, ordinarily, this ceremony we are all witnessing today will never take place again in your life time. From the depth of our hearts, we say happy 70th birthday to you and sincerely wish you good luck and God's grace in all you do."

Submit press release, news tips to us: tips@latestnaija.news | Follow us @ODUNewsNG