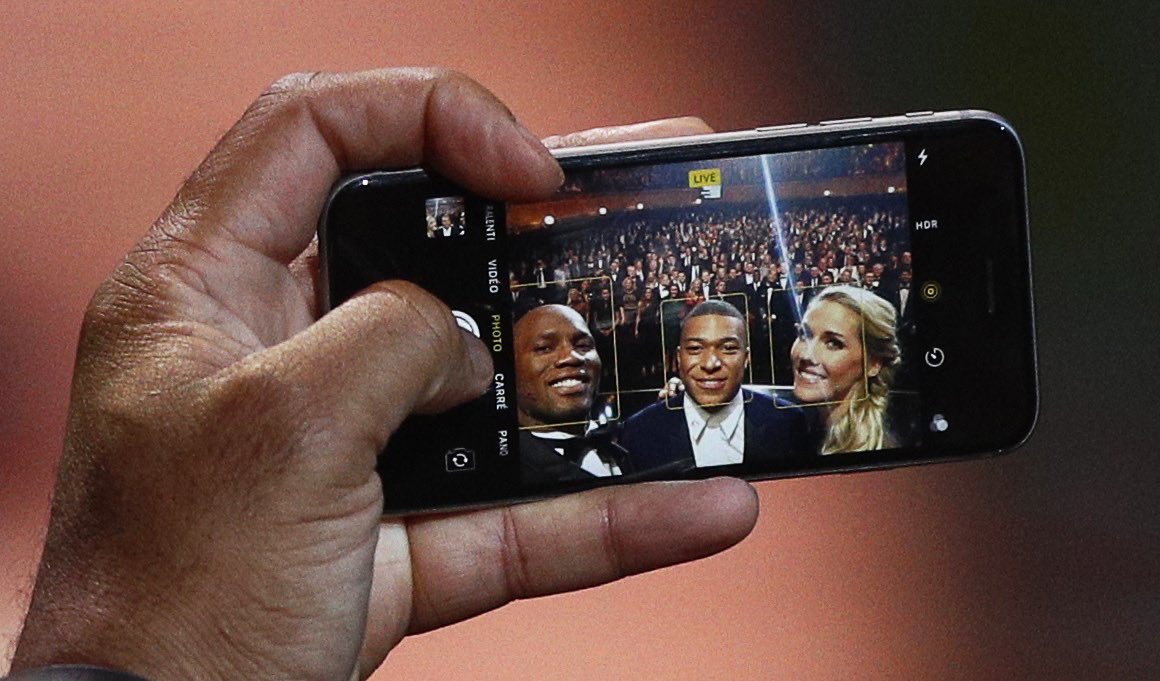 Nigerians definitely have their way of making issues out of anything that comes their way and yesterday's event in Paris gave us something to talk about.
Asides the many highlights of the event last night, Nigerians focused on Didier Drogba's Iphone 6.
Didier Drogba jokingly called out PSG star, Kylian Mbappe, for a selfie and asked the crowd present to join the selfie.
Although a beautiful picture was captured, Nigerians focused more on the 'means' rather than the 'end'.
See some twitter reactions below:
https://twitter.com/iam_ibrahim01/status/1201588693825392641
https://twitter.com/mrmanhere_/status/1201772493423419392
In this life, I mean inside life, do not let anybody rush you. See a successful man like Didier Drogba still using an iPhone 6!
If you can't afford the latest gadget in the market, you are not a failure#BallonDor2019 pic.twitter.com/vlKXb8kVIw

— EPIC FAILS 🤪 (@Jenkky_2fit) December 2, 2019
The issue of Didier Drogba & iPhone 6 reminds me of Mark Zuckerberg & shows how many Africans in this case Nigerians get freaked out by material things. We av an "insatiable appetite" for Cars, phones & clothes. My anger is that we don't even produce or manufacture these things! pic.twitter.com/GR0673Vomj

— ԀЄMıҠҺѦʏ Africa TV (@infonaija_247) December 3, 2019
Drogba worth millions of pounds still using iPhone 6 of 5 years ago!!!!
Stop trying to impress anyone at you own peril

be confident with whatever you own.

— 𝐆𝐁𝐏𝐬𝐭𝐚𝐛𝐥𝐞 (@GBPstable) December 2, 2019
If I have 1 iPhone 6 and 1 iPhone 6s does that mean I have iPhone 12s pic.twitter.com/9LfOZbnN8m

— 𝑆𝑎𝑖𝑛𝑡 𝑝𝑎𝑝𝑖 𝑡ℎ𝑒 𝐶𝑟𝑜𝑠𝑠 ✞ 🇬🇧 (@yourexWavy) December 2, 2019
What if the IPhone 6 Drogba is using is just his small phone🤔 pic.twitter.com/csFrEHuDpL

— 🦅.. (@Givethanks_1) December 3, 2019
People saying : Drogba worth $90m, he uses iPhone 6.

May Weather worth $565m, he uses iPhone 11 pro max, owns a watch that's more than Davido's net worth, owns 7 Roys Royce.

Everybody get wetin them like, STOP FOOLING YOURSELVES, claiming sense for person money & spendings😤😤

— Enas Richie (@enas_richie) December 3, 2019

Submit press release, news tips to us: tips@odunews.com | Follow us @ODUNewsNG