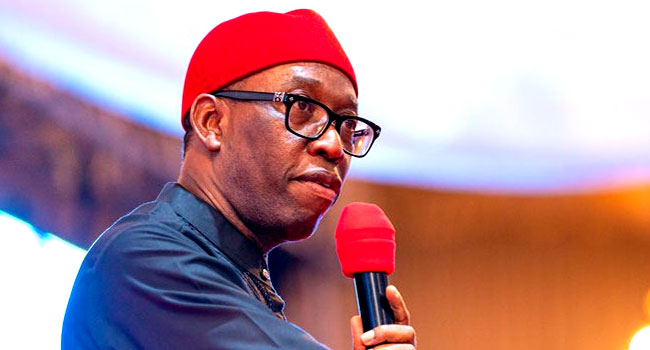 Ifeanyi Okowa, governor of Delta state, says Nigeria fared better under the leadership of the Peoples Democratic Party (PDP).
The PDP governed Nigeria for 16 years before the All Progressives Congress (APC) took over in 2015.
Okowa, who is the chairman of the PDP south-south governors' forum, said the opposition party will steer the nation back to the path of progress, if it reclaims power in 2023.
Speaking on Tuesday at the party's south-south zonal congress in Port Harcourt, the Rivers state capital, Okowa commended the PDP in the south-south for speaking "with one voice".
He added that the region will continue to remain strong and united, and will do its best to ensure that the PDP reclaims leadership of the country in 2023.
"That has been the strength of our party, and we will continue to thank God and continue to build on the gains of the past," Okowa said.
"We will continue to be a voice in the zone in national politics and continue to work in unity.
"We are hopeful because our nation was better under PDP, and the party would reposition the country if it comes back to power."
Okowa said the governors in the zone will continue to work in close relationship with the south-south zonal leadership, as well as the state chapters, adding that the strength in the unity of the party will take the PDP to a higher level.