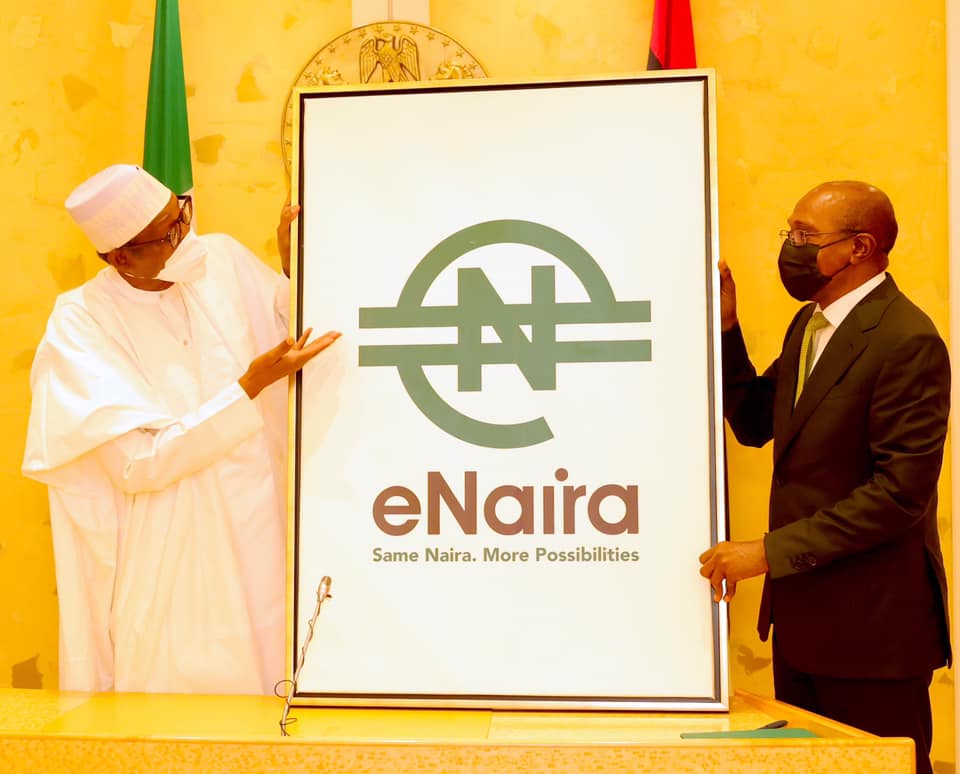 eNaira, the Africa's first central bank digital currency (or CBDC), is being neglected by Nigerians.
BusinessDay found an internal CBN chart that suggests 487,000 eNaira app downloads by end of year. Only 416,280 are actively using the app, according to this data.
347,720 downloads didn't work out. The app is installed on mobile devices but people have yet to fully use it. Although the CBN managed to onboard 229,360 account holders, only 168,380 of these accounts are active.
Out of 168,380 account holders who have followed the Wallet step by step setup, only 80 are merchants. While the 80 merchants have funded their wallets, the number of individuals that have done this is just 18,460.
Merchants who spoke to BusinessDay say the eNaira app is not popular among buyers, and thus it does not allow for payment by the app.
Employees at Odejeme, an exclusive clothing store in the market, talked to this reporter about how they still do not use eNaira because they have alternative institutions like bank and card apps.
Despite its initial popularity, eNaira's low usage rates among individuals could also stem from the offline nature of the service.
Sources close to the Central Bank of Nigeria said that the apex bank is working with SWIFT, a global provider of financial messaging services, to connect the eNaira currency to other CBDCs for ease of international payments.
In order to succeed, a new procedure would need many countries to launch CBDC, mainly developed countries that control the most common currencies on the planet. The intention is to develop a gateway that enables SWIFT to intercept, translate and send eNaira around the world.
To date, only a few countries have implemented CBDCs successfully. The Bahamas, Nigeria, Eastern Caribbean Currency Union countries and others have all been able to implement CBDCs effectively so far.
The Eastern Caribbean Union implemented a solution for cryptocurrency to support those without bank accounts.
The seven countries involved are Antigua and Barbuda, Dominica, Grenada, Montserrat, St. Kitts, Nevis, Saint Lucia, St. Vincent & the Grenadines.
In May, SWIFT announced that Capgemini was looking at tests to link various CBDCs for cross-border transactions.
With a strong partnership with Capgemini, SWIFT will be able to focus on specific uses cases including a central bank customer's converting "CBDC to CBDC, fiat to CBDC and then back again to 'fiat.'
Thomas Zschach, chief information officer at SWIFT, suggested that a CBDC-only test would not be effective.
"The global CBDC ecosystem risks becoming fragmented with many central banks creating their own digital currencies based on different technologies, standards, and protocols. Today, we need to have one standardized international platform that facilitates interoperability between these digital coins," said Zschach.
The CBN is hoping to significantly make international transfers cheaper, but this idea may take longer than expected. During the creation of a CBDC, countries such as China will be in the launch phase and haven't yet fully released their e-yuan.
Abimbola Omotola, assistant vice president at Chapel Hill Denham explained that the eNaira is likely to succeed if it were open to consumers without a Bank Verification Number (BVN). While data show the majority of Nigerians that are financially excluded do not have BVN, banks worldwide do have more than 59 million accounts linked to a BVN. This emphasizes the fact there are still millions of unverified bank accounts in Nigeria and many more who connect but don't have one.
Omotola suggests that by opening the eNaira to those without bank accounts, the CBN will directly be financially including millions of Nigerians. This is not a problem that has lingered for many years and for which it has set a target of 95 percent by 2024.
Ignoring Nigerians without BVN will mean the addressable market for eNaira is only for Nigerians with BVN. This market already has its attention divided by the many digital banking innovations being provided by commercial banks, fintech companies, and recently telecom companies.
"The key challenge is that it has found very little adoption. The unique selling point of the product is very weak," said Omotola. "If you look at what the product is doing, it's not offering anything different from what other payment apps are doing," she said.
At present, banks simply don't see a business case. Banks claim they want to layer their services on top of the CBN-owned, eNaira which is difficult to do because of the CBN's tight control over that network. In the absence of a viable business case, publicizing the eNaira is not feasible for most banks.
If they don't let banks market their services on the eNaira technology, the Central Bank should pay banks to market eNaira by giving them an incentive. A source who wished to remain anonymous says that when the Central Bank refused to provide incentives for banks, banks stopped marketing eNaira.
The eNaira is revolutionary for those banking needs that have already been satisfied. The currencies are interconnected, and transactions are a breeze.
"The banks and the Central Bank of Nigeria are actually partners, and that is vital to achieve the goal of financial inclusion with so many people having access to these technologies" said Omotola.

Submit press release, news tips to us: tips@odunews.com | Follow us @ODUNewsNG