Billionaire businessman, Femi Otedola, on Tuesday declared his support for the presidential ambition of Bola Ahmed Tinubu and this has stirred reactions from a cross-section of Nigerians on social media.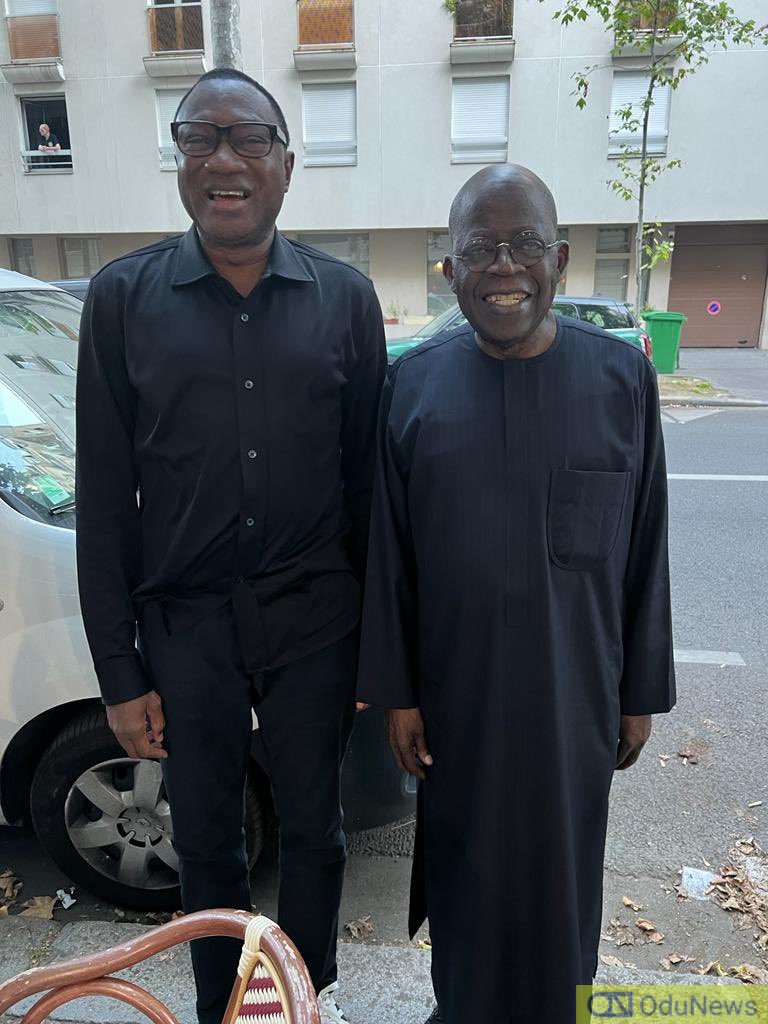 Tinubu is currently in France holding 'important meetings' according to his spokesperson, Tunde Rahman.
Otedola's visit to Tinubu comes after that of the Ogun State governor, Dapo Abiodun, who visited the APC national leader in Paris on Monday.
The businessman, who described Tinubu as his 'great friend', prayed that the APC presidential candidate wins the 2023 presidential election.
I am always excited visiting my Great Friend Asiwaju Ahmed Bola Tinubu @officialABAT

May God grant him his heart's desire in becoming the President of this great Nation …F.Ote💲 pic.twitter.com/RaUkSPnxeb

— Femi Ote$ (@realFemiOtedola) July 5, 2022
Otedola's tweet has since generated comments from some social media users.
Many berated Otedola for throwing his weight behind the APC's candidate while others hailed him for making his support public.
See some comments below:
OBI-dients fuming in the replies lol, you put an elite on a pedestal & get angry when they move like the humans they are; protecting personal interests & sticking to friends/acquaintances.

Nigerian elites will always work for each other, our Job is to put one that works for us🤷🏽‍♂️

— Ugwunna Ejikem (@UgwunnaEjikem) July 5, 2022
80% of people attacking Otedola on this post are Igbos.

Why do you all hate Tinubu like this? I really want to know what he did or it's just generational hatred that you people had for Awolowo that is being passed to him?

— Olalekan Adeyemi (@Olaadeyemi20) July 5, 2022
A Humble man that has the tenacity and capacity to turn Nigeria into a great Nation ..thanks F.O for checking up on your Bro
We are BATIFIED NATION

— Am Kunleakanni(jp) (@Kunleakanni3) July 5, 2022
Nigerians needs maturity,
Its a breach of fundamental human right if u think people doesn't have their own right to choose their own candidates.
If he say Tinubu thats his own choice
Am for Tinubu thats my choice
And am not preventing anyone from supporting his/her choice

— AA&A (@AdamsAbdlrahman) July 5, 2022
@realFemiOtedola… you sabi person. Only someone with brain sabi person with brain. God bless you for making your intentions known! Nigeria must be great with @officialABAT

— A.Y.O (@smogjoe22) July 5, 2022
The ordinary Nigerian is just like Femi Otedola. Ote stands to gain more business grounds if Tinubu wins. Most people who are anti-Tinubu will do same if they have something good to gain. That doesn't mean he's the man for the job, it just means this is how humans are wired.

— Umeh💡 (@UmehWrites) July 5, 2022
The elite do not want a working society because they are a direct beneficiary of the rot in the system. More Elites like Femi Otedola will still support Tinubu but then the masses who feel the suffering and the pain are more. This fight for Good Governance is for our survival ✊

— NK£M #PeterObi2023 (@Nkemchor_) July 5, 2022
I understand the misguided pressure to align with Tinubu at the expense of a better Nigeria so your businesses can continue to thrive and survive in Lagos that he owns.

This is the fate of the likes of Femi otedola ,pastor Poju, Adefarasin to even as little as billboards etc

— Mavis Ikpeme (@mavisikpeme) July 5, 2022
To point out this. Otedola isn't hungry we know. He has a right to support anybody he wants. But to think he has nothing to gain from a Government/President is another thing. Nothing "kills" a businessman faster than unfavorable Government policies in the area of their business

— Turaki of Ilorin (@McDivad) July 5, 2022
No Femi Otedola @realFemiOtedola during #owomassacre no Femi Otedola during #EndSars #lekkimassaccre no Femi Otedola during #ASUU strike, then all of a sudden Femi Otedola is praying Tinubu becomes the next president while his children goes abroad?? Las las na one vote Femi get

— Sophia (@Sophiaservice53) July 5, 2022
Otedola has been paid

— Roviel 😏 (@ObongRoviel) July 5, 2022
This Otedola man and his likes are part of the principalities Nigerians need to fight. Government enabled monopolists and Oligarchs whose business are threatened by a rich public and market competition.We will fight to redeem this country from their hold https://t.co/aXo4ZHQYku

— UncleTobe_PeterObi (@tochimadu) July 5, 2022
Dangote will support BAT but he won't come out openly and say it. Technically, Otedola did not endorse BAT, he just went to visit his good friend and prayed on his aspirations. See, these elites know how to swerve so bad. Or you think they didn't switch on GEJ dying minute? Lol https://t.co/1EkDNnwFNs

— 𝘼. 𝙄. 𝙈. 👨🏽‍🚀 𓃵  (@AimThaMachine_) July 5, 2022
One man, one vote.

One for Otedola, one for Dipo, one for Emeka, one for Aliyu.

One man, one vote. Don't moan, don't cry. Don't abuse, don't fight. Go and campaign and get ready to vote!

— Dr Dípò Awójídé (@OgbeniDipo) July 5, 2022
Submit press release, news tips to us: tips@odunews.com | Follow us @ODUNewsNG