Former Governor of Anambra State and Presidential candidate of the Labour Party, Peter Obi, is being celebrated by Nigerians as he clocks 61 today.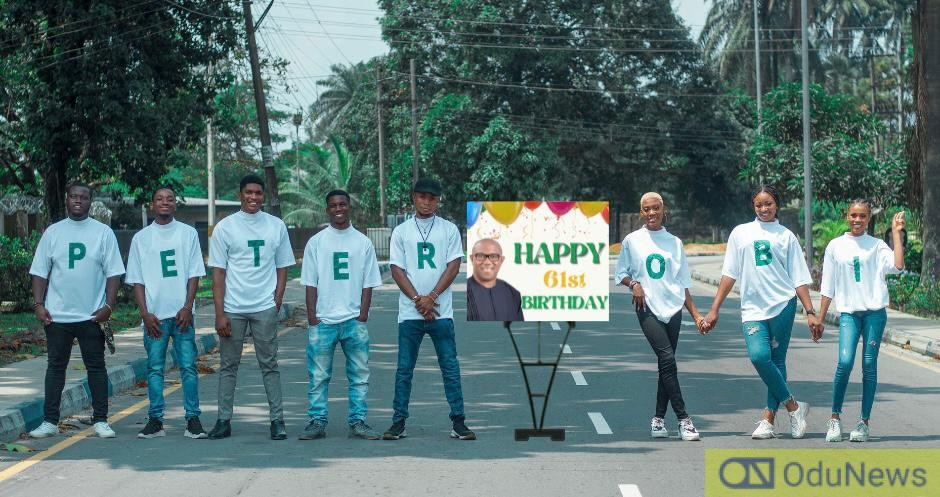 Peter Obi who is arguably Nigerians favourite internet politician at the moment has received praises from socio-political groups and Nigerians.
The apex Igbo socio-cultural organisation, Ohanaeze Ndigbo Worldwide described Obi as a "game changer, soldier of morals, democracy archetype, the popular sentiment of youth politics, an abundance philosopher, prudent resource manager, ethnic barrier-breaker and a quintessential Igbo audacious icon".
Ohanaeze noted that Obi still remains an exceptional Nigerian politician who served as a state governor and left office with neither taint, tarnishes or blemish.
"While Obi was busy setting standards of good governance for posterity, some other myopic, timid, and mundane governors were busy with the unconscionable primitive acquisition of wealth to the detriment or impoverishment of the very masses that voted them into office. Quel domage!
"The current events in the Nigerian democratic space is a veritable lesson to the incumbent and indeed to the generations yet unborn. Obi was the governor of Anambra State between 2006 and 2014.
"What goes for Obi today is the awesome quality service he rendered to his people as a governor; and of course, the dispositional humility, character comeliness and intellectual acumen that define his public conduct", the group said.
Supporters have also taken to social media to celebrate the LP presidential candidate
Happy Birthday My President!🎉
You've shown us the path to light and freedom,
You've brought us hope after so many years of failed leadership,
You've shown us that democracy is truly Govt of the people, by the people & for the people.
God bless you H.E @PeterObi #PeterObiAt61 pic.twitter.com/O8hd12ZGZD

— Ene Ogaba🇳🇬 (@ene_ogaba) July 19, 2022
Happy birthday HE @PeterObi. On this day, we've nothing more to say than remind you of the great task ahead, while reassuring of our unalloyed support and commitment to the course. With you, we believe that a better Nigeria 🇳🇬 is possible #PeterObiAt61 #WhoaTinubu #Ambode #Rita pic.twitter.com/grpcxjuLyR

— Emeka Nwachukwu (@roxemex25) July 19, 2022
Happy birthday, my elder brother and Oga @PeterObi. May God bless you abundantly, today and always. #PeterObiAt61 pic.twitter.com/YDM34nE0WO

— Dr Joe Abah (@DrJoeAbah) July 19, 2022
Happy birthday man of the moment and our incoming president @PeterObi
You will lead Nigeria out of this obscurity. Wishing you many more celebration and good health.#PeterObi4President #PeterObiAt61 #PeterObiForPresident2023 pic.twitter.com/2sbIRmPdwq

— Quency Quencies (@OdogwuDab) July 19, 2022
In the spirit of his 61st birthday, my People, if you can, please cook rice, meat, & share with neighbors, especially those who don't have anything to eat. Visit the Orphanage & put some smile on their faces. May God bless us as we do so#PeterObiAt61 #HappyBirthdayPeterObi

— NEFERTITI (@firstladyship) July 19, 2022
Happy Birthday HE. Peter Obi.
May the blessings of the lord be with you and may your dream to restore the glory of Nigeria come true in 2023.#PeterObiAt61 #PeterObiForPresident2023

|Ebubeagu Penalty Last Last Ambode Kwara Poly| pic.twitter.com/EMVM21BARc

— Nwoke Oma Osiso 💖 (@UzoigweAnthony2) July 19, 2022
Happy birthday to a truly magnificent
leader! Your leadership is second to
none and so very inspirational. Thank you for inspiring a new generation of leaders. 2023 is yours, Insha allah. Pls, share your personal encounter with PO in the comments. #PeterObiAt61 #PeterObi2023 pic.twitter.com/H2JaAD5uoH

— Aji Bussu Onye Mpiawa azụ 🏳️‍🌈 (@AfamDeluxo) July 19, 2022
Happy Birthday to our distinguished Principal @PeterObi , a man of uncommon grace and unique abilities. On this day of #PeterObiAt61 , we celebrate the Hope you have given to us as Nigerians, and we pray for long life, health & victory to actualise your well-meaning aspirations. pic.twitter.com/erY0TD8CQA

— Take Back Naija (@TakeBackNaija_) July 19, 2022
God bless this day because it's the day the Savior of Nigeria was born. God bless the parents who conceived this man. God bless the hospital where he was born. God bless everyone who took care of him growing up. Happy Birthday to the incoming President of NIGERIA #PeterObiAt61 pic.twitter.com/ntH6WHZdAn

— DR.PENKING™ 🇦🇺🇳🇬 #PeterObi (@drpenking) July 19, 2022
Happy Birthday Mr Peter Obi we pray on this day that God protects and keep you alive for your swearing in come 2023. The future of our children and the generations yet unborn deserves your presidency.#PeterObiAt61 #Obidatti2023#ASUUStrike pic.twitter.com/HCcqoYSoQT

— Eli Bipialaka (@EBipialaka) July 19, 2022
The incoming president of Nigeria, HE Peter Obi is +1 today. Very healthy and agile. Full of life and vibrancy. May Almighty Allah continue to bless him and make his dreams come true.#PeterObiAt61 Chiamaka 100 million boys Obi Cubana pic.twitter.com/9KLgJQEEfv

— Ahmed Abdullahi (@AhmedAbdulla09) July 18, 2022
Submit press release, news tips to us: tips@odunews.com | Follow us @ODUNewsNG