There seems to be an unending repertoire of creativity when it comes to TG Omori and music video production and that is evident in the recently released visuals of Fireboy and Asake's 'Bandana'.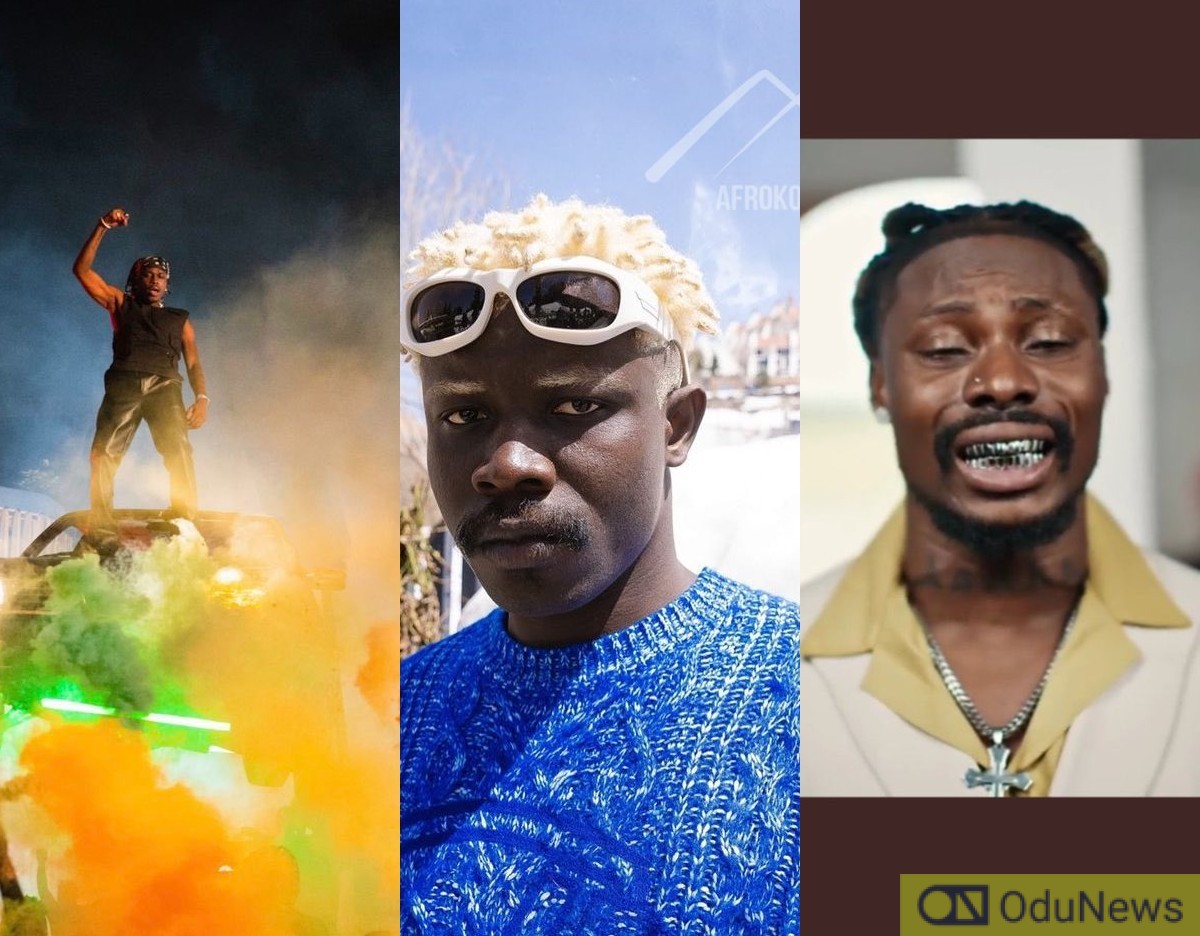 Thank God Omori Jesam, popularly known as TG Omori, has repeatedly shown his dexterity as a music video director and the 'Bandana' video adds to the collection of beautiful works he has churned out.
The synergy between the settings, props and costumes add up to produce a masterful piece and this is evident in the praises the visual has received from fans on social media.
One of such is the video shared by veteran label owner, Don Jazzy. The Mavins boss recorded himself vibing to the song and hailing the creative process put into the work.
The song and the video Dey carry me go where I no know. Epp me epp me. Lol 🙌🏽🙌🏽 pic.twitter.com/n7NqGCUL8L

— ITS DON JAZZY AGAIN. 🐘 (@DONJAZZY) August 16, 2022
Fireboy's standing atop a car in the air, the embers, burning cars, the energetic dance steps, Asake's countenance and the goats surrounding him all add up to create this thrilling video.
Read what fans are saying about the video below:
Both Asake and Fireboy DML are Passing messages. Ologbon lo ye. TG Omori una too sabi. 😂 pic.twitter.com/BJdTpxwCZs

— 𝑺 𝑵 𝑬 𝑯 ➐ (@SnehQueenBee) August 16, 2022
TG Omori finish work for this Fireboy DML x Asake bandana video!🤯🔥 pic.twitter.com/nre1kqhsHa

— DAMI FOREIGN🔮 (@Deevybs) August 16, 2022
Bandana is a fantastic song on its own as Fireboy and Asake dropped a banger in it.

But TG Omori added even more magic to the jam with the video.

The Boy director is just on Fire, boy!

— Chuma Nnoli (@ChumaNnoli) August 16, 2022
TG omori suppose start dey shoot movies, The level of creativity in this Fireboy ft Asake bandana video is Insane 🤯

— 𝔻𝕒𝕪𝕧𝕩𝕩𝕕 (@RealDayvxxd_) August 16, 2022
Watched Bandana's Music Video, said a silent prayer for TG Omori because this creativity of his, need never to run dry!
The G in TG stands for GOAT.

— Ade Piper (@AAdrdiamond) August 17, 2022
TG omori always makes the song way more intriguing..He's the reason i fell in love with "girlfriend". The camera movements, angles and plot just makes it dramatic. Now see what he did with bandana😍#ybnl asake fireboy

— Amaka (@Amakaa_xx) August 16, 2022
Bandana video is the best I've seen this year!!!! TG OMORI >>>>>>>

— Odinaka. (@TheAjibolaGrey) August 16, 2022
You can't watch BANDANA video once and move on. You'll go back to it again and again. Trust me. Fireboy DML x Asake x TG Omori dropped a classic 🔥 🚀

— Tuchel of Calabar ⭐⭐🇳🇱🇳🇬 (@Officially_Kriz) August 16, 2022
You can't watch BANDANA video once and move on. You'll go back to it again and again. Trust me. Fireboy DML x Asake x TG Omori dropped a classic 🔥 🚀

— Tuchel of Calabar ⭐⭐🇳🇱🇳🇬 (@Officially_Kriz) August 16, 2022
TG OMORI please is this a Movie or Music Video? @boy_director You are becoming something else ooo 🔥🔥🔥🔥🔥🔥

Bandana by @fireboydml x @asakemusik Video out now https://t.co/67AYoK08oF pic.twitter.com/v9kLoT4qSR

— Music and Vibes ⏺📶💻 (@musicandvibesng) August 16, 2022
Submit press release, news tips to us: tips@odunews.com | Follow us @ODUNewsNG