President Muhammadu Buhari has called for the cancellation of debt owed by developing countries at the ongoing United Nations General Assembly.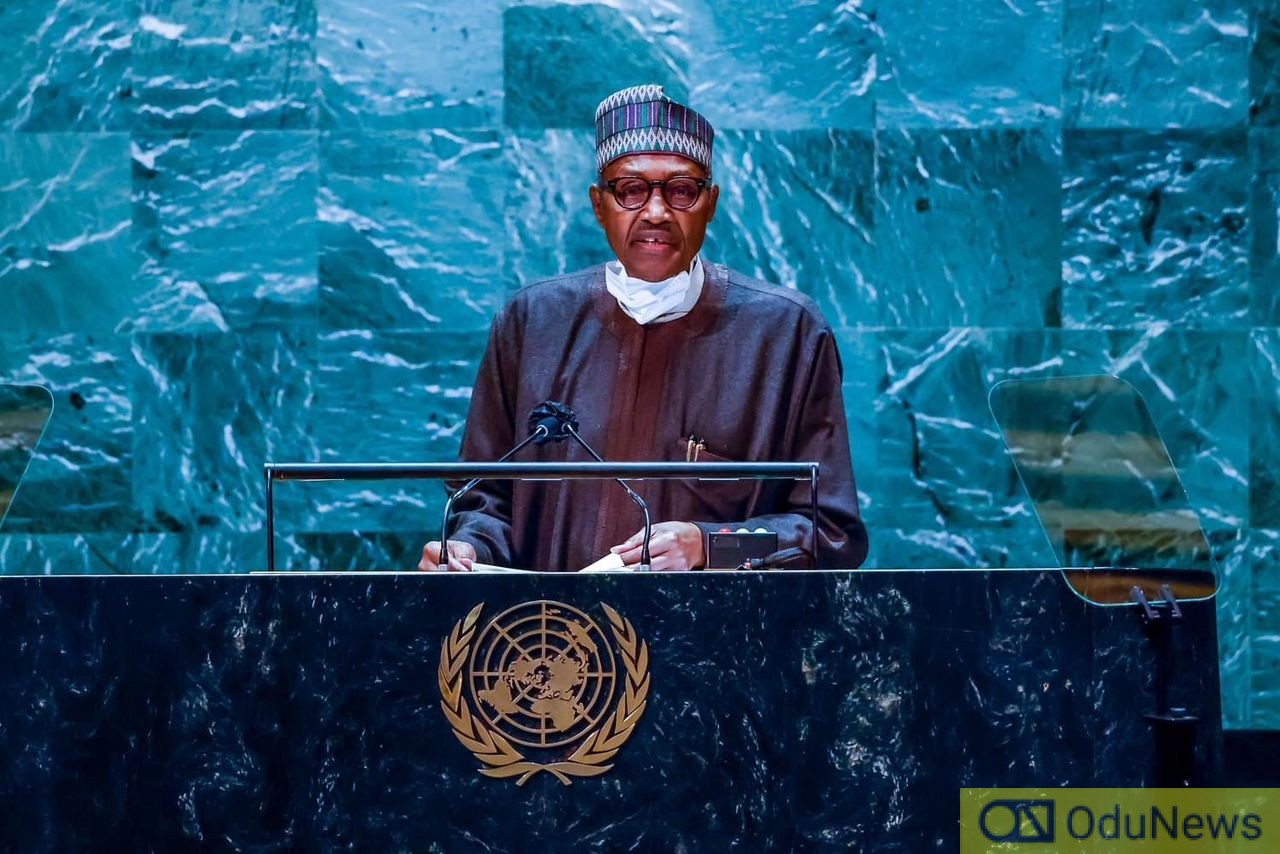 Buhari in his speech implored global partners to do more to complement Nigeria, adding that the challenges facing most developing countries have impacted their ability to address their fiscal place.
The president told the assembly that Nigeria is committed to the "sanctity of constitutional term limits", stressing that Nigeria has steadfastly adhered to democratic ethos.
Buhari said Nigeria has worked to strengthen democracy and rule of law in the West African region.
"In Nigeria, not only have we worked to strengthen our democracy, but we have supported it and promoted the rule of law in our sub-region," the president said.
"In The Gambia, we helped guarantee the first democratic transition since independence. In Guinea-Bissau, we stood by the democratically elected Government when it faced mutiny.
"And in the Republic of Chad, following the tragic death of its President, the late Idris Deby Itno on the battlefield, we joined forces with its other neighbours and international partners to stabilize the country and encourage the peaceful transition to democracy, an ongoing process.
"We believe in the sanctity of constitutional term limits and we have steadfastly adhered to it in Nigeria. We have seen the corrosive impact on values when leaders elsewhere seek to change the rules to stay on in power. Indeed, we now are preparing for general elections in Nigeria next February.
"At the 78th UNGA, there will be a new face at this podium speaking for Nigeria. Ours is a vast country strengthened by its diversity and its common values of hard work, enduring faith and a sense of community.
"We have invested heavily to strengthen our framework for free and fair elections. I thank our partners for all the support that they have provided our election institutions.
"As President, I have set the goal that one of the enduring legacies I would like to leave is to entrench a process of free, fair and transparent and credible elections through which Nigerians elect leaders of their choice."
The president also called for debt cancellation for developing countries, noting that it poses "severe challenges" to the affected nations.
"Indeed, the multifaceted challenges facing most developing countries have placed a debilitating chokehold on their fiscal space," he said.
"This equally calls for the need to address the burden of unsustainable external debt by a global commitment to the expansion and extension of the Debt Service Suspension Initiative to countries facing fiscal and liquidity challenges as well as outright cancellation for countries facing the most severe challenges."
"Hate Speech"
Speaking further, Buhari said Nigeria has witnessed "unsavoury experiences" with hate speech and divisive information, adding that there is a need for countries to come together to confront the challenges associated with "unfiltered information".
"When I began my tenure as President in 2015, distinctions were drawn between the experience of poorer countries and those better able to manage the avalanche of unfiltered information," he added.
"Nigeria has had many unsavoury experiences with hate speech and divisive disinformation. Increasingly, we also see that many countries face the same challenge. Data also know no borders.
"In confronting these challenges, we must also come together to defend freedom of speech, while upholding other values that we cherish. We must continue to work for a common standard that balances rights with responsibilities to keep the most vulnerable from harm and help strengthen and enrich communities."
Submit press release, news tips to us: tips@odunews.com | Follow us @ODUNewsNG