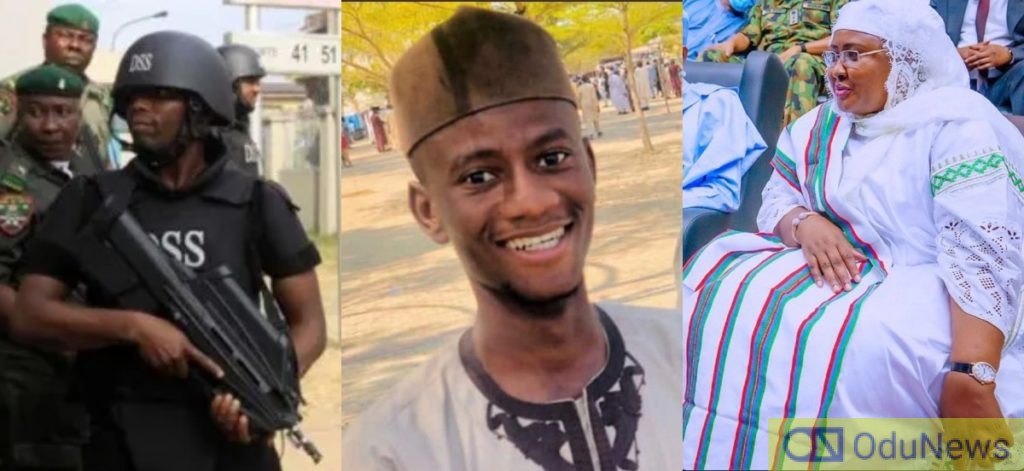 The condemnation which has since gone viral is largely due to the government's perceived double standards when it comes to freedom of expression and human rights. 
The incident in question occurred when a Twitter user by the name of @aminullahie sent out a tweet insulting the Nigerian first lady. In the June 8, 2022, tweet, Aminu Muhammed chastised the First Lady in Hausa: "Su mama anchi kudin talkawa ankoshi", which could be translated as "the mother has got fatter by eating masses' money."
Muhammed's friends said he made the post because he was frustrated about the prolonged strike by universities across the country. The strike, which started in February 2022, ended in October after eight months of idleness.
A family source said Muhammed, 23, was picked up by officers on November 8 on the campus ground of Federal University Dutse, Jigawa. The student was reportedly subjected to severe beating by the officers following his arrest at about 12:00 noon.
He was summarily transferred to Abuja and was briefly allowed to contact his father Adamu Shalele Azare about his location, which the family thought was a police station.
According to Peoples Gazzette, the State Security Service was behind Muhammed's arrest.
This is not the first time that government agents have been used to stifle dissent and infringe on the rights of Nigerians. In February, journalist Jones Abiri was arrested by the DSS and held incommunicado for over two years without trial. The government has often justified such actions by claiming that they are necessary to ensure national security.
However, many believe that the real reason is to silence any criticism of those in power. It is clear that the Nigerian government needs to start respecting the rights of its citizens if it wants to be taken seriously as a democratic country. Using state security services to persecute those who express their opinions online is a violation of people's right to free speech and must be stopped immediately.
Here are reactions from Nigerians on Twitter:
They arrested Aminu for trolling Aisha Buhari, now thousand of Aminus emerged on twitter

Nigerians are really uniting against their oppressors, may we carry the same anger to the polls.

— Abu Amir (@SadiqMaunde) November 27, 2022
A student mocked Aisha Buhari and they whisked the poor boy away in the middle of the night, I can only but imagine what Remi Tinubu would do if, God forbid, she was the first lady. Every week, an entire family would go missing, she'd spare no one.

Emphasis on the God forbid.

— Iruefi XXL (@IruefiNG) November 27, 2022
Remi Tinubu will be worse. Well, they'll never get there. To be sure, Aisha Buhari's size exploded after chopping Nigerians' money. Come arrest me! https://t.co/oEmLJGpmme

— Chuks Akunna (@akunnachux) November 26, 2022
He was tracked by DSS Operatives because of his statements about Aisha Buhari but they can't track the terrorists and bandits terrorizing Nigeria. As long as APC is in power Nigeria will never be secure https://t.co/NFr4fOOUN6

— NKEM #PeterObi2023 (@Nkemchor_) November 26, 2022
Who is Aisha Buhari that an aggrieved citizen cannot talk about? Those of you talking about her so called powers need to ask yourselves whether you are citizens or slaves.
Duniya budurwar wawa!https://t.co/StlVZBaGHk

— Aisha Yesufu (@AishaYesufu) November 27, 2022
When they proposed an "almajiri feeding program," I didn't realise what they meant was that they would feed all the almajiris to Aisha Buhari😭😭😭

Are there any almajiris left?😭😭😭 pic.twitter.com/BRDVg4BPz8

— David Hundeyin (@DavidHundeyin) November 27, 2022
What was Aminullah 's offense?

He stated the obvious maybe in a disrespectful way & disrespect is no crime!

Aisha Buhari as First Lady is funded with tax payers money 🤷🏿‍♀️

We would lose free speech if we turn a blind eye to this injustice #Justice4Aminullah pic.twitter.com/tPP6hlGUB0

— Mavis Ikpeme (@mavisikpeme) November 26, 2022
Aisha Buhari, is the president wife who's feeding on the masses money, she's a thief pretending to appear as an angel of light, I guess I need to translate it to hausa. You have really feed on Nigerians. pic.twitter.com/xFUx3BPOhv

— kelvin (@Kelvin_Ero_) November 26, 2022
It is only in a despotic country that a wife of the President will order the arrest of a citizen for abusing her on social media. I'm incandescent with rage that some sycophants are making silly excuses for Aisha Buhari, the same woman that has been crying foul against the cabal.

— Inibehe Effiong (@InibeheEffiong) November 27, 2022
No more Arewa Twitter Influencers but hypocrites, Aminullah was unlawfully arrested, detained and tortured but this hypocrites take the blame on him. Did Aisha Buhari use proper way of law to claim for defamatory? Didn't she abuses Aminullah rights?
Shame on whoever backs Aisha💯

— Abiyos Roni ©️ (@AbbaM_Abiyos) November 26, 2022

Submit press release, news tips to us: tips@odunews.com | Follow us @ODUNewsNG