Bellwether stocks on the floor of the Nigerian Exchange (NGX) Limited lifted the market capitalisation by N13.6 billion last week, OduNews reports.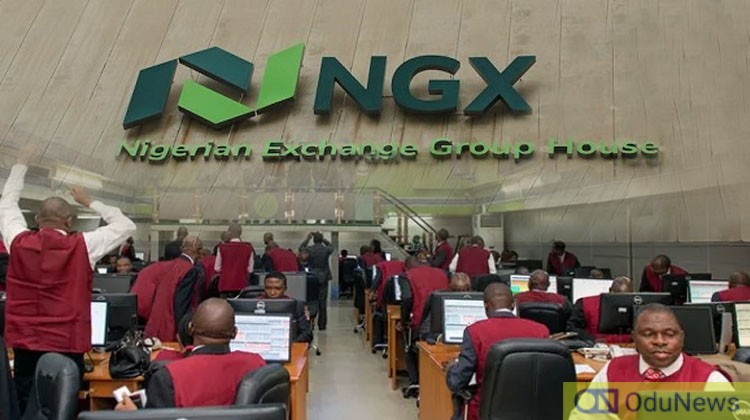 Bellwether stocks are those believed to be a leading indicator of the direction of the economy, a specific sector, or the market as a whole.
GEREGU power lifted the All-share index and market capitalisation by 0.1 per cent to close the week at 52,657.88 points and N28.681 trillion.
Similarly, all other indices finished higher except NGX 30, NGX CG, NGX Premium, NGX MERI Growth, NGX Consumer Goods and NGX Sovereign Bond, indices which depreciated by 0.07.per cent, 0.05 per cent, 0.45 per cent, 1.21 per cent, 1.09 per cent and 2.3 per cent respectively, while the NGX ASeM index closed flat.
Besides, a turnover of 756.7 million shares worth N13.6 billion was recorded in18,248 deals by investors on the floor of the Nigerian Exchange Limited (NGX), in contrast to a total of 1.241 billion shares valued at N15.6 billion that changed hands in 18,560 deals on January 20, 2023.
Analysts are of the view that the Nigerian equities market would be a mixed, but promising one this year. They believed that fiscal and monetary policies, as well as improved earnings, would drive economic and stock market recoveries in 2023.
According to them, the projection is based on market players' expectations that economic recovery would be propelled by policy reforms by the incoming administration.
Analysts at Cordros Capital said: "In the subsequent weeks, we expect the NGX to be flooded with corporate earnings as more companies publish audited 2022 full-year numbers, which will be accompanied by dividend declarations.
"We believe this should provide a catalyst for buying activities even as risk-averse investors are likely to remain cautious owing to medium-term expectations of an uptick in fixed-income yields.
"Overall, we advise investors to seek trading opportunities in only fundamentally justified stocks as the weak macro story remains a significant headwind for corporate earnings."
Vetiva Dealings and Brokerage said: "As expected, there was a negative reaction to Guinness' latest numbers, where PAT declined by 54 per cent in its H1 '23 period.
"Hence, the 3.71 per cent decline in the stock's share price. However, we did see investors buy up Tier-1 banks: Zenith and GTCO, while cross trades done at lower price levels in MTN Nigeria dampened market sentiment.
"We expect to see improvement in market performance at the start of the week, amid a positive market breadth."
The financial services industry (measured by volume) led the activity chart with 454.7 million shares valued at N4.8 billion traded in 8,214 deals; thus contributing 60 per cent to the total equity turnover volume. The ICT industry followed with 61.7 million shares worth N1.6 billion in 1,600 deals.
The conglomerate industry ranked third with a turnover of 56.8 million shares worth N119.1 million in 622 deals.
Trading in the top three equities namely FBN Holdings Plc, Guaranty Trust Holding Company Plc and Fidelity Bank Plc, (measured by volume) accounted for 165.5 million shares worth N2.3 billion in 2,530 deals, contributing 21.87 per cent to the total equity turnover.
A total of 29,711 units of bonds valued at N29.901 million were traded this week in 27 deals compared to a total of 21,845 units valued at N21.565 million transacted last week in 14 deals.
Forty-four equities appreciated during the week, higher than 39 equities in the previous week. 29 equities depreciated lower than thirty 30 in the previous week, while 84 equities remained unchanged.

Submit press release, news tips to us: tips@odunews.com | Follow us @ODUNewsNG