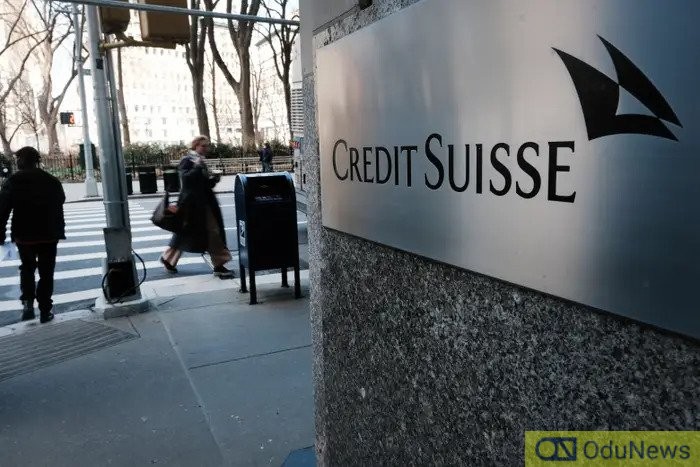 European stock markets opened with gains on Thursday following the announcement of a £45bn financial support package for the embattled bank, Credit Suisse.
Shares in the UK, France, and Germany experienced an upswing, with Credit Suisse's shares skyrocketing by 40%.
Credit Suisse announced plans to borrow up to 50 billion francs (£44.5bn) from the Swiss central bank to bolster its financial position.
Concerns over Credit Suisse's difficulties possibly leading to a broader banking crisis caused stock markets to drop on Wednesday.
Major stock indexes in London, Frankfurt, and Paris started the day on a positive note. By mid-morning, the UK's FTSE 100 index had risen 1%, with Lloyds Banking Group and Barclays among the top performers.
Credit Suisse approached the Swiss National Bank for assistance after admitting to a "material weakness" in its financial reporting.
This prompted the bank's largest shareholder, Saudi National Bank, to announce it would not acquire additional shares, causing alarm among other investors.
The Swiss central bank confirmed that Credit Suisse had the necessary funds but emphasized its readiness to intervene if required.
The BBC reports that the Bank of England has been in contact with Credit Suisse and Swiss authorities to keep an eye on the situation.
The banking sector faced issues in the US last week, starting with the unexpected collapse of Silicon Valley Bank, the country's 16th-largest lender, followed by the failure of New York's Signature Bank two days later.
The US central bank had to step in to prevent a run on bank deposits as panic spread.
Sir John Gieve, former deputy governor at the Bank of England, informed the BBC that central banks were conveying a message that such issues would be localized.
In the case of Credit Suisse, he believed the Swiss National Bank's intervention would likely be sufficient to prevent the crisis from escalating.
Credit Suisse, established in 1856, has been plagued by scandals in recent years, including money laundering charges, spying allegations, and high-profile departures.
The bank experienced losses in 2021 and 2022 and does not anticipate becoming profitable until next year.
Concerns among investors were renewed following the bank's disclosure of financial reporting issues on Tuesday.
Daniel Davies, managing director at Frontline Analysts and former bank analyst at Credit Suisse, mentioned the bank's wealthy client base has been gradually withdrawing funds over the past six months at an escalating rate.
He added that the Bank of England would likely consult with its Swiss counterpart about its confidence in Credit Suisse.
The situation worsened when the Saudi National Bank, Credit Suisse's primary shareholder, decided not to purchase more shares in the Swiss bank due to regulatory reasons.
Shares in the bank plummeted on Wednesday, while other banks hurried to withdraw their funds and prime ministers in Spain and France tried to calm nerves.
The collapse of Silicon Valley Bank also raised concerns about the value of bonds held by banks, as increasing interest rates made those bonds less valuable.
Central banks worldwide, including the US Federal Reserve and the Bank of England, have raised interest rates sharply to control inflation.
Banks often hold large bond portfolios, resulting in significant potential losses.
The decline in bond values held by banks is not necessarily problematic unless they are forced to sell them.
US regulators closed Silicon Valley Bank, which specialized in lending to technology companies, marking the largest failure of a US bank since 2008.

Submit press release, news tips to us: tips@odunews.com | Follow us @ODUNewsNG