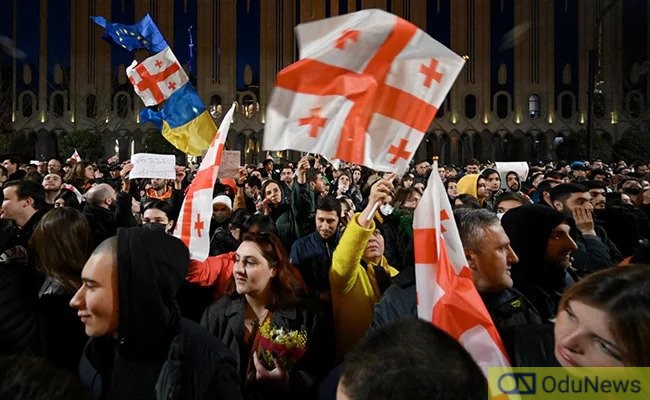 Georgia's parliament has officially revoked the "foreign influence" bill that has caused widespread protests and international condemnation, according to the country's public broadcaster, First Channel. The announcement was made on Friday, one day after the ruling party announced its decision to withdraw the proposed legislation, following two nights of demonstrations by tens of thousands of people outside the parliament building. Senior officials from the United States and the European Union had expressed concerns over the bill, and its potential impact on the country's democratic institutions.
The controversial bill would have compelled organizations receiving 20% or more of their annual income from foreign sources to register as "foreign agents" or face significant fines. Experts on civil liberties had warned that the proposal would have had a detrimental impact on civil society and could have seriously damaged Georgia's democracy. The government's decision to abandon the bill was a victory for the protesters who had taken to the streets in large numbers to voice their opposition to the legislation.
The protests in Georgia were a testament to the power of civil society and the importance of public participation in the democratic process. The Georgian people made it clear that they would not stand for a law that would restrict their freedom of expression and association. The decision to withdraw the bill was a clear indication that the government was listening to its citizens and that their voices had been heard.
The international community, including the United States and the European Union, played a vital role in supporting civil society in Georgia and condemning the proposed legislation. Their statements of support were instrumental in helping to galvanize the Georgian people and bring attention to the issue on the global stage.
Moving forward, it is essential that the Georgian government takes steps to address the concerns that led to the protests and work to ensure that civil society is protected and free to operate without fear of reprisal. The episode serves as a reminder of the importance of vigilance and the need to safeguard democracy and human rights.

Submit press release, news tips to us: tips@odunews.com | Follow us @ODUNewsNG