Nigerian singer, Folarin Falana, popularly known as Falz, has come under criticism from a cross-section over his comment on the election victory of Lagos state governor, Babajide Sanwo-Olu.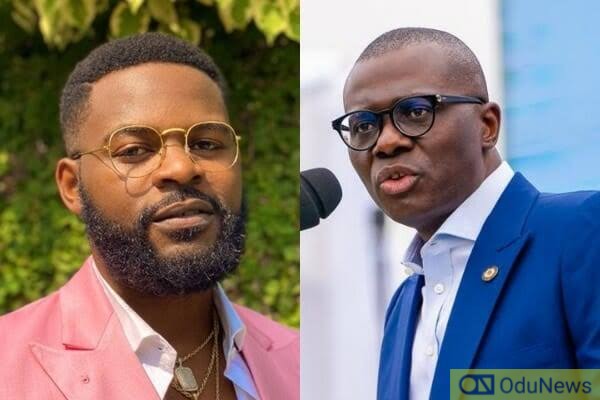 Responding to an appreciation tweet by the re-elected governor, Falz said he was not elected but selected himself.
Sanwo-Olu was declared the winner of the February 18 governorship election by the Independent National Electoral Commission, (INEC).
The governor on his Twitter page thanked Lagosians for re-electing him into office.
He wrote, "Thank you Lagosians! I am deeply humbled and grateful for the overwhelming support and trust of the good people of Lagos State.
You were not re-elected. You selected yourself. Everybody saw it unfold. You are only deceiving yourselves https://t.co/9CQL4wDyKZ

— Bop Daddy (@falzthebahdguy) March 20, 2023
Falz comment has since received knocks from the supporters of the governor who claimed to have voted him during the election.
See some comments below:
Trying so hard to be an activist even on days it is just a sheer display of nuisance! You claim to mean well for the people but you'd rather have an intern as Governor of Lagos state. The majority of the state said no! Even those who voted along with you 3 weeks ago! Stop crying! https://t.co/XqHEvrARSq

— Sage (@Ralphkash) March 20, 2023
He was re elected. I was one of those who voted for him. If you have any evidence to the contrary, you can approach the courts
You have a law degree. Anything else is just childish. https://t.co/35UYJOFhcA

— Olufemi Adebimpe (@femiadebimpe) March 20, 2023
Sanwo olu was Re-elected… The people's choice.. https://t.co/JcNBAQ3AVt

— 6ix✞priest☦🇳🇬 (@infinite_drene) March 20, 2023
Bold of you to think no one voted for him. I have my PVC and I voted for him. https://t.co/mnxPNO6b13

— Ninilowo🔬💵💵 (@crystalabeeke) March 20, 2023
Folarin, do not let hate overshadow your reasoning now…I and 64k+ in Ikorodu voted for @jidesanwoolu https://t.co/2cHt1QEep0

— Name Cannot be Blank! (@Qhanon) March 20, 2023
Why is this fall guy pained? Go back home & fight for your people. I voted for him. I worked for his reelection as a party agent. I mobilized & spent my hard-earned money to provide refreshments for people. I created a party-like atmosphere around me to achieve this. Cry more! https://t.co/JSudigqIPO

— gauzu zamani (@asunkybobo) March 20, 2023
Ẹ́kunlana, ikan nínú àwọn ọ̀mọ̀ ẹ́ran ilẹ́ Yorubawa..

You do not wish to respect my one choice of candidate!

So it must be your own candidate by 🔥 by force.

That's why it's democracy and the majority win.

My PU, Ward, LGA were all won for BOS, then why wailing online! https://t.co/zUuBp5bbM5

— Archetypal™🌏 (@archetypal12) March 20, 2023
I got more than 10 people to their various polling units to vote Sanwo-Olu.

This decision was based on his handling of the covid 19 pandemic as incident commander. https://t.co/ellDbb6j8E

— Ahmed Tijani Ibn Mustapha (@MrAfobaje) March 20, 2023
Dear Mr. Falz!
You chose not to vote him does not mean others do not cast our vote for our darling governor.
He's re-elected kindly respect that and allow peace reign.
Thank you so much https://t.co/Ha5byQr2oD

— Dr. Eboda Olanrewaju™️ أنا مسلم حتى النخاع (@LanreEboda) March 20, 2023
I voted for him. I left my house on Friday to sleep in a hotel close to my PU and 126 voted for him. I voted for a man who despite covid lockdown for a year, supervised the construction of two rail lines, the largest rice mill, made equity contribution to Lekki deep sea port, https://t.co/AMTo2NGLzn

— Dr. Trossard 🦇 (@fimiletoks) March 20, 2023

Submit press release, news tips to us: tips@odunews.com | Follow us @ODUNewsNG