Renowned Nollywood actor Richard Mofe-Damijo has offered a poignant tribute to the late actor Saint Obi, reminiscing about their shared journey in the Nigerian film industry.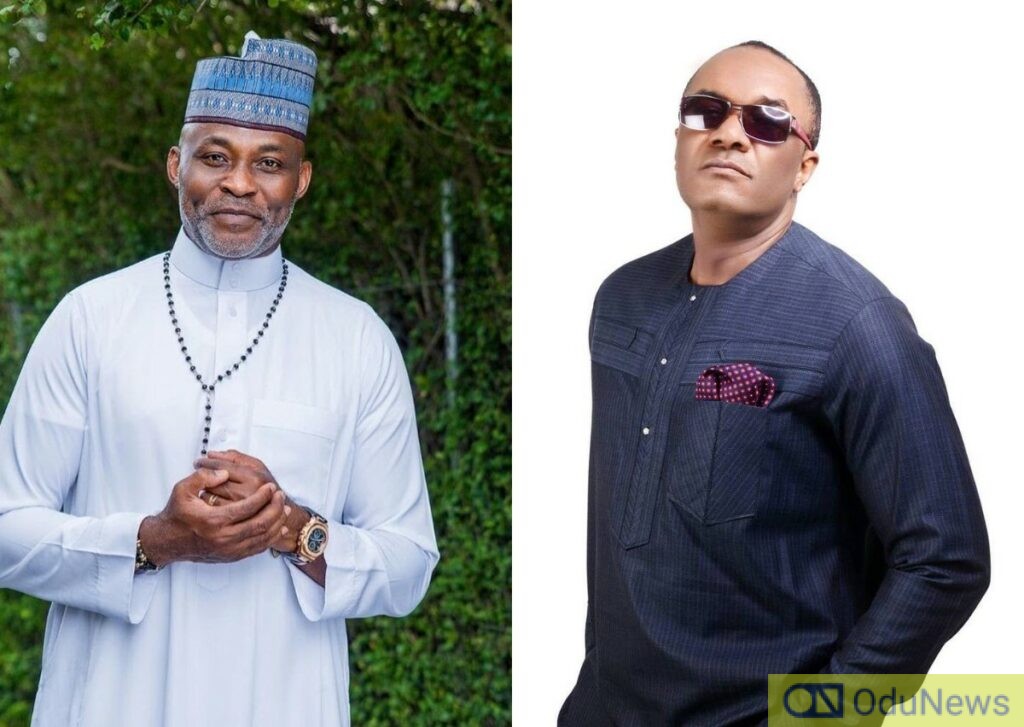 Mofe-Damijo, fondly known as RMD, expressed his admiration for Saint Obi's character, referring to him as a gentleman of dignity.
Recalling a significant encounter at an event in Abuja several years ago, Mofe-Damijo shared a touching memory of Saint Obi approaching him with gratitude. Saint Obi revealed that Mofe-Damijo had played a pivotal role in launching his career, as Mofe-Damijo had directed him to Zeb Ejiro, a prominent filmmaker at the time. Mofe-Damijo expressed his surprise and joy, realizing the impact he had unknowingly made on Saint Obi's journey to stardom. Zeb Ejiro, impressed by Saint Obi's talent, even saw him as a natural successor in the industry.
However, the news of Saint Obi's passing came as a shock to Mofe-Damijo when he received a call from Zik Zulu, a close associate. Both men initially found it difficult to accept the news and promised to gather more details. The reality of the loss became even more challenging to comprehend as the news circulated further.
His words;
Saint Obi
Gentleman

Dignified.
I recall being at an event in abuja some years ago and we were just catching up and he says to me "bros you nor remember say na you start me on this my journey?" And I was like 'no way' and he went on to narrate and he had come to me in the 90s for help and get into the movie industry and I had said I wasn't doing any film then but I could send him to a friend and brother who did more productions than anyone else at the time and that brother and friend was Zeb EJIRO. I wrote behind my card and off he went and became a big star. The interesting thing then was that Zeb loved him so much he told me I had given him a natural replacement for me in the movies…

Then a few days ago Zik Zulu called and usually when he calls it's something important. He gave the news of St Obi's demise. We were both in denial and promised each other to find out more details. Then the news hit me again yesterday… even now it's still difficult to believe.

Rest in power my brother. My prayers are with the family you've left behind. May God give them and us all the fortitude to bear your sudden departure.
Mofe-Damijo, still grappling with the sudden departure of his colleague and friend, offered his prayers and condolences to the family Saint Obi left behind. He extended his sympathy to those mourning the loss and invoked divine strength to navigate through this trying time.
The Nollywood community, along with fans and admirers, mourns the loss of Saint Obi, recognizing his contributions to the Nigerian film industry. His undeniable talent, charisma, and dignified demeanor made him a beloved figure both on and off the screen. As the industry grapples with this profound loss, tributes from fellow actors and industry professionals continue to pour in, underscoring the lasting impact of Saint Obi's presence.
In the face of grief, the Nigerian film industry unites in celebrating Saint Obi's remarkable legacy while cherishing the memories he leaves behind. His journey serves as an inspiration to aspiring actors and a reminder of the profound influence one can have on the lives of others through talent and dedication. May Saint Obi's soul rest in eternal peace, and may his loved ones find solace and strength during this difficult time.

Submit press release, news tips to us: tips@odunews.com | Follow us @ODUNewsNG