New York City – Taylor Swift and Matty Healy, lead singer of The 1975, have recently reconnected and been enjoying each other's company, according to insiders. Friends of the pair revealed that it was their mutual friend, Jack Antonoff, who brought them back together.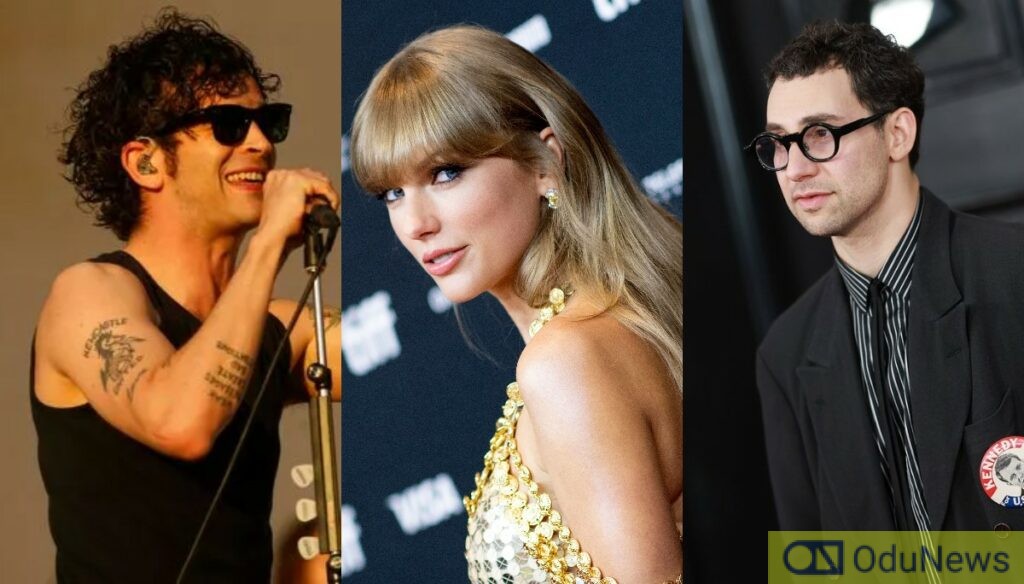 Sources close to Swift and Healy shared that the two artists have a mutual admiration for each other. They briefly dated in the past, and now they are relishing their time spent together. Matty finds Taylor to be an incredible talent and admires her work.
Jack Antonoff, a longtime collaborator of Taylor Swift, played a key role in their reunion. Last month, Swift was spotted in New York City having dinner with Antonoff and his fiancée, Margaret Qualley, shortly after her breakup with Joe Alwyn became public.
The dinner took place at Via Carota, a restaurant in downtown Manhattan, near the famous Cornelia Street. This location holds special meaning for Swift, as it inspired one of her songs on the "Lover" album, believed to be about her former flame Alwyn.
Antonoff and Swift have a history of creating music together, and the Bleachers' frontman recently produced "Being Funny in a Foreign Language," the fifth studio album by The 1975. Swift and Healy first met almost a decade ago and were briefly rumored to be romantically involved. However, Healy dismissed the speculation during a 2015 radio interview, describing it as a "farce."
Recently, the two were photographed together in Nashville, Tennessee, after midnight, just before arriving at Swift's condo. This occurred after Swift's performance at Nissan Stadium, where eagle-eyed fans spotted Healy enjoying the concert and even performing with opening act Phoebe Bridgers.
Healy's attendance at two consecutive shows in Nashville fueled rumors of a possible romantic relationship with Swift, though neither of them has addressed the speculation. These developments come only three weeks after Swift's return to the stage in Tampa, Florida, following her breakup with Joe Alwyn.
Sources close to Swift and Alwyn revealed that their separation was amicable and not dramatic, with both parties recognizing that they were not entirely suited for each other. Swift is currently concentrating on her music and touring, and she hopes to maintain a friendly relationship with Alwyn in the future.
In a recent interview, Healy disclosed that The 1975 had planned to collaborate with Swift on her latest album, "Midnights," but the songs they worked on were never released.
As both Swift and Healy continue to focus on their respective careers, fans are eager to see if their rekindled friendship will lead to future collaborations. Given their mutual admiration and creative talents, a joint project could result in a hit song or even an entire album.
Despite the ongoing speculation about their relationship status, both Swift and Healy have remained tight-lipped. Instead, they appear to be enjoying their renewed connection and the opportunity to share their passion for music.
Meanwhile, Swift's "Midnights" album continues to garner critical acclaim and commercial success. Fans are left wondering what might have been if the unreleased collaborations with The 1975 had made it onto the album. With the duo now spending more time together, there is hope that these tracks may eventually see the light of day, providing fans with fresh material to enjoy.
In addition to her music career, Swift has been actively involved in philanthropic efforts and has used her platform to raise awareness on various social issues. Her renewed friendship with Healy, who shares similar values, could potentially lead to joint efforts in promoting causes close to their hearts.
As the story unfolds, fans and the media will undoubtedly keep a close eye on the developments between Taylor Swift and Matty Healy. For now, their reconnection serves as a reminder of the power of friendship and the enduring bonds that can form between creative individuals in the world of music.

Submit press release, news tips to us: tips@odunews.com | Follow us @ODUNewsNG