In a significant diplomatic development, North Korean leader Kim Jong Un pledged his nation's unwavering support to Russian President Vladimir Putin for Russia's ongoing efforts in Ukraine.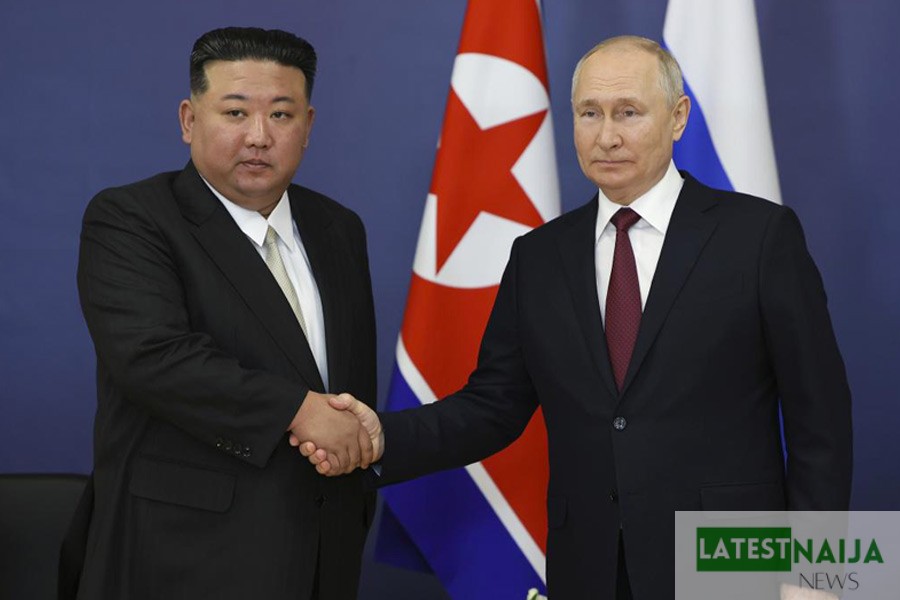 Kim declared North Korea's commitment to stand with Moscow on the "anti-imperialist" front, emphasizing the paramount importance of their bilateral relations.
The two leaders convened at a remote Siberian rocket launch facility for a historic summit, highlighting the convergence of their interests amid the escalating confrontations each country faces with the United States.
Putin, in his opening remarks, extended a warm welcome to Kim and expressed his pleasure at the meeting. The Russian president outlined the summit's agenda, which encompassed economic cooperation, humanitarian concerns, and regional security dynamics, including the situation in the region.
The summit commenced at the Vostochny Cosmodrome, Russia's premier domestic satellite launch center, where Kim and Putin embarked on a tour of a Soyuz-2 space rocket launch facility.
During the tour, Kim actively engaged a Russian space official with inquiries about rocket technology, underscoring North Korea's ambitions in the field.
Subsequently, the two leaders engaged in discussions both with their respective delegations and in a one-on-one setting, as confirmed by Kremlin spokesperson Dmitry Peskov.
Notably, the summit occurred shortly after North Korea launched two ballistic missiles toward the sea, continuing a series of provocative weapons tests that have unfolded since the outset of 2022.
Kim's acceleration of weapons development coincided with the distraction caused by Putin's military intervention in Ukraine.
Regarding potential satellite cooperation between Russia and North Korea, Putin was quoted by Russian state media as stating, "That's why we have come here. The DPRK leader shows keen interest in rocket technology. They're trying to develop space, too," using the abbreviation for North Korea's formal name, the Democratic People's Republic of Korea.
Putin further commented on the possibility of military cooperation, asserting, "We will talk about all issues without a rush. There is time."
For Putin, the meeting with Kim presents an opportunity to replenish ammunition stores depleted by the 18-month-long war in Ukraine. Analysts suggest that North Korea possesses tens of millions of aging artillery shells and rockets based on Soviet designs, which could significantly bolster the Russian army's capabilities in Ukraine.
Kim also included Jo Chun Ryong, a ruling party official responsible for munitions policies, who had accompanied him on recent tours of factories producing artillery shells and missiles, according to South Korea.
In a statement from North Korea's official news agency, Kim emphasized that his decision to visit Russia, four years after his previous visit, underscores the strategic importance Pyongyang places on its relations with Moscow. This summit reaffirms the strength of their bond and their shared interests in the face of global challenges.
The diplomatic meeting between Kim Jong Un and Vladimir Putin signifies a pivotal moment in international relations, with the leaders of North Korea and Russia forging a closer alliance in the context of evolving global dynamics.

Submit press release, news tips to us: tips@latestnaija.news | Follow us @ODUNewsNG