Amidst escalating hostilities, Israel and Hamas continued to exchange heavy fire in Gaza on Thursday, leading to a devastating loss of life and increased international concern.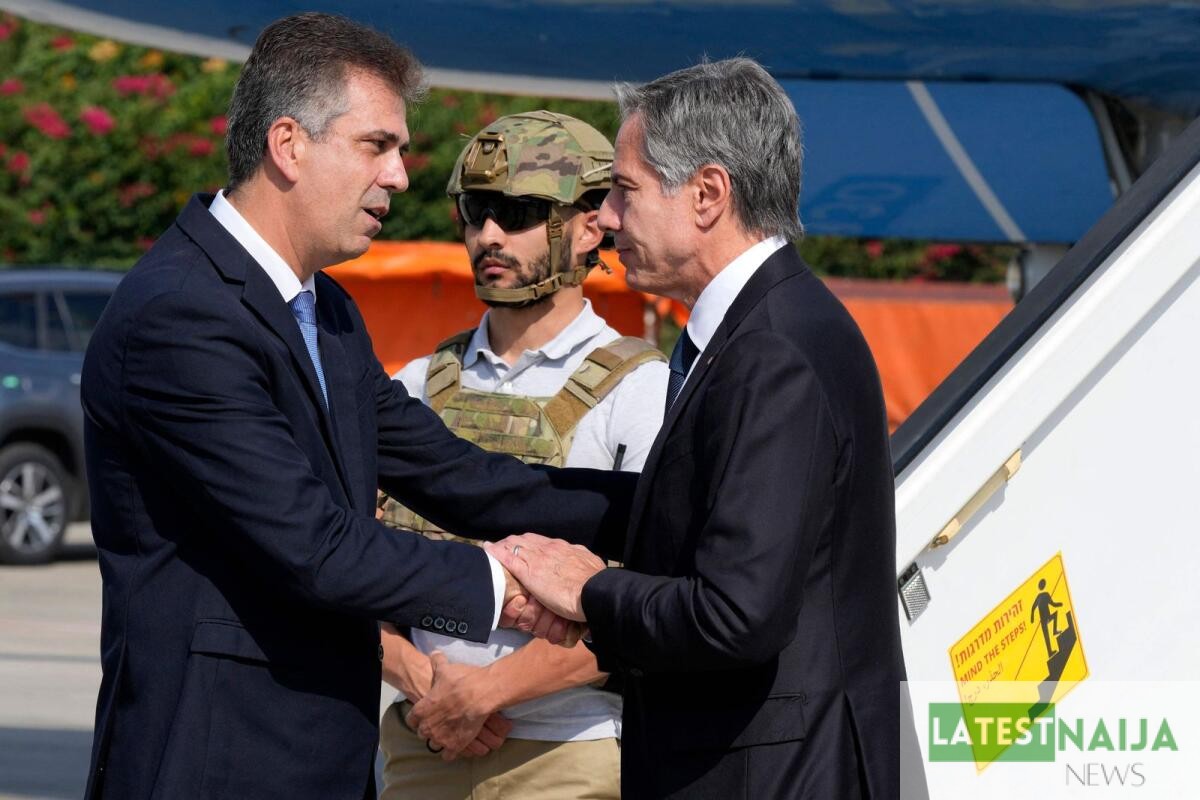 US Secretary of State Antony Blinken visited the region to emphasize solidarity with Israel while urging restraint to protect Palestinian civilians.
Israel's military conducted thousands of airstrikes against Hamas, signaling the likelihood of an imminent ground invasion into the densely populated Gaza Strip. The current conflict has resulted in the loss of thousands of lives and severe devastation. The crisis was triggered when Hamas militants killed 1,200 Israelis, predominantly civilians, and took around 150 hostages.
In a span of just six days, more than 1,200 Palestinians have died in Gaza as Israel targeted entire city blocks and destroyed thousands of buildings. This outbreak of violence is regarded as the bloodiest in Israeli history.
"Every Hamas member is a dead man," declared Prime Minister Benjamin Netanyahu, who formed a wartime government in response to the crisis. He likened Hamas to the Islamic State group and vowed to "crush them and destroy them."
US President Joe Biden, who has been a staunch supporter of Israel and has initiated military aid shipments, emphasized on Wednesday that Israel must adhere to the rules of warfare despite the anger and frustration that permeates the region.
Amidst the crisis, Gaza's 2.4 million residents are enduring their fifth war in 15 years in the long-blockaded territory. The blockade has led to severe shortages of water, food, and power supplies, causing additional hardship for the Palestinian population.
UN Secretary General Antonio Guterres expressed deep concern about the escalating violence and called for the release of all hostages as well as the lifting of the siege. He stressed that the protection of civilians is paramount.
There have been appeals for the establishment of a humanitarian corridor to allow Palestinians to escape ahead of a potential Israeli ground invasion that would likely involve brutal urban combat and house-to-house fighting.
Israeli Energy Minister Israel Katz announced that the total siege of Gaza would persist until the hostages are released. "Humanitarian aid to Gaza?" he stated. "No electric switch will be turned on, no water tap will be opened, and no fuel truck will enter until the Israeli abductees are returned home."
In response to the crisis, Israel has called up 300,000 reservists and mobilized forces, tanks, and heavy armor to the southern desert areas around Gaza, where Hamas initiated its unprecedented attack on October 7. Israeli forces have engaged in intense combat with militants and made grim discoveries of numerous civilian casualties, including children.
Israeli army spokesman Doron Spielman expressed shock at the scale of the destruction in one gated community. "It looks like… an atomic bomb just landed here," he remarked.
Netanyahu has described the Hamas offensive as an act of "savagery… we have not seen since the Holocaust." Israel's anger has been further stoked by Hamas's capture of at least 150 hostages, the majority of whom are Israeli citizens.
"I know he's out there somewhere," said Ausa Meir, whose brother Michael is among the captives. "It's very, very painful."
Hamas has threatened to harm hostages if Israel strikes Gaza's civilian targets without warning, intensifying the anxiety and distress in Israel.
The conflict has led to unrest in the occupied West Bank, with protests held in solidarity with Gaza. In these clashes, 27 Palestinians have lost their lives since Saturday.
Amid the growing crisis, Netanyahu has temporarily set aside political differences and formed an emergency government, including centrist former Defense Minister Benny Gantz. "Israel before anything else," Gantz emphasized, reflecting the unity in the face of a national crisis.
The situation remains complex, with additional threats from the north, particularly from the Iran-backed Hezbollah group based in Lebanon. Israel has deployed tanks to its northern border following recent clashes with Hezbollah, raising concerns of a potential two-front conflict. The United States has deployed an aircraft carrier battle group to the eastern Mediterranean in support of Israel while warning other adversaries not to get involved.
Iran, a longtime supporter of Hamas, has denied any involvement in the ongoing assault. As the crisis continues, international concerns over the situation in Gaza continue to mount, underscoring the urgency of finding a peaceful resolution to this devastating conflict.

Submit press release, news tips to us: tips@latestnaija.news | Follow us @ODUNewsNG