In an unprecedented turn of events, the United States House of Representatives made history by removing its Speaker, Republican Kevin McCarthy, for the first time in its 234-year existence.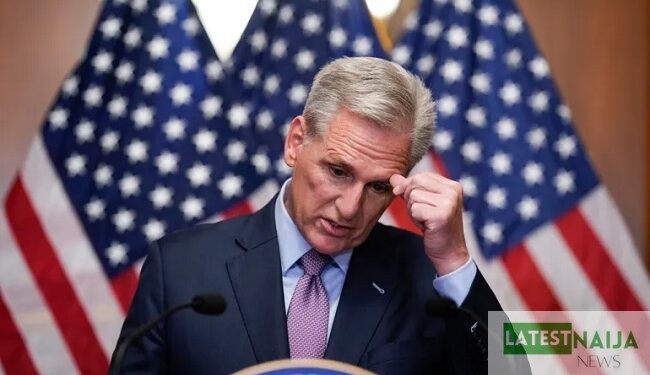 This remarkable political shake-up occurred as Democrats joined forces with right-wing Republicans on Tuesday, revealing deep divisions within the GOP and setting the stage for the upcoming 2024 presidential election, with former President Donald Trump emerging as a prominent figure.
The removal of Speaker McCarthy marked a significant moment in American politics, highlighting the turmoil and infighting that have engulfed the Republican Party. Despite being championed by a small faction of right-wing Republican hardliners, McCarthy faced an almost evenly divided House.
The unexpected alliance between Democrats and rebel Republicans sealed McCarthy's fate, leaving him with no viable path to retain his position.
Kevin McCarthy, a 58-year-old former entrepreneur from California, ignited outrage among conservatives when he supported a bipartisan stopgap funding measure over the weekend, a move aimed at averting a government shutdown.
The decision further strained his relationship with the more conservative members of his party, including prominent Florida representative Matt Gaetz, who spearheaded the effort to oust McCarthy.
Gaetz, a staunch conservative, took a calculated gamble by orchestrating the vote to remove McCarthy from his position, banking on the support of a handful of like-minded Republicans who shared his discontent with McCarthy's leadership.
Notably, Democrats also held grievances against Speaker McCarthy, citing his abandonment of a prior agreement with President Biden on spending limits earlier in the year during high-stakes negotiations over the federal budget.
The removal of Kevin McCarthy as Speaker of the House has sent shockwaves through the American political landscape. It remains to be seen how this historic event will impact the dynamics of the Republican Party and the upcoming 2024 presidential race, with Donald Trump's presence looming large on the horizon.
As the nation grapples with this unexpected development, the political future of the United States becomes increasingly uncertain.

Submit press release, news tips to us: tips@latestnaija.news | Follow us @ODUNewsNG