In a harrowing turn of events, Indian rescue teams embarked on a relentless search mission on Thursday, racing against time to locate 102 individuals who had gone missing in the aftermath of a catastrophic flash flood.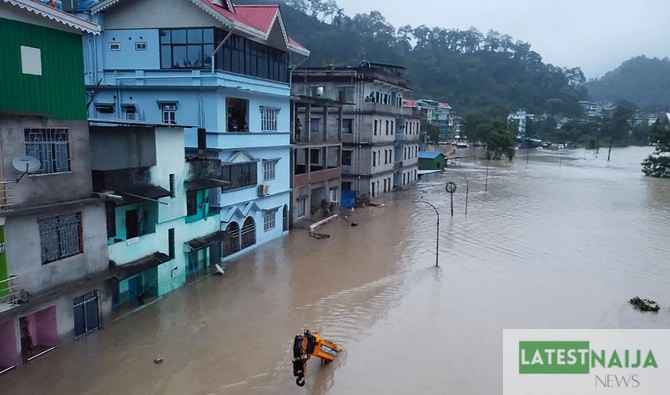 The disaster was unleashed by the rupture of a high-altitude glacial lake, resulting in a deluge that has claimed at least 10 lives, according to officials.
The calamitous flooding, attributed to glacier lakes dammed by precarious rock formations, has been occurring with increasing frequency, escalating in tandem with global temperature rise and glacial melt. Climate scientists have sounded the alarm about the escalating threat this poses across the expansive Himalayan mountain range.
Prabhakar Rai, the director of the Sikkim State Disaster Management Authority, grimly reported, "At least 10 people were killed and 102 others reported missing." The tragedy unfolded a day prior when a colossal surge of water cascaded down the rugged valleys in northeastern India.
The devastation has left a trail of destruction in its wake, rendering roads severely damaged and obliterating 14 vital bridges. Rescue operations have been met with formidable challenges, as communication remains severed across vast swaths of the affected areas, and access routes remain blocked.
"Floodwaters have caused havoc in four districts of the state, sweeping away people, roads, bridges," revealed Himanshu Tiwari, an Indian Army spokesperson, further emphasizing the gravity of the situation.
Among the missing, 22 soldiers are counted among the casualties, although one fortunate soldier has been rescued. The Indian Army is now diligently working to restore telephone connectivity and provide crucial medical aid to both stranded tourists and local residents, as outlined in their official statement.
The catastrophic surge in water can be traced back to a sudden onslaught of heavy rainfall that triggered the breach of the high-altitude Lhonak Lake. Situated at the base of a glacier in the vicinity of Kangchenjunga, the world's third-highest mountain, the lake's overflow cascaded downstream, compounding the damage caused by monsoon rains.
Houses and bridges were washed away, and a dam was severely impacted, leading to "serious destruction," as stated by the Sikkim state government.
Further downstream, over 120 kilometers (75 miles) from the epicenter, significant damage was recorded. Prime Minister Narendra Modi has pledged "all possible support" to assist those affected by the calamity.
Satellite imagery provided by the Indian Space Research Organisation has revealed that Lhonak Lake has dwindled to nearly two-thirds of its original size, an area roughly equivalent to about 150 football pitches (105 hectares).
Miriam Jackson, a scientist specializing in glacial monitoring with the Nepal-based International Centre for Integrated Mountain Development (ICIMOD), explained the dire situation, saying, "Intense rain has led to this catastrophic situation in Sikkim where the rain has triggered a glacial lake outburst flood and damaged a dam, and caused a loss of life."
Jackson also warned of the increased frequency of such extreme events due to ongoing climate warming, pushing humanity into uncharted territory.
As global temperatures continue to rise, the Himalayan region is experiencing warming at double the rate of the Earth's average surface temperature increase, underscoring the urgent need for climate action.
Sikkim, located near India's borders with Nepal and China, holds strategic significance and a substantial military presence. The region has long been a focal point of tension, with parts of Sikkim claimed by Beijing, exacerbating the challenges faced in disaster response and recovery.
The nation is now grappling with the immediate aftermath of this devastating flood, while experts and officials ponder the broader implications of climate change on this ecologically fragile region.

Submit press release, news tips to us: tips@latestnaija.news | Follow us @ODUNewsNG