The Nigeria Labour Congress (NLC) and the Trade Union Congress (TUC) have jointly declared a nationwide strike set to commence on Tuesday, November 14, 2023.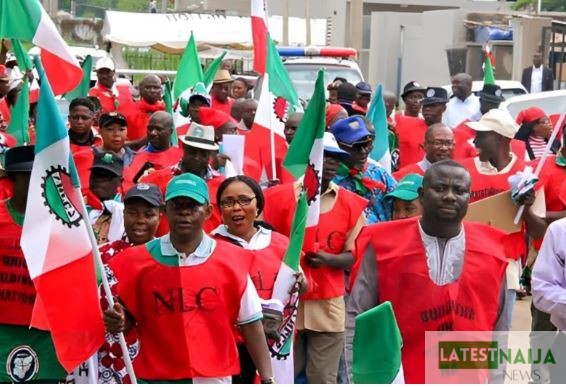 This decision comes following an extraordinary National Executive Council (NEC) meeting held in Abuja, where the leadership of both unions expressed deep concern over a series of injustices against workers in Imo State and the brutalization of NLC National President, Joe Ajaero.
The unions have initiated nationwide mobilization efforts, galvanizing members and allies to stand in solidarity for workers' rights. This action follows the disturbing incident last week in which NLC National President, Joe Ajaero, was assaulted in Imo State.
Organized Labour has accused the Imo State Commissioner of Police, Mohammed Barde, of being complicit in the attack, sparking widespread outrage.
In response to these grievances, Organized Labour handed the Federal Government a five-day ultimatum to replace the police commissioner and demanded the arrest and prosecution of some of the governor's aides. Failure to meet these demands has led to the declaration of a nationwide strike.
A joint communique issued at the conclusion of the NEC meeting outlined the following grievances:
Outstanding Salary Arrears: The Imo State Government has failed to pay salaries for up to 20 months, unjustly labeling some workers as 'ghost employees.'
Unsettled Gratuity Arrears: The government has neglected to address an 8-year backlog of gratuity owed to retirees, causing financial hardship for those who have served the state.
Non-compliance with N30,000 Minimum Wage Act: The government has consistently failed to implement the N30,000 National Minimum Wage, impacting the economic well-being of workers.
Declaration of Workers as Ghosts: Approximately 11,000 workers have been wrongly branded as ghost workers, resulting in the diversion of their salaries.
Vandalization of NLC State Secretariat: The wanton destruction of the NLC State Secretariat is viewed as a blatant attack on workers' rights.
Implementation of Discriminatory Pay: The introduction of discriminatory pay practices and policies is seen as an affront to fair labor practices.
Misappropriation of Union Dues: Union dues have been impounded and illegally diverted, violating workers' rights to manage their collective resources.
Declaration of Pensioners as Ghosts: About 10,000 pensioners have been wrongly labeled as ghost pensioners, resulting in over 22 months of unpaid pensions, leading to tragic consequences.
Intimidation and Harassment of Trade Union Leaders: The government's harassment of trade union leaders undermines the democratic rights of workers.
Use of Violence and Thuggery: The deployment of thugs and violence against workers and their leaders is an unacceptable practice that undermines democratic rights.
Resistance to Social Dialogue and Collective Bargaining: The government's resistance to social dialogue and collective bargaining goes against the principles of fair labor practices.
Interference with Workers' Democratic Processes: The violent interference and disruption of the Imo State Delegates' Conference undermine workers' democratic rights.
In their joint NEC communique, NLC's Deputy President and TUC President, Prince Adewale Adeyanju and Festus Osifo respectively, condemned the Imo State Government's actions, including the brutalization of NLC President Joe Ajaero.
The communique stated: "The Joint NEC-in-session unanimously condemned in very strong terms the brutal and beastly actions of Hope Uzodimma, his goons, and the Nigeria Police."
As a response to these issues, the NLC and TUC have taken the following resolutions:
Immediate Withdrawal of Services and Shutdown of Imo State: Effective midnight today, all workers and affiliates are expected to ensure compliance with the strike action in Imo State. This includes the suspension of all flights into and out of Imo State, halting fuel supplies, and discontinuing electricity services.
Nationwide Strike: If their demands are not met, workers across the nation will join the strike action starting midnight on Tuesday, November 14, 2023.
Mandate for State Councils: All State Councils of NLC and TUC, as well as affiliates, are mandated to ensure full compliance with the NEC's decision.
This declaration of a nationwide strike by the NLC and TUC underscores the urgency of addressing the issues facing workers in Imo State and calls for the government's immediate attention to the demands of Organized Labour.

Submit press release, news tips to us: tips@latestnaija.news | Follow us @ODUNewsNG