Former Vice President Joseph R. Biden Jr., the presumptive Democratic presidential nominee, released a statement early Sunday morning appealing for calm.
"We are a nation in pain, but we must not allow this pain to destroy us," he wrote. "We are a nation enraged, but we cannot allow our rage to consume us. We are a nation exhausted, but we will not allow our exhaustion to defeat us."
Gov. Tim Walz of Minnesota activated thousands of additional National Guard troops to send to Minneapolis but declined the Army's offer to deploy military police units, as days of protests over the death of Mr Floyd threatened to boil over even further on Saturday.
Mr Walz, a Democrat, acknowledged that officials had underestimated the demonstrations in Minneapolis, where despite a newly issued curfew, people burned buildings and turned the city's streets into a smouldering battleground on Friday night. He compared the havoc to wars that Americans have fought overseas, and said he expected even more unrest on Saturday night.
What you've seen in previous nights, I think, will be dwarfed by what they will do tonight," he said.
Pentagon officials said that Defense Secretary Mark Esper and General Mark Milley, the chairman of the Joint Chiefs of Staff, spoke Friday with Mr Walz, to express "willingness" to deploy military police units. The governor declined the offer, the officials said and has since activated all of the state's National Guard troops, up to 13,200.
Nonetheless, the U.S. Northern Command has put several military police units on four-hour status, which means they could be ready to deploy in four hours, as opposed to a day.
Commissioner John Harrington of the Minnesota Department of Public Safety said that there had been "tens of thousands" of people in the streets on Friday, more than any other night since Mr Floyd's death on Monday set off a wave of protests that have become increasingly destructive across the country.
Mayor Jacob Frey of Minneapolis, looking weary after four days of outrage in his city, pleaded with residents to go home and stop burning down the local businesses that he said were even more vital in the middle of a pandemic.
"You're not getting back at the police officer that tragically killed George Floyd by looting a town," Mr Frey said. "You're not getting back at anybody."
Early Saturday morning in St. Louis, a man was killed after protesters blocked Interstate 44, set fires and attempted to loot a FedEx truck. The man was killed, the police said when he became caught between the truck's two trailers as the driver attempted to wend his way through the protest.
Officials in Minnesota and Washington are claiming that outside groups are undermining the protests in Minneapolis, using them as a cover to set fires, loot stores and destroy property. But they disagree on whether far-left or far-right groups are to blame and have not offered evidence to substantiate their claims.
On Saturday, Governor Walz said the "best estimate" suggested that 80 per cent of those arrested at the protests were not from the state. "I'm not trying to deflect in any way. I'm not trying to say there aren't Minnesotans amongst this group," Mr Walz said. But "the vast majority," he said, are from outside the state.
KARE, a Minneapolis television station, found that such claims may not be accurate. The station reviewed all of the arrests made by Minneapolis-based police agencies for rioting, unlawful assembly and burglary-related crimes from Friday to Saturday and found that 86 per cent of those arrested listed a Minnesota address.
The mayor of St. Paul, Melvin Carter, on Saturday, retracted his claim that "every single person" arrested on Friday night was from out of state. A spokesman said the mayor later learned that "more than half" is from Minnesota.
John Harrington, the commissioner of the Minnesota Department of Public Safety, said the authorities were analyzing those arrested, trying to understand what online platforms they have used and who they were associated with.
Is this an organised crime?
"We have seen things like white supremacist organizers who have posted things on platforms about coming to Minnesota," Mr Harrington said. "Is this organized crime? Is this an organized a cell of terror? Where is the linkage?"
Mayor Frey also blamed outsiders for the violence. "We are now confronting white supremacists, members of organized crime, out of state instigators, and possibly even foreign actors to destroy and destabilize our city and our region," he wrote on Twitter.
We are now confronting white supremacists, members of organized crime, out of state instigators, and possibly even foreign actors to destroy and destabilize our city and our region.

— Mayor Jacob Frey (@MayorFrey) May 30, 2020
The consequences of Trump's tweet?
On Saturday, President Trump insisted that the protesters were far-left extremists. "The memory of George Floyd is now being exploited by rioters, looters and anarchists," he said.
Attorney General William P. Barr echoed the claim.
"In many places it appears the violence is planned, organized and driven by anarchic and left extremist groups, far-left extremist groups, using Antifa-like tactics, many of whom travel from outside the state to promote the violence," he said.
Residents also say that Minneapolis has a core group of white anarchists. A man known as the Umbrella Man, dressed in all black and carrying a black umbrella, who appears to be white, was filmed breaking windows at an AutoZone store.
"We support the right of peaceful protestors, and we hear their pleas. But what we are now seeing on the streets of our cities has nothing to do with justice or peace." pic.twitter.com/ckZ28xXSkA

— The White House (@WhiteHouse) May 30, 2020
How is Los Angeles'sprotesters responding?
The protest on Los Angeles's affluent West Side began peacefully on Saturday and stayed that way for nearly three hours. Activists handed out water and food, and a crowd marched on Beverly Boulevard, chanting slogans against police brutality and waving placards.
Suddenly a police car was smashed and on fire, black smoke billowing into the blue sky. A young man threw a skateboard at a police officer, and frightened men and women rushed away in every direction. Police helicopters hovered overhead, and convoys of police S.U.V.s raced to the scene.
As tensions rose on the fourth day of protests in Los Angeles over the death of George Floyd, Mayor Eric M. Garcetti declared an 8 p.m. curfew.
"Go home," Mr Garcetti said. "Let us put the fires out. Let us learn the lessons. Let us re-humanize each other."
But later in the evening, looting was reported at a Nordstrom store at The Grove, an upscale mall near the area of the protest, and a small fire was burning outside.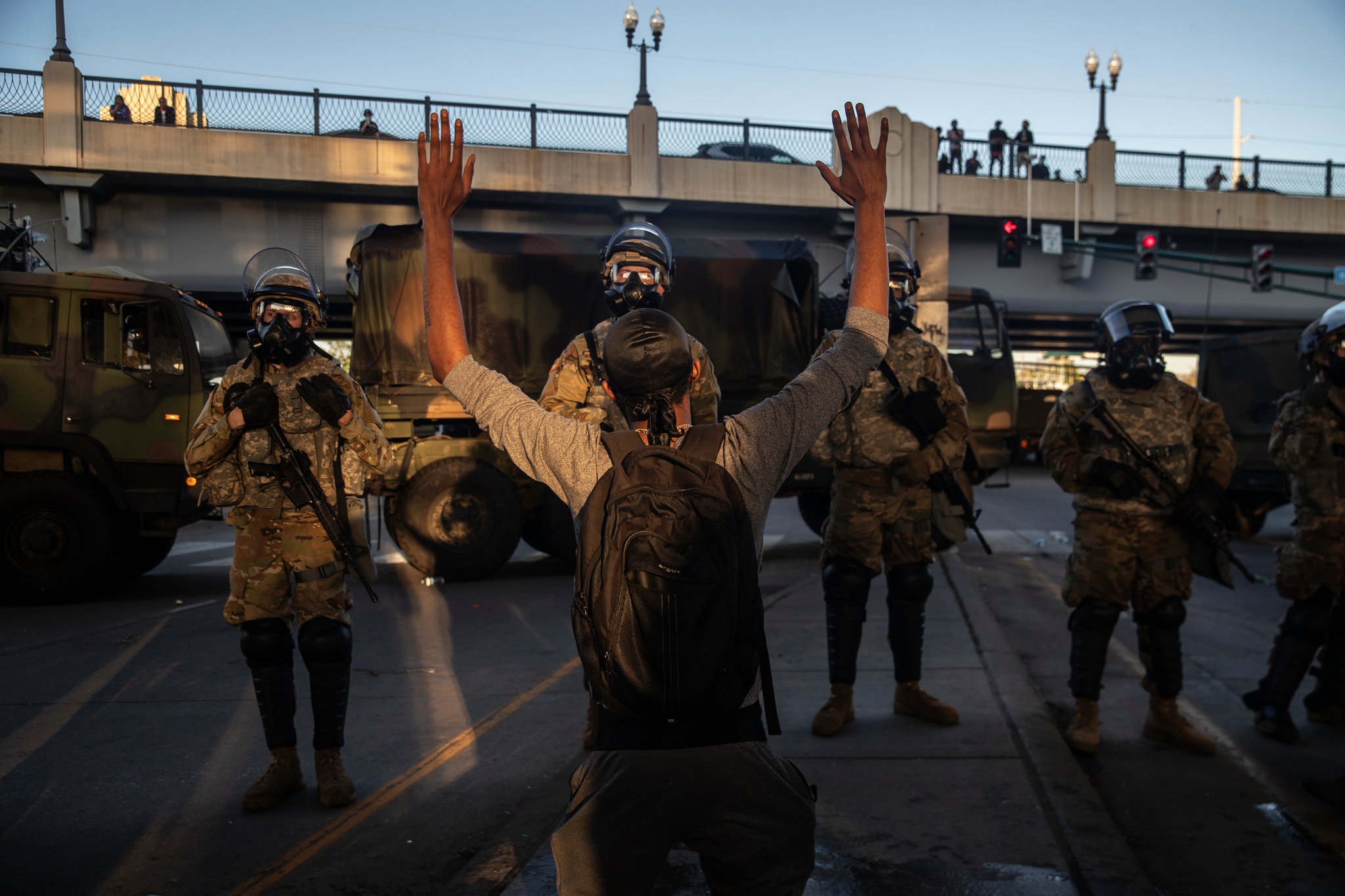 San Francisco
In San Francisco, a march drew about 1,000 people but remained peaceful, The San Francisco Chronicle reported. In Oakland, Mayor Libby Schaaf called on demonstrators to stay home after violent demonstrations on Friday.
In Sacramento, police officers surrounded the State Capitol as protesters pelted them and their horses with oranges and water bottles.
Before the mayhem started in Los Angeles on Saturday afternoon, several hundred people reflecting the diversity of the city — white, black, Latino, Asian-American — had the protest.
The death of Mr Floyd and the unrest it has provoked has tugged at painful memories in Los Angeles of the Rodney King beating in 1991 and the riots that occurred the next year after the acquittal of the four police officers involved in the case.
Innocents become casualties
A freelance photographer who was shot in the eye while covering the protests in Minneapolis on Saturday was of one of several journalists who have been attacked, arrested or otherwise harassed while covering the protests that have erupted nationwide.
With trust in the news media lagging, journalists have found themselves the target of ire on both sides of a deeply politicized crisis.
A television reporter in Louisville, Ky., was hit by a pepper ball on live television by an officer who appeared to be aiming at her.
Outside the White House, protesters attacked Leland Vittert, a Fox News correspondent and his crew, taking the journalist's microphone and striking him with it.
In Atlanta, masses of protesters on Friday night convened on the CNN headquarters, where they broke through the front door, lobbed fireworks and vandalized the building. Earlier in the day, Omar Jimenez, a reporter for the network, was detained as he reported on live television.
"I was aiming my next shot, put my camera down for a second, and then my face exploded," said Linda Tirado, the photojournalist. "I immediately felt blood and was screaming, 'I'm press! I'm press!'"
The Reporters Committee for Freedom of the Press logged about 10 different incidents that ranged from assaults to menacing in Phoenix, Indianapolis, Atlanta and Minneapolis.
"With the unravelling of civil peace around the country, reporters are perceived as a target by both the police and the protesters," said Bruce Brown, the executive director of the Reporters Committee, "and that is an extremely frightening place to be."
Roles of protesters in forcing a political change in America
The mass demonstrations, some peaceful, some destructive, touched off an anguished debate on Saturday among commentators, pastors and scholars about the role of protest in forcing a political and social change in America.
In the pages of the nation's newspapers and on social media, some watched in horror and others with a sense of hope as protesters took to the streets following Mr Floyd's death.
The singer Selena Gomez said she had spent the last 24 hours "trying to process this all."
"Nothing anyone says can take back what has happened," she wrote on Twitter. "But we can and must all make sure to take action. Too many black lives have been taken from us for far too long."
Shana L. Redmond, a scholar of music, race and politics at U.C.L.A.'s Herb Alpert School of Music, described receiving tearful calls from loved ones in Minneapolis with "tears running too fast to pause at sadness."
"They are hot with rage and anger at the condition of Black people in that place and in this world," she wrote on Twitter. "This is not a drill. This is our terrifying, murderous present. #MinneapolisRebellion."
Some who sympathized with the protesters voiced concern that the destruction could undermine the goal of forcing social change.
"I understand our frustration, rage and anger but it's of no benefit when we hurt ourselves in the process," Jamal H. Bryant, the pastor of New Birth Missionary Baptist Church in Lithonia, Ga., wrote on Twitter. "I urge adamantly for the fixing of this corrupt justice system and I pray profusely for the black businesses adversely affected!"
The response of the only black Republican in the Senate
Senator Tim Scott of South Carolina, the only black Republican in the Senate, who has called for the arrest of all four officers involved the arrest of Mr Floyd, urged calm.
"I know well the anger and frustration felt throughout communities of colour right now," he wrote on Twitter. "But violence is not the answer. Violence takes the focus off #GeorgeFloyd and the real issues at hand and gives those who prey on division more fuel. Make your voices heard, not bricks and fire."
Brian Merchant, an author, noted how the nation was briefly distracted on Saturday by the launch of a rocket built and operated not by NASA but SpaceX, the company founded by the billionaire Elon Musk.
"The symbolism of a billionaire-owned, for-profit space company launching astronauts high above the heads of thousands of people protesting state brutality and oppression amid a global pandemic and economic collapse should not be lost on anyone," he wrote.
On Blavity, a website geared toward black millennials, an editorial argued that the fires in Minneapolis reflected "the rage of Black protestors fed up seeing the lives of our brothers and sisters robbed by racism."
"We are fed up because we are forced to fight a pandemic amid a pandemic," the editorial said. "We are being disproportionately killed by systemic and overt racism at the same time — and are expected to accept these deadly conditions."
In The Los Angeles Times, an editorial argued that the country should focus not on the looting but on the repeated instances of the police killing black men.
"And no, police violence does not justify the rampages that erupted in Minneapolis," the editorial said. "But as the Rev. Martin Luther King Jr. pointed out more than a half-century ago, 'a riot is the language of the unheard.'"
The intensifying protests came after the authorities announced that the officer who pinned George Floyd to the ground had been arrested and charged with murder on Friday, a development that activists and Mr Floyd's family had called for but also said did not go far enough.
Third-degree murder or First-degree murder?
The officer, Derek Chauvin, 44, was charged with third-degree murder and second-degree manslaughter, charges that come with a combined maximum sentence of 35 years.
An investigation into the three other officers who were present at the scene remains ongoing.
Mr Floyd's relatives have said that had wanted the more serious charge of first-degree murder.
Third-degree murder does not require an intent to kill, according to the Minnesota statute, only that the perpetrator caused someone's death in a dangerous act "without regard for human life." Charges of first- and second-degree murder require prosecutors to prove, in almost all cases, that the perpetrator made a decision to kill the victim.
Chauvin's wife seek a divorce
A lawyer for Mr Chauvin's wife, Kellie, said that she was devastated by Mr Floyd's death and expressed sympathy for his family and those grieving his loss. The case has also led Ms Chauvin to seek a divorce, the lawyer, Amanda Mason-Sekula, said in an interview on Friday night.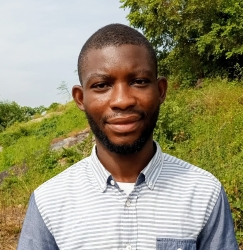 Latest posts by Ojo Oriyomi Ademola
(see all)

Submit press release, news tips to us: [email protected] | Follow us @ODUNewsNG