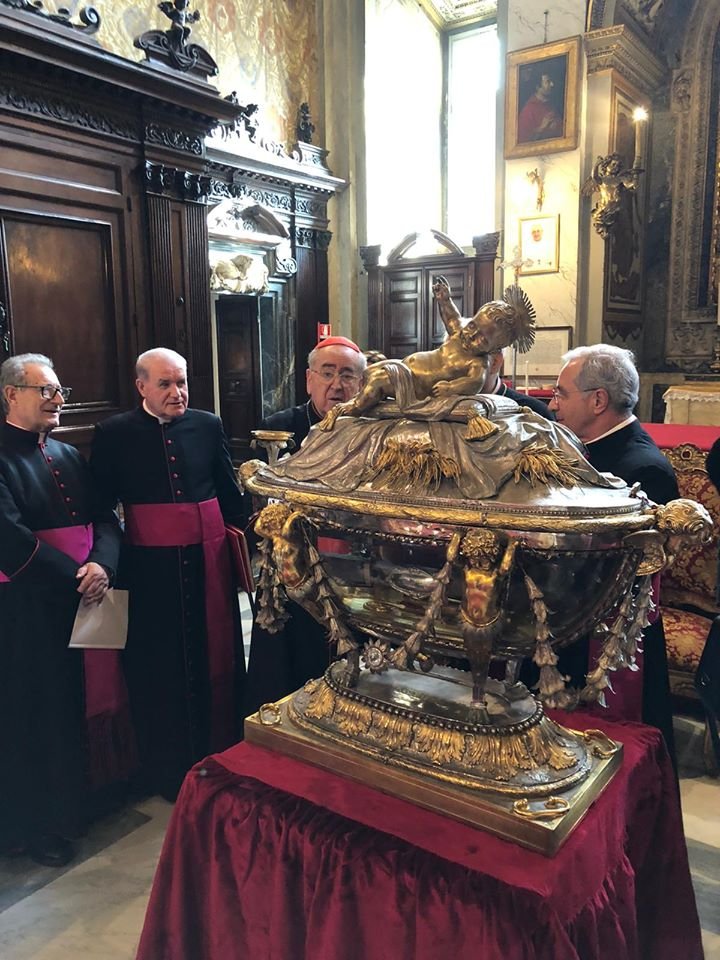 The mayor of Bethlehem, Anton Salman, told the Palestinian news agency WAFA, that the wooden fragments of the crib of Jesus Christ will be returned to Bethlehem.
The sacred crib was revered and guarded by Christians until it was brought to Rome in the seventh century, after the Muslim conquest of the Holy Land. The wooden fragments have been under the main alter of the Basilica of Santa Maria Maggiore in Rome. According to the basilica's website, the crystal reliquary is shaped like a crib that "contains pieces of ancient wood which tradition holds to be part of the manger where the Baby Jesus was laid."
The mayor of Bethlehem, Anton Salman, told the Palestinian news agency WAFA, the decision to return the relics came about after President Mahmoud Abbas's recent visit to the Vatican. On that occasion, Abbas asked Pope Francis for the return of the relic, according to Reuters. There has been ongoing discussion over whether Western collectors and museums should retain or return objects considered holy to their countries of origin.
The relics will arrive on November 30, the day the Palestinian town traditionally lights its Manger Square Christmas tree. Several events including a procession will honor the arrival of the fragments, which will be displayed in the Notre Dame complex, near the Old City of Jerusalem's New Gate. On Saturday, another procession will escort the relics to Bethlehem, from where they originally came and where they will remain.
"We're excited and grateful to the pope, the Holy Father Francis, for this gift and the right to preserve this holy relic," the costos of the order, Fr. Francesco Patton was quoted by Haaretz.com.
"This is a very significant event for us, when a relic of the crib of baby Jesus, which left Bethlehem in the seventh century, makes its way back to the Holy Land. Its return is a joyous event in advance of Christmas, which marks the birth of Jesus Christ our Savior, and does great honor to believers and pilgrims in the region."
"It is an historic move. It returns to its original place, and it will be a factor of attraction to believers from inside Palestine and to tourists from all over the world," said Amira Hanania, a member of Abbas's Higher Committee of Churches Affairs.  "To celebrate Christmas with the presence of part of the manger in which Jesus Christ was born will be a magnificent and huge event."

Submit press release, news tips to us: tips@latestnaija.news | Follow us @ODUNewsNG