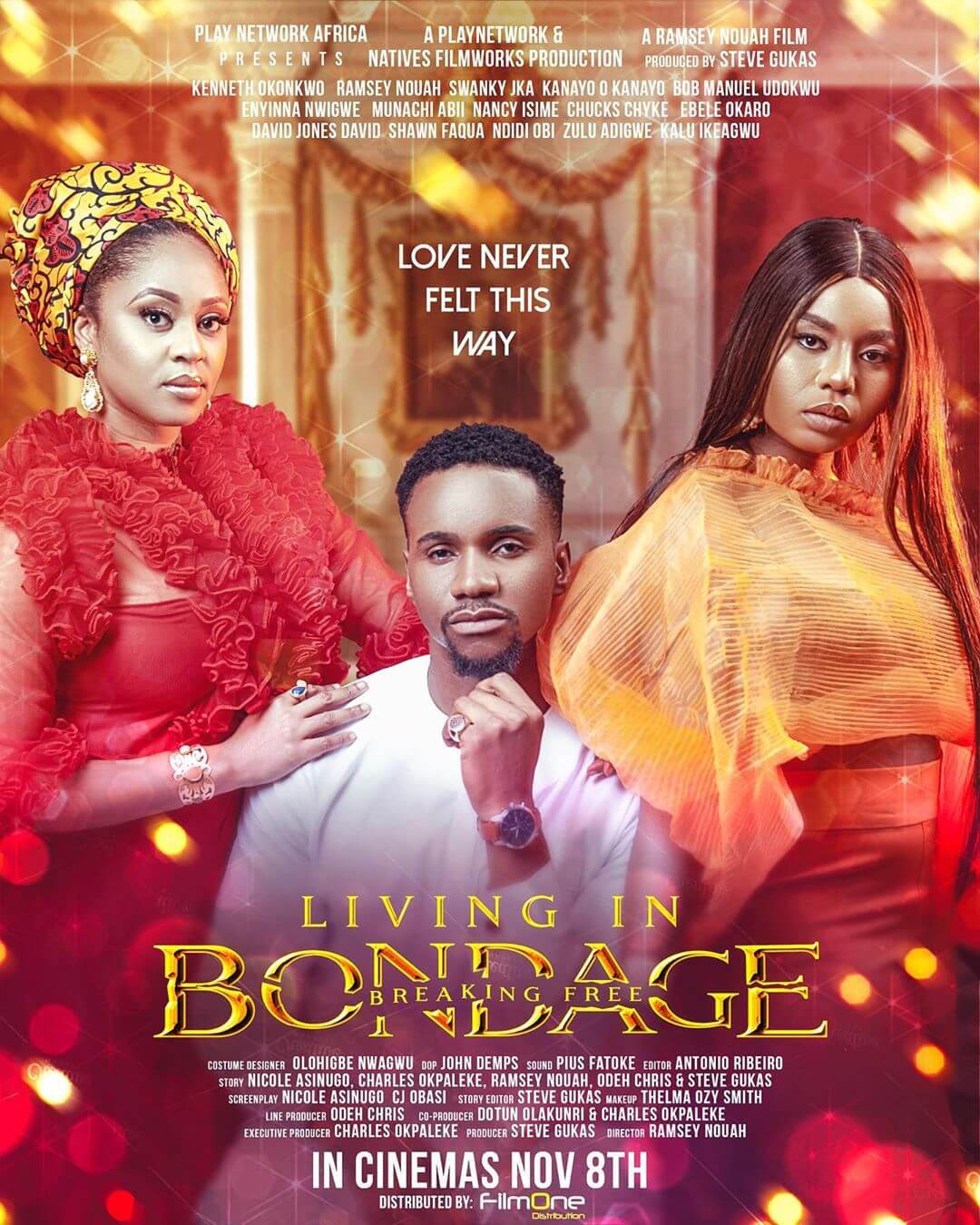 Living in Bondage: Breaking Free is both a sequel and a standalone movie that serves as a link between the film that heralded the birth of Nollywood and the present-day cinematic experience.
The good thing about the movie is that one doesn't have to watch the first ones (made in the early '90s) before enjoying this as it was written in such a way that would bring you up to speed with what is going on.
The film stars Swanky JKA as Nnamdi Okeke, the son of Andy Okeke (Kenneth Okonkwo), a young man who is desperate to live the good life. All his plans continue to fail and just when he begins to despair, the enigmatic and powerful Richard Williams (Ramsey Nouah) walks into his life.
Nnamdi gets a taste of the life he has always wanted; opulence, luxurious cars, and beautiful women. He then makes a choice to be part of 'The Six', a secret society headed by Williams himself, and from then on life becomes a bed of roses. That is until he finds out that he has to make the ultimate sacrifice or lose his life.
Living In Bondage: Breaking Free starts with an ominous song in a child's voice and the camera coupled with the shot itself tells you that you're in for one heck of a movie.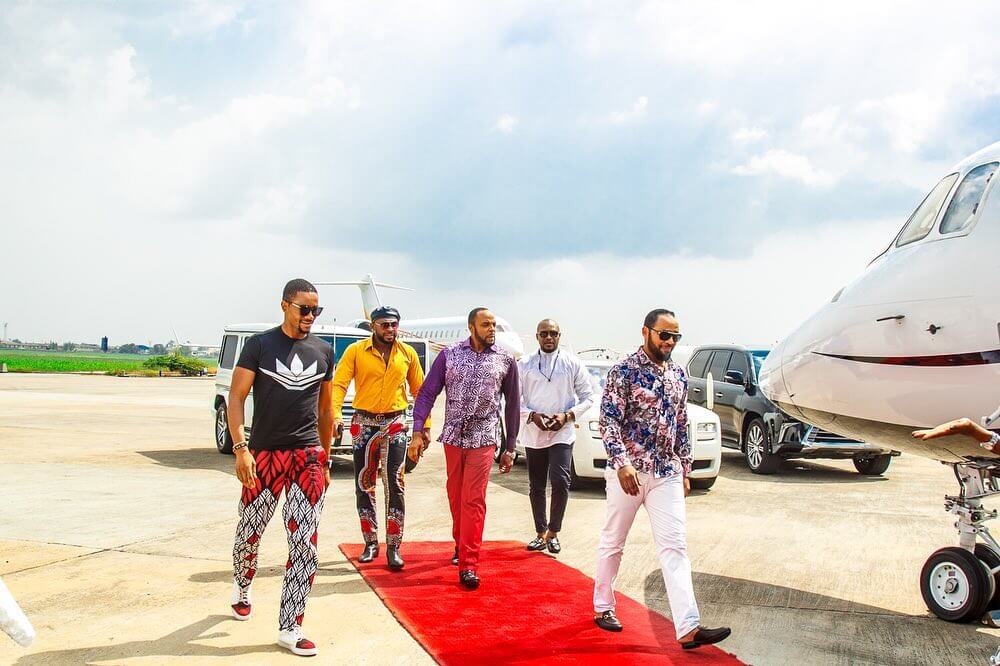 Those who saw the original films will welcome the return of a few of the original cast as they reprise their roles, especially Kenneth Okonkwo as Andy Okeke. As the movie progressed, I was glad to see subtle references and verbal explanations from the events of the first movies. It made me happy to know that even after so many years we still pay homage to the pacesetters in the movie industry.
A movie succeeds first of all by the way it is presented. This is where the visuals become very important and the cinematographer of this movie is a legit professional. The cinematography is one of the best I have seen in Nollywood movies and that is saying something!
The music is also one of the most crucial tools here as it sets and interprets every mood, what the characters on screen are going through, aids with scene transition and just goes to show how much work went into making this amazing work of art.
The way Andy was first shown just had me grinning broadly and it was just the perfect way to bring back the main character from the previous films.
The dialogue just flows naturally and the humour in the film comes in little doses and just eases the tense moments. You get them when you least expect and you wish you could get more. That proves that sometimes less is more.
The Igbo language adds that unique native vibe to the movie and it also serves as a nod to the film's predecessors.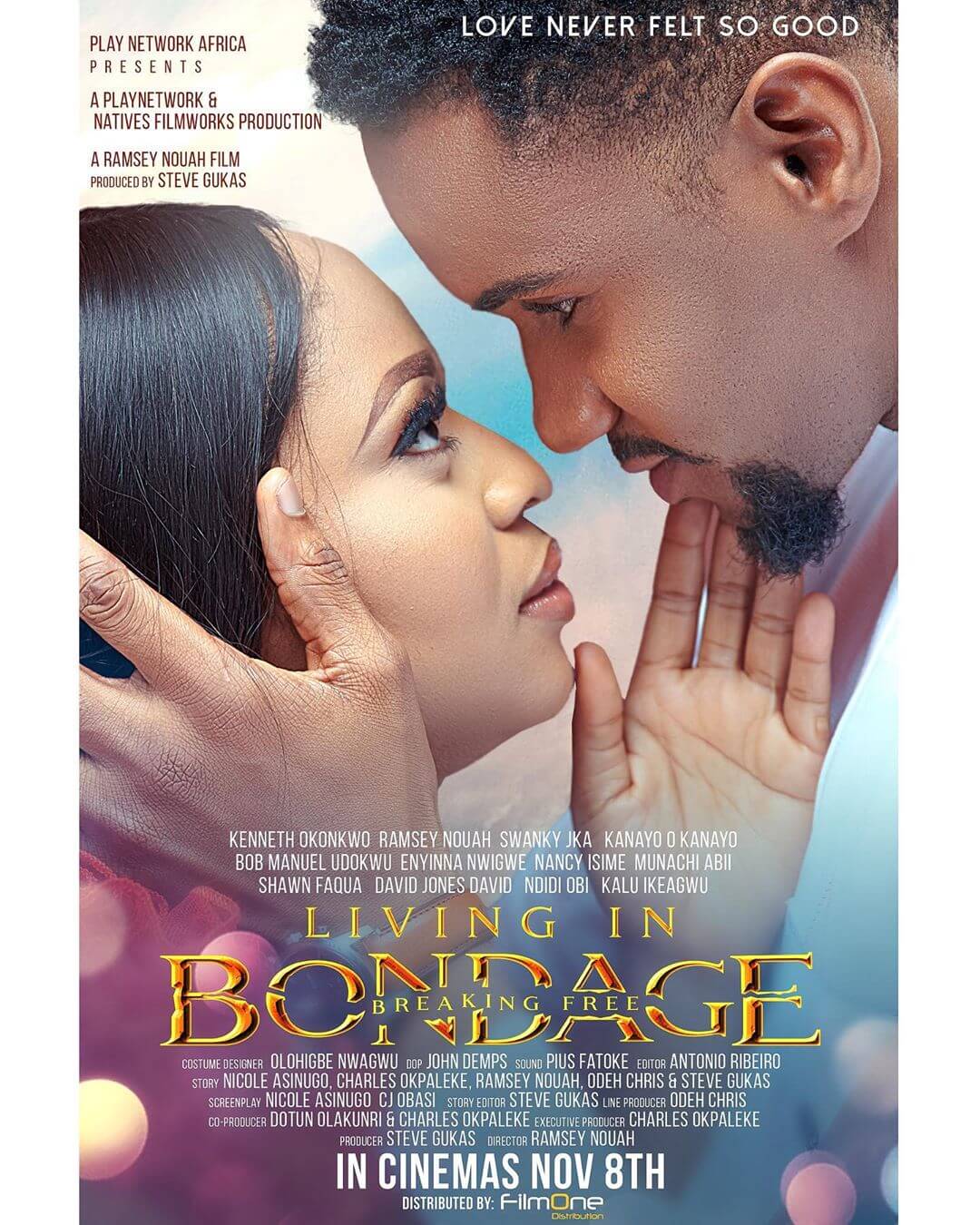 As for the acting, the lead star Swanky JKA plays the protagonist convincingly, showing his physical and emotional battles as he struggles to come to terms with the choices he makes during the course of the movie.
His range as a thespian is commendable and viewers will easily empathize with him in his trying moments.
The real star of Living in Bondage: Breaking Free is Ramsey Nouah. It's very challenging directing and acting in a movie, but when you do such a splendid job both in front of the camera and behind it, that is something else entirely.
Ramsey gives a stupendous performance here in what is one of the best in his acting career. His take on the role of the villain is nothing short of greatness! He is so charismatically evil that your eyes will remain glued to him whenever he appears on the screen. He makes the other actors seem so small with his effortless acting and he rocks so damn well as a genuine badass character! Williams' intimidating and seductive persona is perhaps the greatest of any antagonistic character in the entire roster of Nollywood movies!
A genuine surprise for me here was rapper Muna Abii, who acts as the love interest of the hero. Their chemistry is off the charts and the romance scenes will have you cheering for the young couple. She is a fine actress and moves and talks like a veteran. Her character is as smart as she is beautiful and she knows that there is more to her lover than he dares to admit. She is his moral compass and her acting is flawless.
One other thing that I would like to point out is the confrontation scene between Andy Okeke and Richard Williams. It is the classic representation of good versus evil and is my favourite scene of the entire film. It had me literally geeking out! Only then will viewers know what is truly at stake.
Kenneth Okonkwo himself is a breath of fresh air as the growth his character has gone through makes him one of the film's most lovable characters. He doesn't get as much screen time as fans would expect but his impact is felt.
I could go on and on but let me summarize by saying that never have I been more proud to identify with a Nigerian movie as I was while seeing Living in Bondage: Breaking Free. Ramsey Nouah's film deserves an award for movie of the year and best director as it will bring out a whole lot of emotions from you. It's really amazing to know that this is his first time directing as it never shows. You will be so attached that you will find that breaking free (pun intended) is harder than you thought.
Rating: 8.5/10.

Submit press release, news tips to us: tips@odunews.com | Follow us @ODUNewsNG