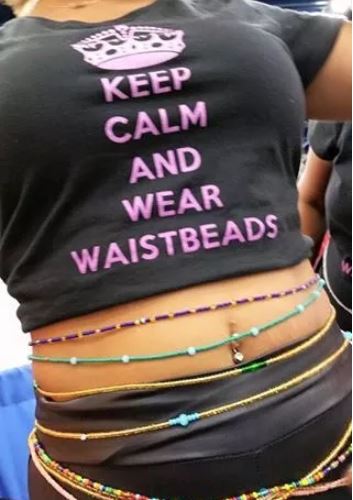 Something must surely kill a man either good or bad, sweet or bitter, a lady with  waist beads around her waist is a salt of life!
It was on a sunny Saturday, The sun was really at its most active mood. It was on my to-do list to go out that fateful evening with some friends have some chilled beer, some ShopRite chickens and catch up with what had happened during the week at our various places of work.
My friends had disappointed me by changing plans to visit a friend who was celebrating his wife to be, or aptly put fiance's birthday. What a disappointment! These guys knew I never liked the so-called "fiance". she is talkative. Well, she never likes me too anyways! So there was no point attending a party where you knew the celebrant does not expect your coming. In a bid to console myself of my friend's betrayal, I decided to adopt the principle of self-care, after all, it is always good to take yourself out sometimes. I decided to try a local, sophisticated kind of chilling. Though this act will take the better part of my budget for the week, as the famous saying goes "whatsoever a bird eats, that's what the bird will fly with" what's the point of working if I can't spend lavishly on myself to have a good time.
Got into this local but classy beer parlour, where old school songs like Rex Lawson, Dipo Sodipo, Osita Osadebe and the likes was the basic anthem of the atmosphere. One unique thing about this place was that the music was played on a lowkey, hence you could vividly hear the echoes of matured men and women from different walks of life discussing interesting issues that captivate one's minds.
The table that caught my fancy on that beautiful evening was a group of four handsome looking mature men probably in their mid-forties. There was a quiet different way they did their talks and drink their beers. They possess gestures and talks that wasn't normal around here.
They looked like guys that had just flown into the country from different places. Perhaps, to celebrate with a friend on an occasion which i can't actually figure out. The four had gulped down several bottles of beer, and each of them had just destroyed a huge mountain of ISI EWU..
Sitting at a distance, I begin to wonder what issues could this "old spots" be dissecting with so much gusto and agility. "SOMETHING MUST SURELY KILL A MAN"!!! EITHER GOOD OR BAD, SWEET OR BITTER!!! A  LADY WITH A WAIST BEAD AROUND HER WAIST IS A SALT OF LIFE! Well, these words I heard compelled me to swiftly CATAPULT my sitting position closer to the direction where this silly yet intriguing discussion was coming from. This guy has been talking about the sweetness of ladies with waist beads around her waist. What an interesting way to spend a previously betrayed evening.
I ordered another bottle of my favourite, in a most relaxed mood, I settled in my corner like a man without a care or worry in the world. I concentrated on the table like someone who was listening to a piece of information that's important to the very root of his life. There was a tall well built, with a nicely carved face among these guys that said 'The first thing I usually notice if i want to roll with a lady is if she has a bead on her waist" the bead makes her so sexual, you'll definitely like to see the full image and colour of the bead. It makes the whooing game more interesting.
Another one said" a lady with a beautiful tiny bead on her waist makes that sweet thing people do on the bed sweeter, the way it shakes during doggy style is kinda fun.
Laughing on top of his guttural voice, the eldest one among this old school boyz, I think, echoed " I'm always fascinated and captivated any time I see a lady twist her hip with a bead attached to it". It makes sex more sexual. One of them even said he cannot deal with chicks that do not use a waist bead.
While there are so many myths surrounding the use of waist beads by women, it is a popular concept among most sophisticated young and old African ladies. To some, it gives credence to a strong orientation of African culture. It portrays a lady as a fashionable African woman.
However, there is another twist to waist bead around women. Some say that it is a form of jazz some ladies use to lure men. Once you swim that ocean, you'll be hooked for life. While another myths, say a lady uses a bead so that her boot will get bigger and always shake.
Waist bead has been a distinctive feature of the African culture right from period unknown. In so many African civilizations, waist bead is a symbol in the adornment of the African women. used for different purposes. For instance, it is said that women use it to lure their men or use them to communicate their fertility at certain periods of the month. Also in other cultures, waist bead is an exclusive preserve of young ladies that are ready for marriage.
They say " one man's food is another man's poison" while waist bead is a gateway to heaven for some men, it is the opposite for others. Some people do not like the idea of a waist bead attached to a ladies waist. " different strokes for different folks".
I think sex is sexier when there's a lot for the mind to imagine. A waist bead helps with a more deeper connection during sex. Indeed, some ladies use it to draw more attention to their backside.
Would you like to drop your thoughts and your experience on this topic? kindly drop your view.

Submit press release, news tips to us: tips@odunews.com | Follow us @ODUNewsNG