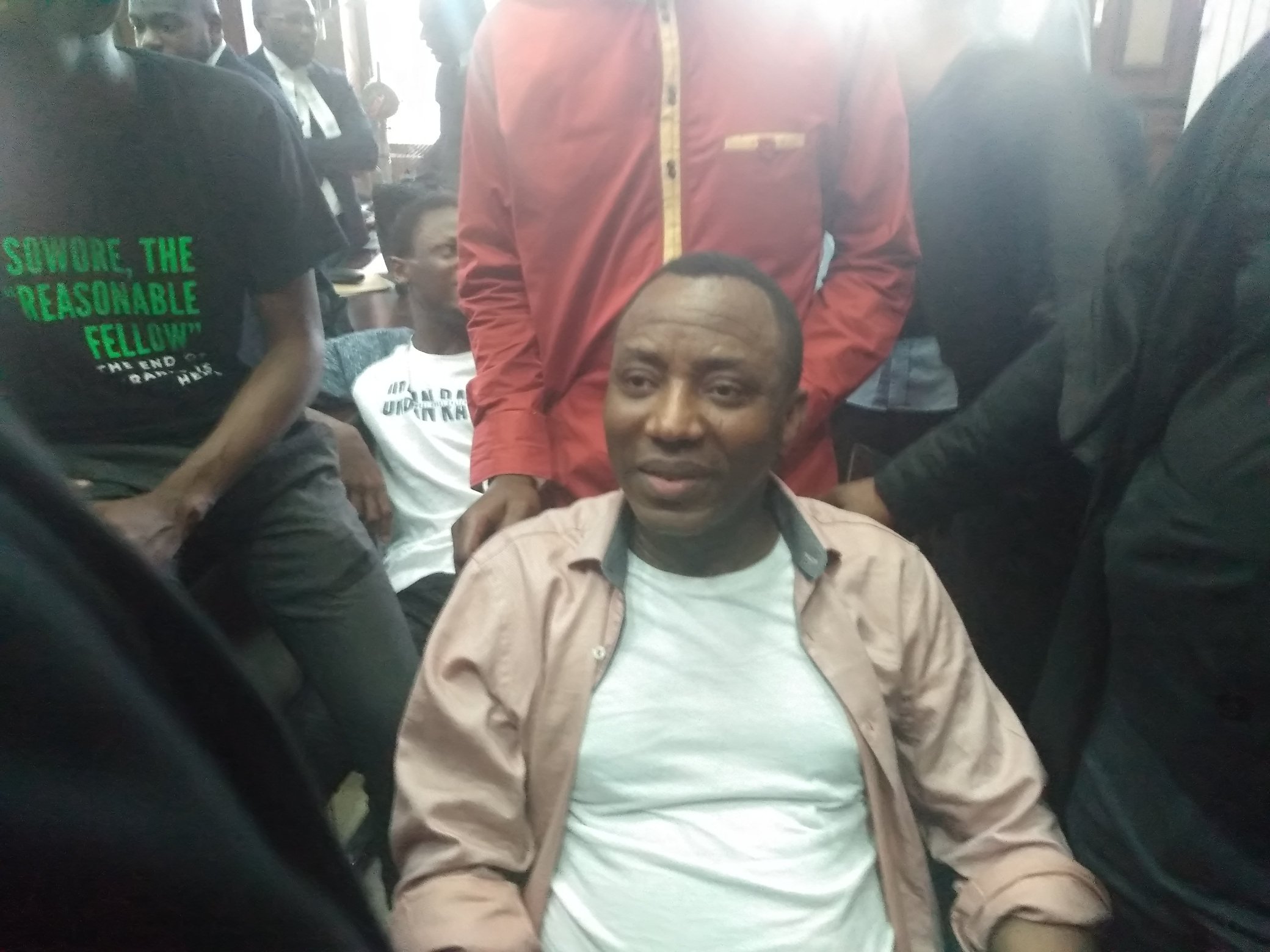 Nigerians have taken to social media to react to the disruption of court proceedings by the DSS in order to rearrest the convener of the #RevolutionNow movement, Omoyele Sowore and his co-accused, Olawale Bakare.
Odunews.com reported that the Federal High Court in Abuja ordered the release of the activists within 24 hours which was complied to by the DSS.
However, in a twist of events, the DSS stormed the court premises earlier today in a bid to whisk away the activists.
This however led to uproar in the court room before the activists were later rearrested.
Below are some of the reactions shared by Nigerians on twitter:
When SSS attempted to break into the National Assembly, Acting President Osinbajo fired its director-general within a few hours.

Today, SSS actually broke into a federal courtroom with guns, traumatising judges and citizens.

Sowore's case has finally boxed President Buhari in. https://t.co/wOG336Gp0G

— Samuel Ogundipe (@SamuelOgundipe) December 6, 2019
All of you who think this is Sowore's business, not yours, are making a deadly mistake.
If you cannot put 2015 behind you, and condemn what is happening in 2019, something worse will happen in 2020, and it will eventually get to you.

But y'all do you, sha. https://t.co/u5iCmsUHz8

— Andy Obuoforibo (@andyRoidO) December 6, 2019
Whatever claims held against sowore, is public humiliation punishment? If yes, is he being punished before conviction of whatever claims laid against him?

Is there a document showing why?

We know how powerful the gov. is but na human being dey there & Man get Expiry date sha.

— The peaceful sinner. (@VectorThaViper) December 6, 2019
https://twitter.com/is_salsu/status/1202906048195108864
https://twitter.com/BhadmusAkeem/status/1202914840123195392
In the absence of the rule of law, those in power may have power, like every citizen, they are not free either. That's the state the DSS dragged Nigeria into today. A court said Sowore be released within 24 hours, the DSS pretended to do so, then,drug cartel style,rearrested him!

— JJ. Omojuwa (@Omojuwa) December 6, 2019
https://twitter.com/OluniyiGates/status/1202905310970761218
I'm entirely heartbroken about this Sowore case.
There is simply no explanation that makes sense. None at all!!!
I've said it before that Nigeria was operating mild anarchy. Well, official announcement- this is full blown anarchy.
We are a ticking time bomb. Leave ASAP!

— Phoenix Blvck (@_Oroboghene) December 6, 2019
We cant have a society that isnt governed by laws abeg

Today is Sowore

Might be me tomorrow. https://t.co/RZmeyoLO5m

— OSI. (@Osi_Suave) December 6, 2019
A country with no rule of law is as good as done. I guess this is why they want to silence our voice on SM. Man's gradually losing hope 💔. There has to be more to this Sowore's arrest today release tomorrow and re arrest issue.

— DJ Neptune #Greatness 2.0 (@deejayneptune) December 6, 2019
All of you who think this is Sowore's business, not yours, are making a deadly mistake.
If you cannot put 2015 behind you, and condemn what is happening in 2019, something worse will happen in 2020, and it will eventually get to you.

But y'all do you, sha. https://t.co/u5iCmsUHz8

— Andy Obuoforibo (@andyRoidO) December 6, 2019
President @MBuhari , the whole world is watching the video of officials of the State Security Service which you directly supervise, brutally violate the constitutional rights of a citizen @YeleSowore inside a court and desecrated our Judiciary- an independent arm of government. https://t.co/OkzyISS7Ae

— Oby Ezekwesili (@obyezeks) December 6, 2019
So we have gotten to the point that the Court of law is no longer respected in this Country! This Government is the worst thing that has ever happened to us! Democracy my foot! #Sowore pic.twitter.com/2JFQGuS96P

— I'm that girl 💕💕 (@glofrosh) December 6, 2019

Submit press release, news tips to us: tips@latestnaija.news | Follow us @ODUNewsNG