The internet is currently laughing through the grim reality of the current state of politics.
It all started when Ron Perlman, star of "Hellboy" and "Sons of Anarchy," shredded Florida Republican Matt Gaetz for tweeting that he'd prefer not having a United States national soccer team over having one "that won't stand for the National Anthem."
As the Twitter feud escalated, Perlman dragged Rep. Jim Jordan of Ohio, a top collegiate wrestler who later coached at Ohio State, into the fun:
PS: You're lucky for this guy Matt. If it weren't for him you'd be the ugliest politician walking. @mattgaetz pic.twitter.com/uUgUDKHgZA

— Ron Perlman (@perlmutations) June 15, 2020
That, apparently, was one tweet too far in the eyes of Senator Ted Cruz of Texas, who entered the fray by challenging the 70-year-old actor to a wrestling match, with Jordan.
Listen Hellboy. You talk good game when you've got Hollywood makeup & stuntmen. But I'll bet $10k—to the nonpolitical charity of your choice—that you couldn't last 5 min in the wrestling ring w/ @Jim_Jordan w/o getting pinned. You up for it? Or does your publicist say too risky? https://t.co/eRerYVe5kj

— Ted Cruz (@tedcruz) June 15, 2020
Perlman countered with this:
Wait, is this THEE Ted Cruz? Holy shit man! Is this the same guy let little Donnie call his wife A dog and his father an assassin and now kisses his ass? Yo, can I get your autograph man? https://t.co/6QDwCaEkpv

— Ron Perlman (@perlmutations) June 15, 2020
And then Perlman said he'd be glad to wrestle Cruz himself. "I'll give 50k to Black Lives Matter and you can keep all the tax payer money you were thinking of spending," he wrote.
Even overnight, cooler heads didn't prevail, with the war of words spilling over into Monday (with some blue language making its way into the dialogue):
I get it, you're rich. But, apparently, soft. You sure seem scared to wrestle Jordan (whom you keep insulting).

Can't take the heat? Need to get a manicure? https://t.co/giLnJjZNKr

— Ted Cruz (@tedcruz) June 15, 2020
Walter Shaub, former White House ethics chief, summed up what so many were thinking:
After seeing Ted Cruz, the Senator who read a children's rhyming book on the floor of the Senate, challenge an actor to wrestle . . . somebody else, I'm thinking the Senate can stop calling itself the "greatest deliberative body in the world."

— Walter Shaub (@waltshaub) June 15, 2020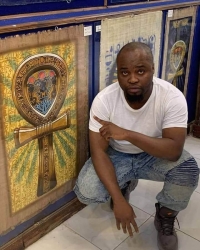 Latest posts by Samuel Nelson
(see all)

Submit press release, news tips to us: [email protected] | Follow us @ODUNewsNG