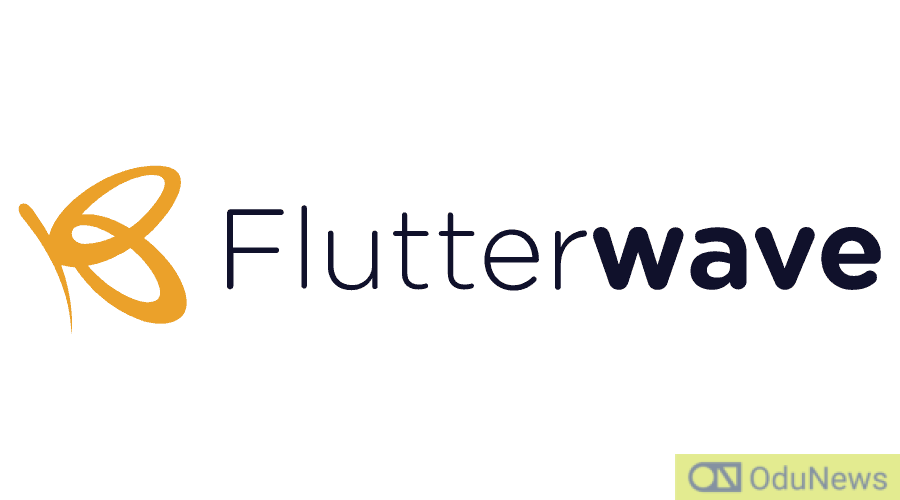 Recently, on February 13, 2023, African fintech unicorn, Flutterwave, experienced an attack by hackers who illegally transferred ₦2.9 billion from their accounts. The hack was reported to the police by Flutterwave's legal counsel, Albert Onimole, on February 19, 2023. It was revealed that the money was initially transferred to 28 accounts in 63 transactions, and some of the commercial banks allowed the money to be transferred to other accounts, making it difficult to trace.
Flutterwave's legal counsel filed a suit in the Magistrate Court of Lagos, requesting that accounts in 27 financial institutions in Nigeria be frozen, including Access Bank, Kuda, Zenith Bank, and OPay. The legal officer of the State CID, S.A. Adedesin, filed the suit to support Flutterwave's claims, with the Commissioner of Police named as the plaintiff.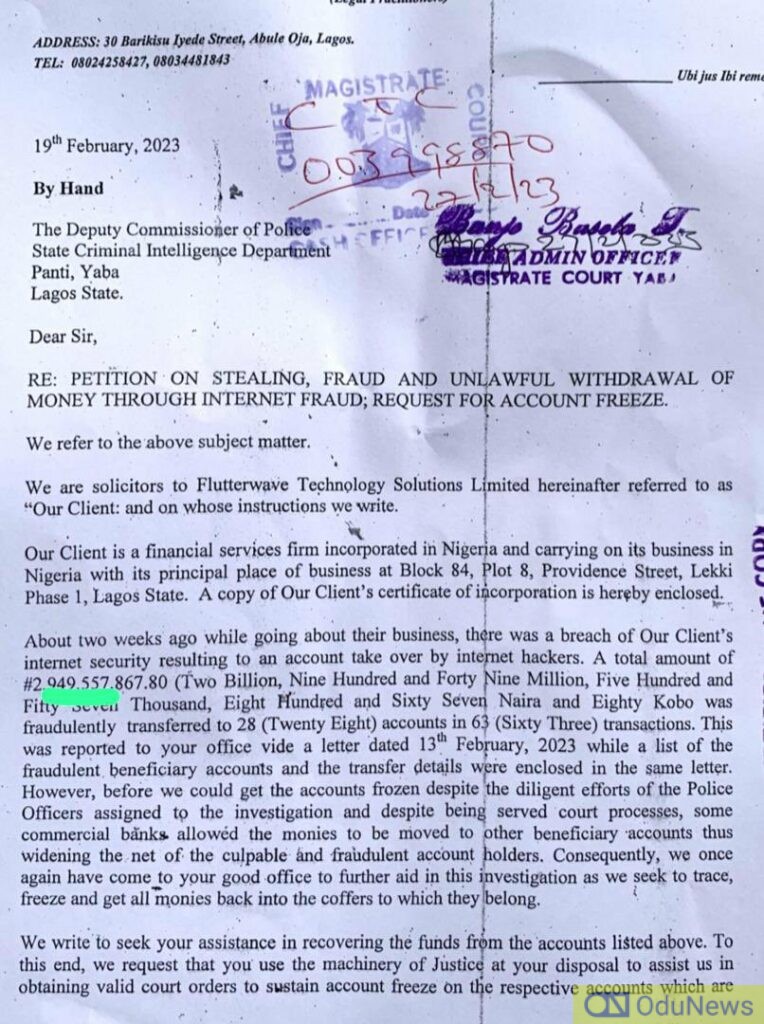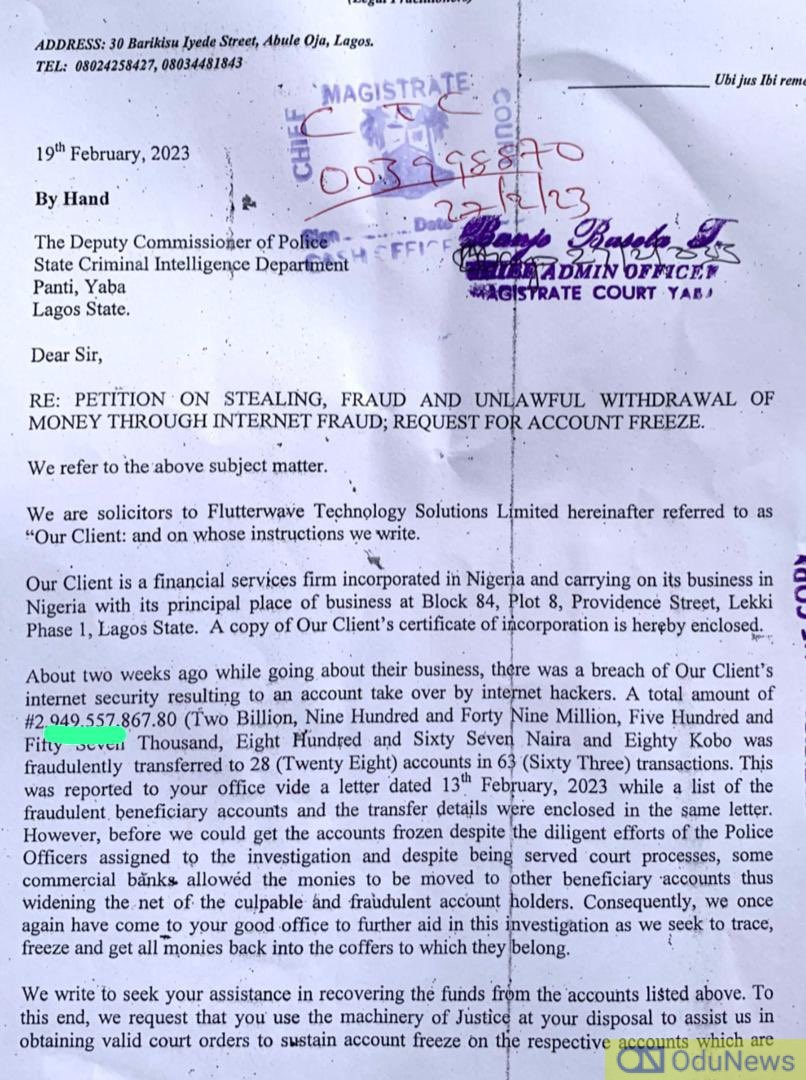 According to documents obtained by OduNews.com, 107 accounts, including fifth beneficiaries of those accounts, are to be placed on lien/Post-No-Debit (PND). Although it is uncertain whether the court has ruled in favor of the motion, some people have confirmed that their accounts have been frozen in connection to the hack.
Why are we (Kuda Users) affected by this? When we didn't even transact with Flutterwave? @joinkuda @kudahelp_ng @theflutterwave Please do something cos I can't access my account balance due to this and I have no idea why this is happening 😡 https://t.co/a5SqF4FmRX pic.twitter.com/ErC8fgfNgR

— Adewuyi Nasir Akanji (@AdewuyiAkanji) March 4, 2023
Imagine you were going by your business, you sold goods or services and your client came to your shop and paid with you transfer, only for the back to tell you the next day that your customer of 5 years is recalling the transfer, upon prodding further,
(2)flutterwavehacked

— Ňěx Crypto (@emmanex84) March 4, 2023
Next you're served with a court order from the magistrate court that your account was out of 107 accounts asked to be placed on hold because you were a 5th beneficiary(the funds passed through 5 accounts before it got to yours) of the funds(4)#flutterwavehacked

— Ňěx Crypto (@emmanex84) March 4, 2023
As of this tweet this #flutterwavehacked has happened THREE times(in December, in early Feb and late February) that I know of, at least 200 accounts have been locked, and more are still getting locked, why will a fintech allow multiple hacks?
(6)#flutterwavehacked

— Ňěx Crypto (@emmanex84) March 4, 2023
From this it is obvious that flutterwave is abusing our legal system(locking accounts of upto 5th beneficiary) and witch hunting(locking over 300 accounts) instead of getting the hacker that hacked them#flutterwavehacked
(8)

— Ňěx Crypto (@emmanex84) March 4, 2023
This is bring the injustice and oppression that we are currently facing in the hands of flutterwave and Nigerian banks.

Why does @flutterwave keep operating with systems that are compromised repeatedly? Do they not value their customers?
(10)#flutterwavehacked

— Ňěx Crypto (@emmanex84) March 4, 2023
Flutterwave is still investigating the breach, and it remains unclear how the hackers bypassed the company's security. Customers of Flutterwave are concerned about the safety of their funds and are awaiting an official statement from the company.

Submit press release, news tips to us: tips@odunews.com | Follow us @ODUNewsNG