Continuing the wave of support for Chef Hilda Baci's Guinness World Record cooking attempt, Governor Babajide Sanwo-Olu of Lagos State made a special visit to the venue of the cook-a-thon to personally celebrate and commend the talented chef.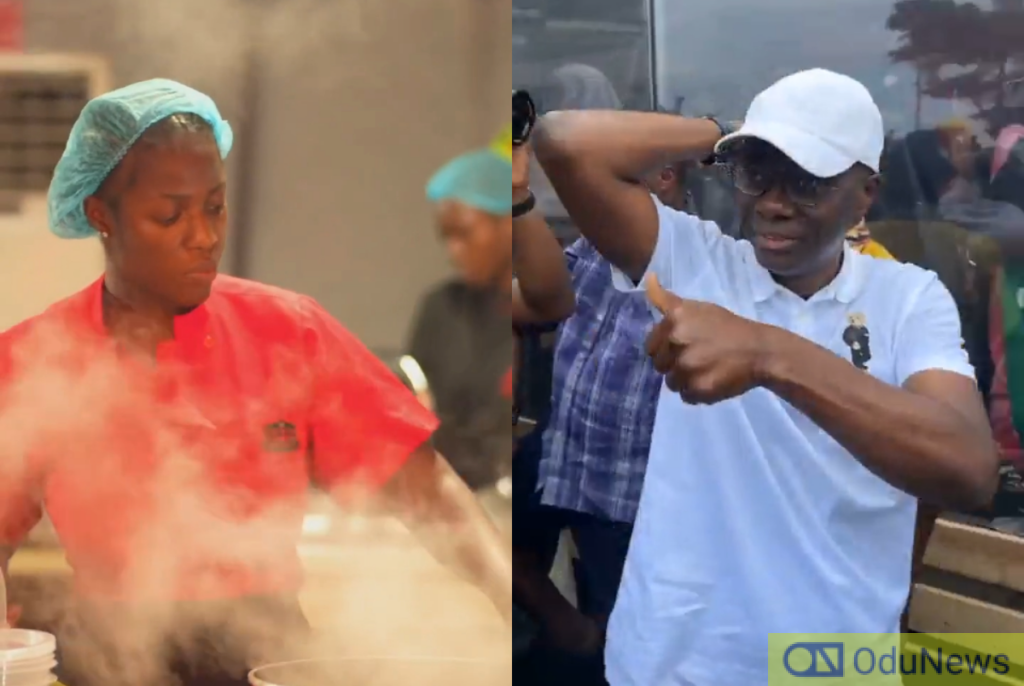 Accompanied by a team of officials, Governor Sanwo-Olu arrived at the cook-a-thon venue in Lagos on Sunday afternoon, May 14, 2023. The governor, known for his support of local talent and entrepreneurship, was warmly received by an enthusiastic crowd of onlookers and fans eagerly following Hilda Baci's culinary feat.
The governor's presence at the cook-a-thon venue resonated with the crowd, inspiring renewed enthusiasm and an outpouring of encouragement for Hilda Baci. The atmosphere was filled with a sense of pride and excitement as spectators cheered on the young chef, bolstered by the support of the state's highest-ranking official.
Lagos state governor, Babajide Sanwo-Olu visits Amore Gardens, Lekki to support Hilda Bacci pic.twitter.com/OD0CEIOI5i

— Ikéngà of Africa 🐯 🇳🇬 (@apro_dawildcat) May 14, 2023
Governor Sanwo-Olu's visit serves as a testament to the government's recognition of the talent and ambition of its citizens, and its commitment to nurturing an environment where dreams can be realized. The governor's endorsement of Hilda Baci's culinary pursuit not only amplifies her achievements but also shines a spotlight on the immense potential within the culinary industry in Lagos State.
As the cook-a-thon nears its culmination, the presence and encouragement of Governor Sanwo-Olu will undoubtedly inspire Hilda Baci and further ignite the aspirations of other young culinary enthusiasts. The entire nation eagerly awaits the outcome of this audacious feat, united in celebrating the indomitable spirit and remarkable talent displayed by Hilda Baci on this remarkable journey towards culinary excellence.
Governor Sanwo-Olu in the building #Hildabacicookathon pic.twitter.com/G3PFcUFiVs

— Akinwunmi (@AkinwunmiIAM) May 14, 2023
Governor Sanwo-Olu is here!!!!!

Go Hilda, Go!!!! 💪🏻 https://t.co/CL0ZSoBFSj pic.twitter.com/8l8qi1bCYs

— Princess_ 👑| Silver Girl | Ada Aguleri 💙 (@ChideraDieli) May 14, 2023

Submit press release, news tips to us: tips@latestnaija.news | Follow us @ODUNewsNG