In a monumental ruling that marks a significant step towards justice, Sayfullo Saipov, an Islamic State supporter responsible for the deadliest terrorist attack in New York since September 11, 2001, has been handed multiple life sentences, ensuring he will spend the remainder of his days behind bars. Saipov's malevolent act involved driving a truck into pedestrians and cyclists on a bustling Manhattan street in 2017, tragically claiming the lives of eight innocent individuals.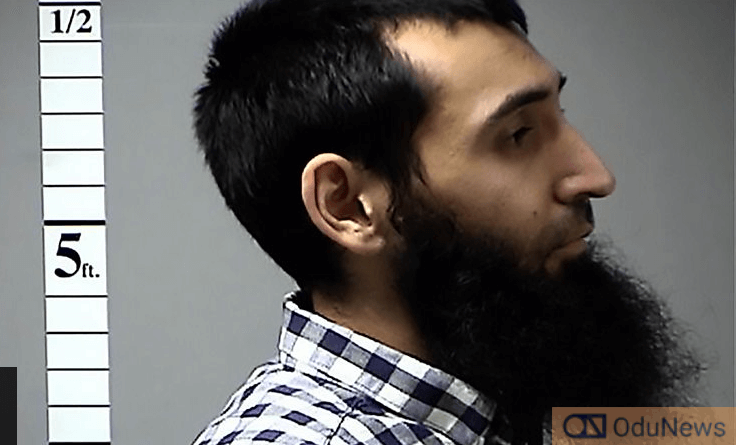 The sentencing hearing, held on Wednesday, delivered a resounding message of condemnation as Saipov received a total of ten life sentences, eight of which will run consecutively, amounting to an additional 260 years of imprisonment. This stern punishment ensures that he will never be granted freedom again.
During the hearing, Saipov faced the weight of his actions as he was reminded that his heinous act had "destroyed so many lives." However, his demeanor remained devoid of remorse throughout the trial. The courtroom became an emotional battlefield, with victims' families and survivors stepping forward to confront Saipov directly. The judge presiding over the case acknowledged Saipov's "sheer unrepentant nature" during the sentencing proceedings.
Originating from Uzbekistan and now 35 years old, Saipov employed a rented truck to carry out his random attacks on cyclists and pedestrians along Manhattan's West Side on the evening of Halloween in 2017. Uttering the phrase "God is great" in Arabic, he was eventually apprehended by law enforcement officers who shot him as he emerged from the vehicle. It was revealed in a prior hearing that Saipov aspired to earn recognition and membership within the extremist group for this atrocity.
Given the severity and scale of his crimes, Saipov is expected to be confined in Colorado's high-security "supermax" prison, where inmates spend up to 23 hours a day in their cells, ensuring the utmost security measures are in place.
Monica Missio, the grieving mother of victim Nicholas Cleves, voiced her disdain for Saipov's continued existence, lamenting, "It disgusts me that he gets to wake up every day while my son does not." Missio's sentiment echoed the collective anger felt by those affected by Saipov's barbarism and cruelty.
Rachel Pharn, a survivor of the attack, expressed her ability to forgive Saipov for the impact he had on her life. However, she drew a clear line, stating that she could never forgive him for the immense suffering he had inflicted upon others present in the courtroom. She declared, "When I look around the room, when I think of all the pain you caused, that I cannot forgive. That is between you, them, and Allah."
Among the victims were five tourists from Argentina and a 31-year-old Belgian woman who was visiting New York City. Additionally, two Americans—a 32-year-old financial worker and a 23-year-old software engineer—lost their lives, while another twelve individuals sustained injuries.
US District Judge Vernon Broderick, presiding over the case, emphasized the gravity of Saipov's crimes, noting their profound impact on the victims and the defendant's unwavering lack of remorse. The judge's words aimed to underscore the severity of the charges brought against Saipov.
Prior to his sentencing, Saipov addressed the court, seemingly reaffirming his allegiance to the terrorist group and exhibiting indifference to the testimonies he had heard throughout the trial. His sentence was not escalated to the death penalty since the jury failed to unanimously agree on its imposition during a hearing held the previous week.

Submit press release, news tips to us: tips@odunews.com | Follow us @ODUNewsNG