New York, NY – In a stunning turn of events, Republican Congressman George Santos has admitted to theft and reached a deal with Brazilian authorities to have criminal charges dropped in a case dating back to 2008. However, Santos is still facing more serious federal charges in the United States, including fraud, money laundering, and theft of public funds.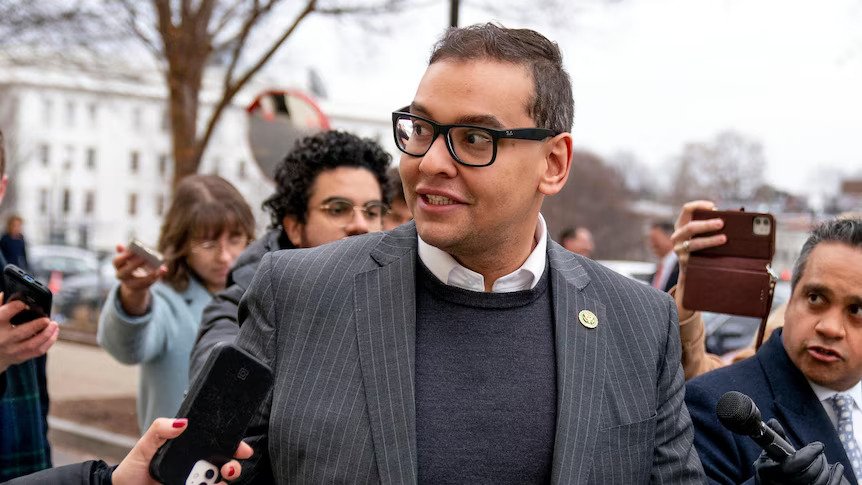 As part of the agreement with Brazilian authorities, Santos has been given a 30-day deadline to pay restitution and fines, upon which the charges in Brazil will be dismissed. The 34-year-old lawmaker, who was elected to the House of Representatives in November, maintains his plea of not guilty to the federal charges in the US.
Throughout his brief career on Capitol Hill, Santos has faced allegations of falsehoods and fraud. One of the accusations pertains to an incident in 2008 when Santos, then 19 years old, allegedly used a false name and stolen checks to make purchases totaling approximately $700 (£560) at a shop in Niterói, Brazil, including a pair of trainers.
The case had been put on hold as Brazilian authorities were unable to locate Santos, but it was revived once he assumed office in the United States. During a virtual appearance before a Brazilian criminal court on Thursday, Santos confessed to the theft. According to local news outlets, he was given 30 days to pay $2,000 (£1,600) in fines and an additional $2,800 to the shopkeeper.
While the charges in Brazil have been resolved, Santos is still grappling with serious legal issues in the US. On Wednesday, he was indicted in the Eastern District Court of New York on 13 criminal charges, which include fraud, theft of public funds, money laundering, and making false statements to Congress.
The indictment alleges that Santos used campaign donations for personal expenses, such as luxury clothing and credit card payments. It also claims that he fraudulently received unemployment benefits during the COVID-19 pandemic, despite being employed at an investment firm with a reported annual salary of $120,000.
According to Breon Peace, a US Attorney for the Eastern District of New York, the indictment paints a picture of Santos relying on dishonesty and deception to advance his political career and enrich himself. If convicted on the most serious charges, Santos could face a maximum sentence of 20 years in prison.
The legal proceedings surrounding George Santos have sent shockwaves through the political landscape, raising questions about ethics and accountability among elected officials. As the case unfolds, the congressman's future hangs in the balance, with potentially severe consequences awaiting him if found guilty of the charges.

Submit press release, news tips to us: tips@odunews.com | Follow us @ODUNewsNG