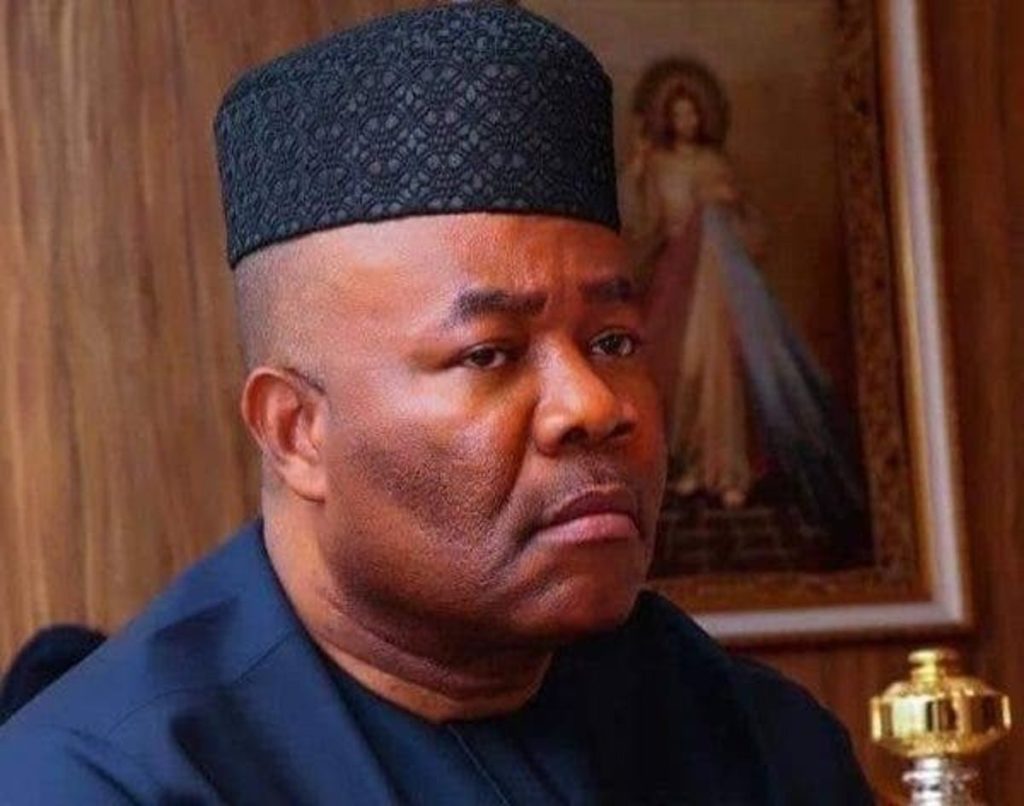 In a dramatic turn of events, Senate President Godswill Akpabio is facing increasing pressure as a coalition of former governors in the upper chamber, along with several civic organizations, have joined the chorus calling for his impeachment. The political landscape in Nigeria is buzzing with speculation and intrigue as both pro and anti-Akpabio factions within the Senate vie for control and influence.
Pro-Akpabio Senators on a Troubleshooting Mission
Reports suggest that some senators aligned with Akpabio have embarked on a mission to troubleshoot and garner support among their colleagues. These senators are said to be considering involving the leadership of the All Progressives Congress (APC), led by Dr. Abdullahi Ganduje's National Working Committee (NWC), to mediate and help resolve the growing crisis.
An unnamed APC official, while acknowledging the party's awareness of the situation, stated, "The party is just reading a lot of things, but we have heard that some of the senators are thinking of meeting with our NWC to help resolve the issue." However, it is worth noting that the APC had not received any official communication regarding Akpabio's current predicament.
Calls for Impeachment Intensify
While the anti-Akpabio senators have dismissed earlier reports of planned impeachment as baseless, the Coalition for Parliamentary Democracy (CPD), a parliamentary watchdog, has vocally called for Senate President Akpabio's resignation. According to CPD, Akpabio has fallen out of favor with his colleagues due to his alleged failure to fulfill his duties as a Presiding Officer and provide transparent and credible leadership.
Dr. Menike Johnson, the National Coordinator of CPD, issued a statement on behalf of the coalition, stating that Nigerians cannot afford a Senate with unstable leadership that does not command the loyalty of lawmakers. CPD criticized Akpabio for deflecting blame onto external individuals, calling it a "dangerous and unstatesmanlike venture that is capable of triggering a crisis in the polity."
CPD emphasized that instead of addressing the serious allegations raised by his colleagues, Akpabio had resorted to blame-shifting, further exacerbating the leadership crisis within the Senate. The coalition concluded its statement by counseling Akpabio to step down from his position to save the nation from further trouble.
Allegations of Political Maneuvering
In a related development, a message circulated among northern senators last Saturday, allegedly authored by Senator Elisha Ishaku Abbo, claimed that Akpabio's loyalists had sponsored the news report about his rumored impeachment to sow discord among Northern Senators and create tension with President Bola Ahmed Tinubu.
Senator Abbo stated, "I woke up today to see over 10 mainstream Nigerian newspapers, all carrying news of a plan to impeach Senator Akpabio by senators from Northern Nigeria." He further claimed that this news was deliberately planted to pit President Tinubu against the North.
As the political drama unfolds in Nigeria's Senate, the nation watches closely, awaiting further developments in this high-stakes power struggle.

Submit press release, news tips to us: tips@latestnaija.news | Follow us @ODUNewsNG