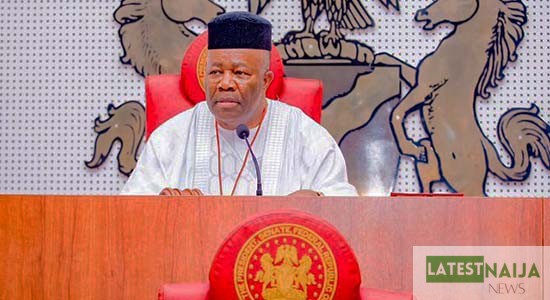 Prominent political figures within the Nigerian Senate are reportedly preparing to mount a robust challenge against Senate President Godswill Akpabio as the legislative body gears up for its resumption later this month. Sources close to the matter have revealed that these forces are deeply discontented with Akpabio's perceived allegiance to President Tinubu, which they argue has diverted his focus from serving the best interests of both lawmakers and the Nigerian populace.
According to reliable insider information, certain aggrieved Senators, including two former North West governors, have seized upon a recent comment made by Akpabio as an opportunity to undermine his leadership. Akpabio's remark that "prayers had been sent to their mailboxes for celebrations" has reportedly ignited further dissatisfaction among his colleagues, who view this statement as a slip-up detrimental to the Senate's credibility.
The plot against Akpabio appears to be well-organized, as sources suggest that the anti-Akpabio group has already convened multiple clandestine meetings in Saudi Arabia and Ilorin to fine-tune their strategies for his potential impeachment upon the Senate's return to session.
A high-ranking source within the National Assembly, privy to the inner workings of the plot, disclosed, "One of the major grievances against Senator Akpabio is his perceived highly-subordinated relationship with President Bola Tinubu. Furthermore, his 'prayer' slip on the day of adjournment, while later clarified and withdrawn, has left a sour taste in the mouths of many of his colleagues who have publicly expressed their concerns."
The source further intimated, "All of these developments are part of preparations for the 2027 general elections, where the orchestrators of this scheme plan to launch a new 'hybrid party.'"
Elaborating on the party formation plans, another source revealed, "There are plans to establish a hybrid political party ahead of the 2027 elections, drawing members from both the ruling All Progressives Congress (APC) and opposition parties, particularly the People's Democratic Party (PDP). Their intention is to replicate the 'tsunami' effect witnessed in 2014 when several heavyweights left the then-ruling PDP to form what we now know as the SPC."
As tensions mount and political maneuvering continues behind the scenes, the Senate's upcoming session promises to be a pivotal moment in Nigeria's political landscape, potentially reshaping the nation's political alliances and strategies in the run-up to the 2027 elections.

Submit press release, news tips to us: tips@latestnaija.news | Follow us @ODUNewsNG