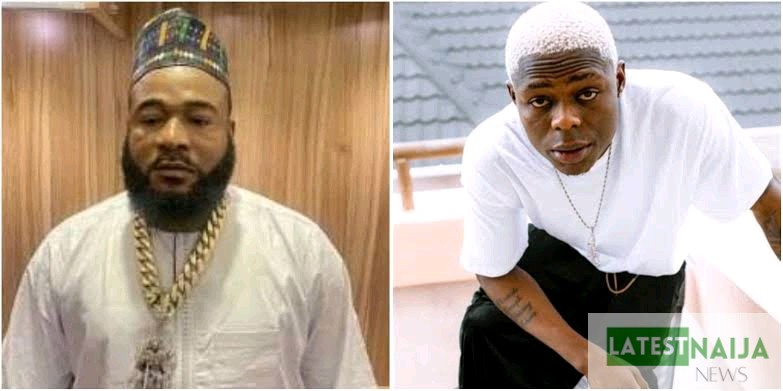 Balogun Olamilekan Eletu, popularly known as Sam Larry, a prominent Nigerian socialite and ally of the Marlian Records camp, has shed light on the altercation that recently rocked social media involving him and late singer Mohbad. According to Sam Larry, the brawl stemmed from a financial dispute involving an unpaid sum of N2 million, which he claims was owed to him by the late musician.
The incident first gained public attention when a video of Sam Larry and his associates confronting Mohbad went viral on various social media platforms, drawing widespread criticism from the public. The footage captured the moment when Mohbad, alongside fellow musician Zlatan, was on set for a music video shoot, only to be confronted by Sam Larry and his crew.
In the video, an agitated Sam Larry can be seen berating Mohbad, who, in a state of fear, hastily left the scene to avoid any escalation of the situation. The incident triggered a torrent of anger and condemnation from social media users, who accused Sam Larry of bullying and threatening the late singer.
Sam Larry, however, has now offered his side of the story through a statement shared on SnapChat, in which he claimed that he had paid Mohbad a substantial sum of N2 million to perform at his mother's annual remembrance concert in Ikorodu, Lagos. He alleged that despite the financial agreement, Mohbad failed to fulfill his performance commitment.
In his statement, Sam Larry said, "Two years ago, I gave Ileri N2 million to perform at my mother's annual remembrance concert at Ikorodu. The boy never turned up. So I called him to ask why. He then said he was not feeling well. When I asked for a refund, he said he lost his phone and money recently when the NDLEA raided his place and since he was leaving Marlian Records, he is now broke, with no commitment to repay."
He went on to recount that after discovering Mohbad was nearby, shooting a music video in the vicinity of his residence, he confronted the artist to demand repayment of the outstanding amount. An altercation ensued, lasting approximately five minutes, and despite the involvement of one of Mohbad's friends who pledged to ensure the debt was paid, Sam Larry alleges that he is yet to receive any reimbursement.
Sam Larry clarified that this incident took place early last year, and he subsequently moved on from the matter. He mentioned that he had been overseas since August 20, scouting for new African talent to perform at his mother's upcoming concert in Kenya.
Concluding his statement, Sam Larry expressed his lack of knowledge about the circumstances surrounding Mohbad's demise, asserting, "I don't know anything about how the musician died." He also stressed that he was unaware of the details of Mohbad's daily life, including his residence, healthcare providers, or any other personal information.
The unfolding saga between Sam Larry and the late Mohbad continues to captivate public interest, with many eagerly awaiting further developments in this complex and contentious story.

Submit press release, news tips to us: tips@latestnaija.news | Follow us @ODUNewsNG