Israel has maintained its relentless air assault on Gaza, escalating tensions after Palestinian militant group Hamas threatened to execute around 150 hostages it had abducted during a weekend assault.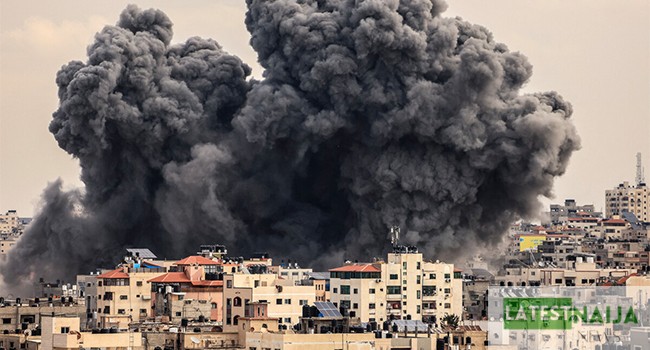 The crisis deepened as Israel imposed a complete siege on the Gaza Strip, cutting off essential supplies like food, water, and electricity, leading to concerns over a deteriorating humanitarian situation.
Hamas's audacious ground, air, and sea assault, often likened to the 9/11 attacks on the United States, has left Israel grappling with unprecedented challenges. The death toll in Israel has surged to over 900 as a result of retaliatory strikes on Gaza, pushing the Gaza death toll to 687.
On Tuesday, the Israeli military declared that it had "more or less restored control" over the Gaza border following the mass breach by Palestinian gunmen on Saturday. They also confirmed the recovery of approximately 1,500 Hamas militants' bodies inside Israel, underscoring the scale of the assault.
Explosions continued to rock Gaza City as fireballs repeatedly lit up the sky, accompanied by wailing sirens in the early hours of Tuesday.
Hamas responded on Monday by accusing Israeli air strikes of killing four of its hostages and warning that it could resort to executing them if air strikes persist without warning.
Israeli Prime Minister Benjamin Netanyahu, in a televised speech on Monday, equated Hamas with the Islamic State group (ISIS) and pledged to deploy "unprecedented force" against them. He specifically condemned Hamas for heinous acts against civilians.
Furthermore, Israel announced the mobilization of 300,000 army reservists for its "Swords of Iron" campaign. Defence Minister Yoav Gallant declared a "complete siege" on the densely populated enclave of 2.3 million Palestinians, effectively cutting off all essential supplies, including electricity, food, water, and gas.
United Nations Chief Antonio Guterres expressed deep distress over the siege announcement, warning that the already dire humanitarian situation in Gaza would worsen exponentially.
As Palestinians in Gaza braced for a potential large-scale Israeli ground attack, tensions in the Middle East soared. Iran, Israel's arch-enemy, praised the Hamas attack, although Tehran denied any direct involvement in the operation.
Hamas called on "resistance fighters" in the West Bank and in Arab and Islamic nations to join their campaign, dubbed "Operation Al-Aqsa Flood," signaling that the military operation was still ongoing.
Israel, known for its high-tech military and intelligence capabilities, found itself shaken by the surprise Hamas strike, facing threats of a multi-front war. On Monday, the Israeli army reported killing several armed suspects who crossed the border from Lebanon, and Israeli helicopters struck targets in the area.
The Palestinian militant group Islamic Jihad later claimed responsibility for the thwarted infiltration from Lebanon into Israel. Iran-backed Hezbollah retaliated against two Israeli barracks in south Lebanon, resulting in casualties.
The United States, in a show of support, moved its largest aircraft carrier and other warships closer to Israel, although it stated it had no plans for boots on the ground but was assisting in hostage recovery efforts.
Hamas's unprecedented attack breached the heavily fortified Gaza border fence, guarded by surveillance cameras, drones, patrols, and watchtowers. The attack occurred at a music festival in a Negev desert kibbutz, leading to the death of over 270 individuals.
Inside Gaza, air strikes caused widespread destruction in the Jabalia refugee camp, with charred bodies recovered from the rubble. The Committee to Protect Journalists reported that three Palestinian journalists were killed, and two photographers went missing since Saturday.
Israel has blockaded Gaza since 2007, resulting in four previous wars with the territory. The recent Israeli strikes targeted residential tower blocks, a major mosque, and the main bank building in Gaza.
The UN Relief and Works Agency for Palestine Refugees revealed that it was sheltering more than 137,000 people in schools across Gaza, but the situation remained dire.
In the West Bank, Palestinian protests against Israeli forces have turned deadly, with 15 Palestinians killed since Saturday.
The escalating conflict has reverberated globally, with oil prices surging due to concerns over supply disruptions. US energy firm Chevron suspended operations at a natural gas platform off Israel's coast at the authorities' request.
Saudi Arabia's Crown Prince Mohammed bin Salman reassured Palestinian President Mahmud Abbas of the Gulf kingdom's efforts to prevent the conflict from spreading across the region.
The European Commission is reviewing its development aid to the Palestinians, although it clarified that no support had been suspended, while Britain is conducting a similar review.
Both the United States and the European Union classify Hamas as a terrorist group. Analysts have noted the unprecedented nature of the Hamas assault, potentially making diplomatic efforts futile in the short term.
Turkish President Recep Tayyip Erdogan has engaged in urgent diplomatic efforts, warning Israel against indiscriminate attacks on civilians while also urging Hamas and Israel to respect the "ethics" of war.

Submit press release, news tips to us: tips@latestnaija.news | Follow us @ODUNewsNG