In a startling development, Niger's military rulers announced that they successfully thwarted an audacious escape attempt by the country's former President, Mohamed Bazoum, who was ousted in a coup this past July.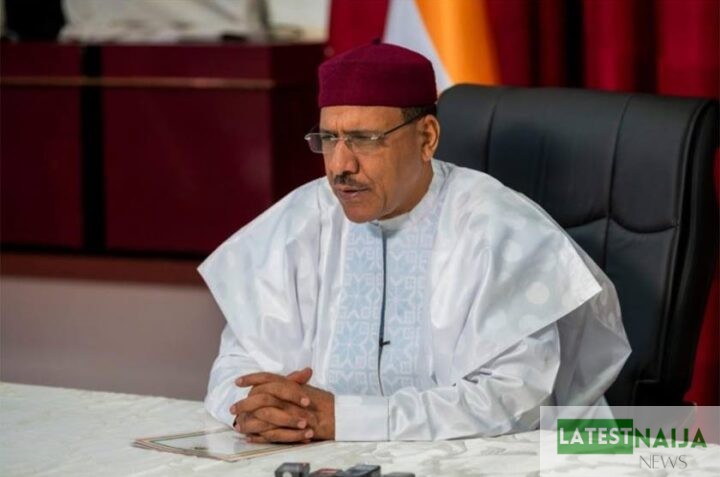 The dramatic incident unfolded on Thursday, casting a fresh shadow over the political landscape of the West African nation.
According to Amadou Abdramane, the regime's spokesperson, the escape plan was set in motion around 3 AM when Mohamed Bazoum, accompanied by his family, two cooks, and two security personnel, attempted to flee from their place of detention. Abdramane revealed this during a late-night broadcast on state television.
The daring bid for freedom, however, met with failure as Bazoum and some of his accomplices were apprehended. The military regime immediately launched an investigation into the escape attempt.
Details of the escape plan emerged, with Abdramane stating that the ousted president had intended to reach a hideout on the outskirts of the capital, Niamey, from where he planned to board helicopters "belonging to a foreign power" with the ultimate destination being Nigeria. The military regime denounced Bazoum's actions as "irresponsible."
Since his overthrow in July, Bazoum has steadfastly refused to resign. Up until this incident, he had been detained at his residence within the presidential palace along with his wife, Haziza, and son, Salem. Abdramane did not disclose the current location of the detainees.
In September, Bazoum's legal team initiated legal proceedings with a court within the Economic Community of West African States (ECOWAS) against those responsible for his ousting. Additionally, they expressed their intent to take the case to the UN Human Rights Council.
The military officers who ousted Bazoum had cited the deteriorating security situation in the country, particularly due to jihadist attacks, as their primary justification for the coup.
Niger has been grappling with two concurrent jihadist insurgencies, one stemming from a spillover of violence in neighboring Nigeria's southeast and another originating from militant activities crossing over from Mali and Burkina Faso in the west.
Earlier this month, Niger observed three days of national mourning after 29 soldiers lost their lives in a suspected jihadist attack. This attack marked the deadliest since the military assumed control in July.
In a related development, French soldiers who were ordered to withdraw from Niger by its post-coup military rulers have started departing. The first group of these troops arrived safely by road in N'Djamena, the capital of neighboring Chad, after a 10-day journey that was coordinated with Nigerien forces.
The withdrawal, which is expected to conclude by the end of December, involves approximately 1,400 French soldiers who were stationed in Niamey and western Niger to combat jihadist groups associated with the Islamic State and Al-Qaeda. They brought with them advanced military equipment, including fighter jets, drones, helicopters, and armored vehicles.
France, along with other countries and international organizations, continues to call for the release of the ousted President, Mohamed Bazoum. However, the military regime appears resolute in its position. The situation in Niger remains fluid, with the international community closely monitoring developments.

Submit press release, news tips to us: tips@latestnaija.news | Follow us @ODUNewsNG