The United Nations (UN) has issued a stark report revealing that more than 123,000 people have been forcibly displaced in the Gaza Strip since the outbreak of the conflict between Palestinian militants and Israel.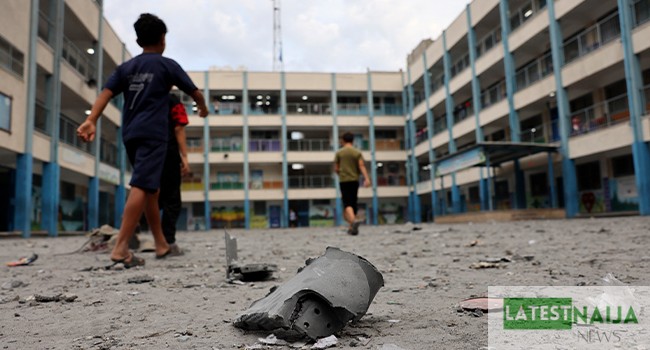 This humanitarian crisis has been driven by a surge in violence and the destruction of homes in the region, as stated by the UN Office for the Coordination of Humanitarian Affairs (OCHA).
The OCHA reported, "Over 123,538 people have been internally displaced in Gaza, predominantly due to fear, protection concerns, and the widespread destruction of their homes."
The grim reality facing Gazans is a consequence of the recent escalation in hostilities between Hamas militants and Israel.
According to the UN agency, over 73,000 of the displaced individuals are currently seeking shelter in schools, some of which have been hastily designated as emergency shelters to accommodate the rising number of refugees. These schools provide crucial facilities, including electricity, meals, clean water, psychological support, and essential medical treatment to those who have been uprooted from their homes.
Adnan Abu Hasna, a spokesperson for the UN Agency for Palestinian Refugees (UNRWA), expressed concern that the numbers of displaced individuals might increase further as the conflict rages on. He stated, "We provide them with a meal, clean water, psychological support, and medical treatment. The situation is dire, and we are doing our utmost to assist those affected by this crisis."
The recent surge in violence began on Saturday when Hamas militants launched deadly attacks in Israel and fired thousands of rockets into the country. In response, Israel has carried out hundreds of airstrikes on the Gaza Strip, leading to widespread destruction and casualties on both sides.
The Gaza Strip, home to approximately 2.3 million Palestinians, has endured a long-standing humanitarian crisis exacerbated by a crippling Israeli blockade imposed after Hamas took control of the territory in 2007.
This blockade has severely restricted the movement of goods and people in and out of Gaza, leading to economic hardships and a dire lack of basic necessities for the population.
As international efforts to mediate and de-escalate the situation intensify, the plight of those displaced in Gaza continues to be a matter of grave concern for the global community.
The UN and humanitarian organizations are working tirelessly to provide aid and support to the vulnerable population, but the need for a lasting and peaceful resolution to the conflict remains paramount.

Submit press release, news tips to us: tips@latestnaija.news | Follow us @ODUNewsNG