South African President Cyril Ramaphosa announced a national public holiday in honor of the South African rugby team, the Springboks, following their historic victory at the 2023 Rugby World Cup in Paris on Saturday.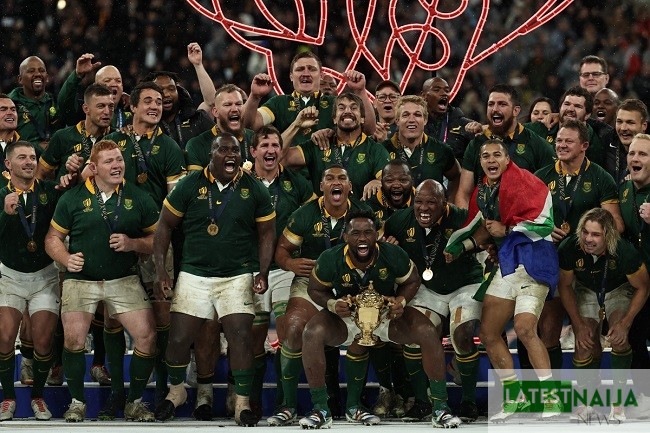 The Springboks secured their fourth Rugby World Cup title with a nail-biting victory over New Zealand, winning by just one point, 12-11.
In a nationwide address on Monday, President Ramaphosa declared the holiday, which is scheduled to take place on December 15, 2023. He emphasized that this decision was made to celebrate the Springboks' remarkable achievement and to unite the nation in shared jubilation.
"The Springboks' extraordinary success on the global stage serves as an inspiration to us all. It is a testament to what can be achieved through dedication, teamwork, and resilience," President Ramaphosa remarked, highlighting the significance of the moment.
President Ramaphosa sees the Springboks' victory as a source of hope and a symbol of unity for the nation.
"We want this holiday to be a day of hope, a day of celebration, and a day of unity," the President declared. "Our sportsmen and women have shown us what is possible when we come together and work towards a common goal."
He also stressed the importance of the Springbok team's unity, expressing his desire for it to become a model for broader societal cohesion. Notably, he pointed out the significant increase in the number of black players in the squad, from just one in 1995 to nearly half of the South African players in the 2023 final.
President Ramaphosa drew parallels between the patriotism displayed in sports stadiums and the nation's collective effort to address its profound inequalities.
"The patriotism we display in sports stadiums should be reflected in our approach to overcoming our challenges," he urged, emphasizing the need for a unified and collaborative effort to tackle the country's pressing issues.
South Africa's victory on Saturday marked the team's fourth Rugby World Cup triumph, solidifying their legacy in the sport. Out of the eight tournaments they have participated in, the Springboks have now secured victory in half of them.
The nation eagerly anticipates December 15, when South Africans will come together to celebrate not only their rugby heroes but also the shared aspiration for a brighter future. The Springboks' triumph serves as a beacon of hope and a call for unity in a country facing significant challenges on various fronts.

Submit press release, news tips to us: tips@latestnaija.news | Follow us @ODUNewsNG