In a dramatic turn of events, Socialist leader Pedro Sánchez has successfully secured a parliamentary vote that will see him assume office for another term as Spain's Prime Minister.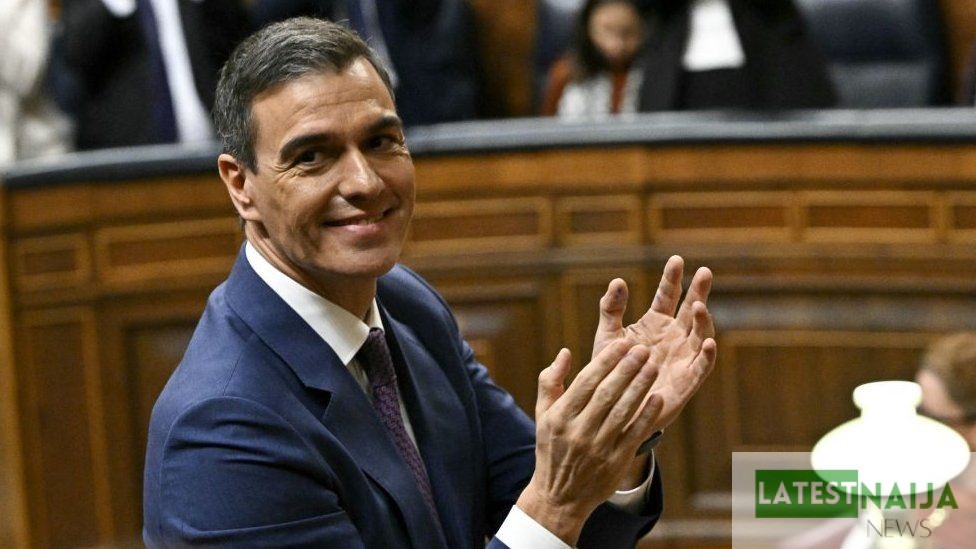 After weeks of intense negotiations and political maneuvering, Sánchez emerged victorious, albeit with a narrow four-seat majority in the 350-seat chamber.
The crucial breakthrough for Sánchez came after he brokered a highly controversial amnesty deal for Catalan leaders who were previously involved in a failed attempt to secede from Spain. The move was met with mixed reactions, as it was seen as a divisive tactic to secure the much-needed parliamentary support.
The political landscape in Spain had been marred by uncertainty following elections in July, which saw the conservative Popular Party emerge as the winner. However, the Popular Party's leader, Alberto Núñez Feijóo, struggled to form a majority coalition, leading to a protracted political stalemate.
Addressing members of parliament, Sánchez defended the amnesty deal, asserting that it was a crucial step in healing the wounds and divisions within Spain. However, his reliance on two Catalan pro-independence parties to form a majority government has ignited fury among his opponents, who argue that the proposed amnesty for politicians and activists could reignite calls for secession, thereby threatening Spain's territorial unity.
The announcement of Sánchez's victory was met with applause from his Socialist MPs, who expressed their support for his leadership. However, as members of parliament exited the Spanish Congress building, they were met with jeers and protests from demonstrators who vehemently opposed the amnesty deal and Sánchez's tactics.
Last weekend, tens of thousands of Spaniards took to the streets in protest, with Feijóo accusing the prime minister of prioritizing his own interests over those of the nation. While Feijóo extended a handshake to his opponent after the vote, he later criticized Sánchez's actions, stating, "I told the president of the government that this was a mistake, but he is responsible for what he has just done."
Feijóo argued that the Socialist Party was aligning itself with those seeking "recognition of a nation different from that of Spain and a referendum for self-determination."
In a bid to contextualize the political turmoil, Sánchez drew parallels with global trends, mentioning the presence of former Fox News TV anchor Tucker Carlson at a recent protest outside the Socialist Party headquarters in Madrid. He noted, "We've seen it in America, in Brazil, and other parts of the world where there is a political right and political far right who do not accept the result of elections."
The escalating tensions surrounding Sánchez's government were further underscored when several Socialist MPs were chased and had eggs thrown at them as they left a café near Congress. Security concerns prompted advice to delegates to prioritize their personal safety given the increasingly charged political atmosphere.
Buses affiliated with the right-wing Catholic organization Hazte Oír cruised past the Congress building, bearing anti-Sánchez messages, including a depiction of Sánchez resembling Adolf Hitler with the slogan, "Sánchez dictator."
Highlighting the fragility of his new government, Ione Belarra, representing the Podemos party within the Sumar left-wing alliance, expressed frustration at not being invited to participate in the new government's ministries. She accused the Socialist Party of favoring a "docile left" that complies with its agenda.
As Spain braces for the challenges and uncertainties ahead, the contentious amnesty deal and Sánchez's narrow parliamentary victory have laid the groundwork for a turbulent political landscape in the years to come.

Submit press release, news tips to us: tips@latestnaija.news | Follow us @ODUNewsNG