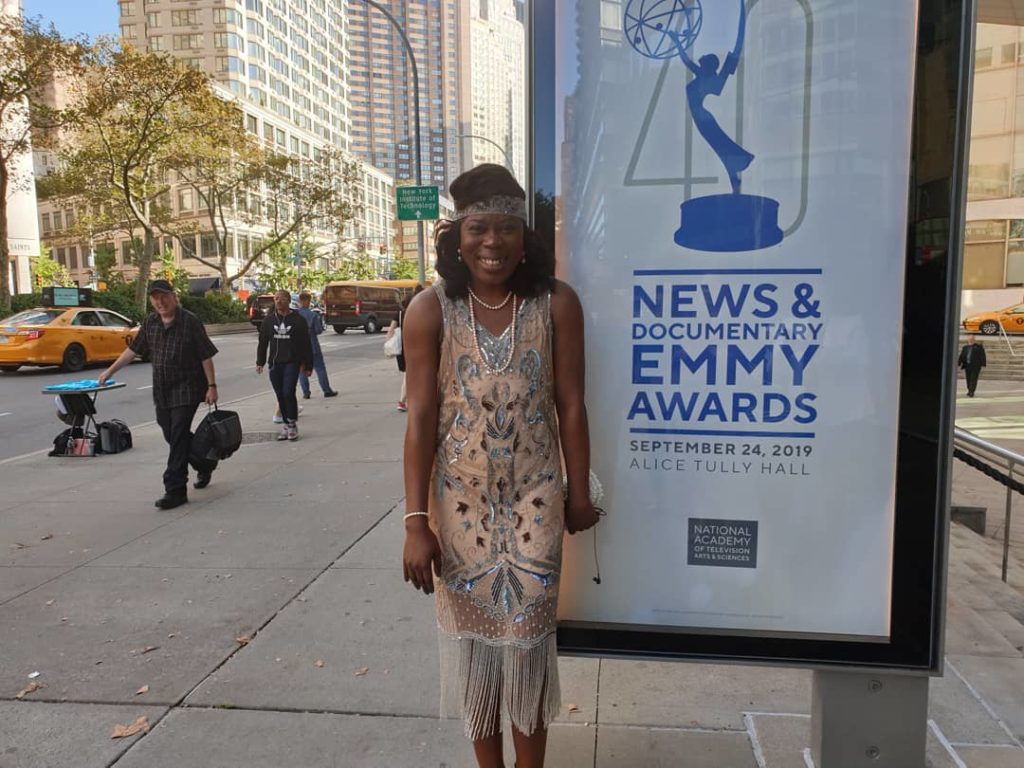 is a Nigerian investigative journalist and the first Nigerian journalist to be nominated for Internation Emmy Award has opened up on her battle with fibroid and breast cancer.
She also revealed that she removed her womb due to fear of carcinogenesis only to find out that it was less important.
Her work was too exposed codeine addiction in Nigeria and stated that she was already facing her challenges during which she was also carrying out her investigative work
She tweeted:
"A year ago, I was diagnosed with breast cancer. Jan 5 to mid-June I had chemotherapy. July 10, I opted for a full mastectomy and declined implants. I've been in remission since July 18. To start this awareness thread, here's me on my last day of chemo!" she wrote.
"I always had really bad fibroids – inherited from Mum's family, along with the slim figure. In 2015, I had to have yet another operation. The doctor said fibroids were too big, so he literally reached behind his desk & gave me a drug to reduce them.
Name? Esmya. As the child of a nurse, I immediately opened the packet. Side-effects? Rare risk of breast cancer.

"Me: Doctor, I don't want this medicine.

"Him: You've to reduce the fibroids or surgery will end in a hysterectomy or greater risks.

"Me: It doesn't even remove fibroids! Am I to risk cancer just to reduce fibroids? Egbami.

"Am I to pour acid on myself, to ease a hot water burn?

"He asked if there's breast cancer in my family. I said no. Did a breast check with hands. He said I had no dense tissue in my breast and should not worry. The risk is small, compared to the fibroids squishing my organs. Fam. Na so I enter one chance.

"I start taking Esmya, and two weeks later…HAIR started growing on one nipple. Egbami. I stopped immediately. Told Oga Doctor. He said if I did at least 8 weeks, it would really help reduce the fibroids. Said to continue. I said no. He said my operation would be risky.

"Me: If this can cause hairy nips in 2 weeks, I don't want to know what else it will do. Doc continued singing my operation would be risky. So I turn to OT Genasis and sing CUT IT!

"Me: Cut off the womb! Rather be womb-less than getting cancer via fibroids! You need to cut it

"That was why I had a hysterectomy, in 2015. Fam, 6 weeks later? I discovered a LUMP… in Miss Hairy Nipple breast. Ran back to Doctor Wayray and he said oh no, it is just a cyst. I was basically in and out this idiot's office for the next few years – he said it was a cyst.

"One time, he said it was the tissue from the weightlifting I was doing at one point, so I stopped. Still, the lump was there. He insisted it was a cyst. By 2017, I and my definitely precancerous lumps moved to Lagos and began working there. Fam! All the time I was doing Ughelli low-budget Nancy Drew, investigating cough syrup? I had breast cancer. BREAST. CANCER. Jesu!!!! Till now, I shudder at it.

All the time I was saying "I am so sorry," to my late elder cousin who was having a bad reaction to chemo in Lagos? I was a cancer patient myself. Mad oh! In fact. Stop reading this thread NOW and go check yourself because with cancer ehn…e fit be you oooo!

"Soon I was always tired, and out of breath, with night sweats. At a point, my GP in Germany was testing me for allergies. When he saw nothing, he said you need to try and get a mammogram, as you say you have a lump. Go to your Gyno and ask.

"I said I already did, even wanted to do private but Doctor Gyno Wayray refused refer me! My GP left me with "well you have to keep trying. Get a mammogram." That man saved my life! I became very aggressive about the lump on purpose, because even with bleeding, still no mamo!

"So I went back and said, give me a mammogram. He said I was not yet 40. I told him I would not leave. I was ready to scatter the place, fam. To stop my shouting and disruptive behaviour, he gave me the mammogram referral. The mammogram lab technicians sent me straight to biopsy.

"I was diagnosed with Herceptin positive DCIS cancer on 4 Dec 2019. I was more relieved than scared at that exact moment. Because it validated my anxiety and symptoms. You are not a hypochondriac. You are not mad. You have to be your own advocate.

"Six days later, I lost my childhood bestie died. I needed a grief therapist. On 5 January, same day I was to move to Leicester for my PhD, I was instead starting chemo. My oncologists were going to be treating me as stage 4, based on the time I had been exhibiting symptoms.

"In fact 6 months earlier, I was in the same hospital with chest pain; they had suspected a heart attack but we now know it was tumors pressing on my chest. Due to this lady's video, I now know this is a sign in left-sided tumours on in women.

"Meanwhile, as per suspected stage 4, I had to have a bone biopsy 2 hours before I started chemo. Those days were hell, but my doctors urged me to be strong – they could not stop treatment for tests, and vice versa. I agreed.

"When my EXTRA-SUPPORTIVE supervisors maintained that they were retaining my PhD scholarship, I had a goal to strive for. They treated me like they knew I was going to get through this. I continued to work, even shifted my chemo to allow my award travels, not the other way round.

"Special shout out to Professor Price and Dr @richarddanbury, who's in this pic with me March 25 – I was halfway through with chemo. Because of you both, I was able to see life away from doctor appointments, needles and pain.

"I had 4 tumours, and named them.

"Felicia" for the one my oncologist called "a satellite" which was growing towards my neckline I REALLY wanted the bitch gone. And other names J, T and C for some especially evil creatures I encountered in the year 2017.

"I would imagine the EC chemo aka "Red Devil" was Rosé, getting them dead-drunk. By late January, Felicia was the first one to disappear. My doctor's eyes watered as she said Ruona, we cannot find it! Me, shaking my bumbum, that day, saying – bye, Felicia!! Stupid bitch."

Submit press release, news tips to us: tips@odunews.com | Follow us @ODUNewsNG