A couple of weeks ago, residents of Mareri area in Gusau metropolis woke up to the gruesome killing of a medical doctor identified as Enoch Okpara in his residence. Dr Okpara, until his murder, was the consultant gynaecologist at the Federal Medical Centre Gusau, Zamfara State.
He was found dead inside his house after days of search by his colleagues who were worried over his absence from work. One of his colleagues at the FMC, Dr Kabir Sada, told Daily Trust that Dr Okpara's murder shocked them. He described the situation as unfortunate and urged security operatives to unmask the killers.
"When he came to Gusau, he was residing in his house alone because he was yet to bring his family. Some criminal elements went and killed him for reasons best known to them," he said.
"Initially, there were wide speculations among the residents that his death might not be unconnected to cult activities with many people alleging that he might belong to a cult group. "The way and manner he was killed made us link his death to cult-like activities. The assailants did not take a dime from him. His valuables were intact, even his car wasn't touched by the attackers.
"Apart from that, his body was cremated right inside his bedroom. None of the neighbours was aware of what had happened until a team of policemen arrived and went into the house," he said. In the same vein, one of his neighbours told our correspondent that though he did not rule out armed robbery, but how the corpse was burnt made him think otherwise.
"Even though for some reason someone or group of individuals might send assassins after him, coupled with the fact that common thieves and or burglars normally beat up their victims if they don't get what they want, but his gruesome murder tells entirely a different motive," he observed.
The spokesman of the state police command, SP Muhammad Shehu, said for some days, colleagues of the deceased couldn't reach him, and decided to check at his residence but found him dead.
They invited the police to investigate the matter. However, a new twist has been added to the mystery behind the murder of the medical doctor after a middle-aged man identified as Abubakar Namalika made a confession when he was apprehended by the police.
The state Commissioner of Police Usman Nagogo said on July 5, a team of policemen attached to Operation Puff Adder responded to a distress call and arrested Abubakar Namalika at Lalan area in Gusau. During interrogation, he said, the police discovered that Namalika was one of the prime suspects who participated in the murder of Dr Okpara at his residence in Gusau.
The suspect confessed that he and four other members of their syndicate, namely Alhaji Shehu Bagewaye, who is a leader of Maijan Ido bandits' camp in a forest in Gusami district of Kauran Namoda LGA of the state; Iro Tsoho, known as Danhajiya Smally; Auwalu Banawa; and Muhammad Jansaidi, now at large, committed the act He further disclosed that Alhaji Shehu Bagewaye sent them to the doctor's house to commit the crime under the guidance of one of his younger brothers now at large.
"We were sent by Alhaji Shehu Bagewaye, to rob the victim but he resisted our demand for money.
"When we struck, we asked him to give us money but he refused. We decided to take his life by macheting him and setting his corpse ablaze. "I have participated in several attacks on villages in the state and killed at least seven people. But I want to tell you that we have repented, we have renounced committing crime.
"I was getting only N5,000 after each of the armed robbery operations. Our masters usually go with the lion's share of the money. And the rifles we used in the attacks belong to them.
That is all that I know about it," Namalika confessed. The police commissioner further explained that efforts have been intensified to apprehend the fleeing suspects are charged to court.
Reacting to the murder, Zamfara State chapter of the Medical and Dental Consultants Association of Nigeria (MDCAN) appealed to security agencies to provide full security for medical practitioners as they strive to save the lives of citizens.
The chairman and secretary of the state's branch of MDCAN, Dr Umar Abdullahi and Dr Tume Alfred, respectively, condemned the murder of Dr Okpara and called on security agencies to fast track investigation and bring the killers to justice.
The body stated that unveiling the killers of their colleague would further reassure them and other citizens of the safety of their lives and property.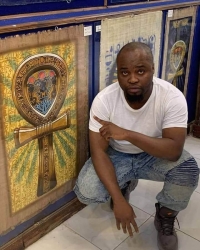 Latest posts by Samuel Nelson
(see all)

Submit press release, news tips to us: [email protected] | Follow us @ODUNewsNG