A cross-section of Nigerians on social media has reacted to a viral video showing the Ooni of Ife and Nollywood veteran, Pete Edochie, exchanging a handshake.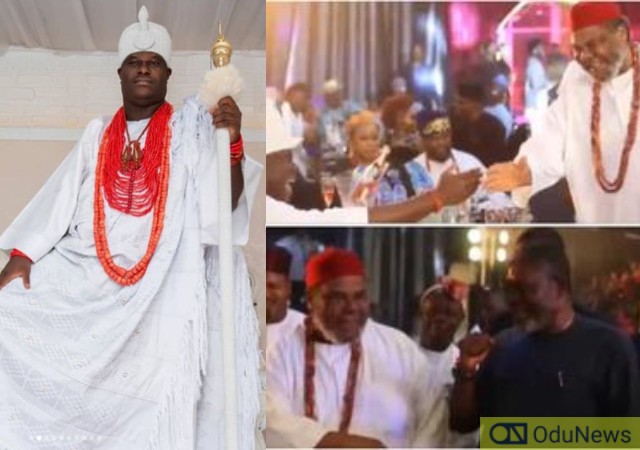 In the video shared by Kanayo and Ooni on their verified Instagram handles, the actors had walked into the venue of Elizabeth Jack Rich's 40th birthday party and they approached Ooni's table to exchange pleasantries with him.
The duo delighted to see Ooni extended handshakes simultaneously and ended with the traditional and popular Igbo backhand handshakes.
Kanayo had captioned it, "Last night was awesome @peteedochie @babarex0 @chidimokeme and the very outstanding His Royal Majesty, Oba Adeyeye Ogunwusi Enitan, Ooni of Ife.
The video posted on Wednesday had amassed over 20,000 likes and 1,141 comments on Kanayo's page.
The clip has since generated varying reactions among Nigerians. While some tagged the handshake as a disrespect to the A-list Yoruba monarch, others held that such exchange is a norm among the elites.
See some reactions below:
Igbakeji Oorisa?!

It's acceptable that he received the cross-culture respect handshake with Pete Edochie because the man Pete carry, but what's his excuse for doing it with Kanayo O Kanayo?? https://t.co/vnCns1NQBu

— Man of Letters. (@Letter_to_Jack) May 25, 2023
Pete Edochie respected the Ooni of Ife by greeting him with the 3 backhand claps that is a greeting for titled men only.

You could see a clear show of respect by two men from two DIFFERENT tribes and cultures in a NEUTRAL meeting ground but clowns said Pete should roll on the…

— SportsDokita (Odogwu ☝️) (@Sports_Doctor2) May 25, 2023
I see people having seizures because Pete Edochie shook hands with Ooni of Ife instead of bowing. Let me shed some light. Pete Edochie holds one of the highest traditional titles in Igbo land.
A titled Igbo man must never bend his knee to any other apart from his Chi .

— Dr Penking™🇳🇬🇦🇺 (@drpenking) May 25, 2023
If Ooni wants EVERYBODY to bow for him then he should stay in his palace or be very selective about the type of events he attends.

You can't be attending parties & public socialite events upandan then expect everyone to bow once they see you, even if they're OZOR Pete Edochie.

— UG (@UgwunnaEjikem) May 25, 2023
Our superior citizens from SE have started again, they said Pete Edochie and Ooni of Ife are both chiefs so he doesn't have to bow to greet the king and as usual the "I am Yoruba but" people are already cheering them on, do these people even have respect for people's tradition?

— JADE~ 🐘 (@jadesolar_01) May 25, 2023
There is absolutely nothing wrong in this video. Two people from two different cultures.

You done expect Chief Peter Edochie to prostrate for the Ooni. If both of them are Yoruba now, that's a different case.

Every man must uphold his culture. https://t.co/2iOPWLzwBW

— Aláúsá Ọláwálé (@Alausa_O) May 25, 2023
Now, if I go into the Ooni's Palace, our tradition allows me to choose to kneel in greeting or not.

I will kneel in greeting, because I am IN HIS HOUSE and I am his guest and therefore at his "mercy" in that instance.

It's respect and courtesy.

Outside? I will not bow or kneel

— Dara Ikenna Ronald Nzimora (@ronaldnzimora) May 25, 2023
The Ooni of Ife, the Alaafin, and the Oba of Benin will always remain classic rulers. There are certain individuals that exude class, charisma and reverence. Pete Edochie is one of such men. Thus, it was absolutely normal that the Ooni shook him based on his own cultural norm.

— Sir David Onyemaizu🦍 (@SirDavidBent) May 25, 2023

Submit press release, news tips to us: tips@latestnaija.news | Follow us @ODUNewsNG