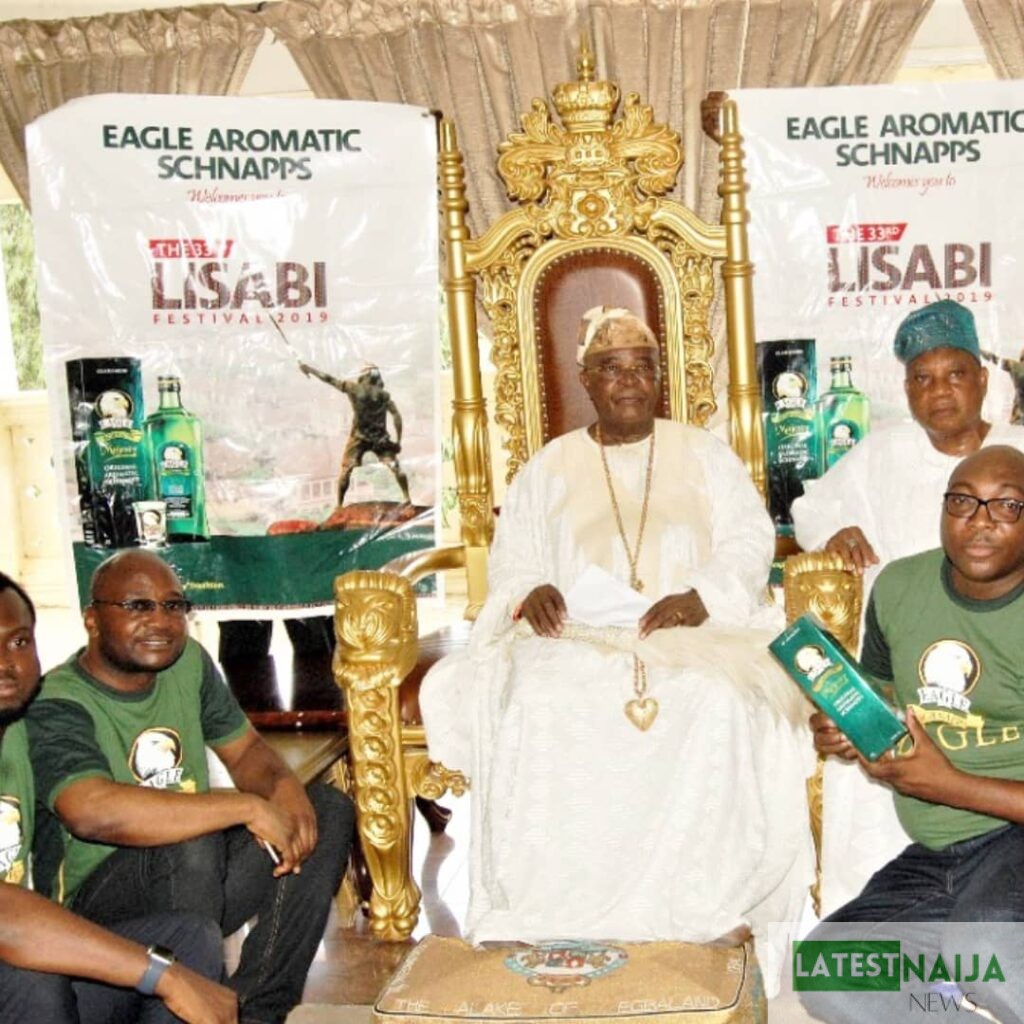 The iconic prayer drink, Eagle Aromatic Schnapps, from the renowned Intercontinental Distillers Limited (IDL), extended heartfelt felicitations to the Alake and Paramount Ruler of Egbaland, Imperial Majesty, Oba Adedotun Aremu Gbadebo, Okukenu IV, as he celebrated his 80th birthday on Thursday.
In an illustrious display of their enduring partnership with the esteemed Alake throne, a delegation representing IDL paid a dignified courtesy visit to the monarch at his opulent Ake palace on Wednesday. The purpose of this visit was to pay homage to the revered king and to commemorate his 80th birthday, as well as introduce the Eagle Aromatic Schnapps brand to the king and his council of chiefs.
Leading the delegation was Mr. Dele Adeyemi, the Regional Sales Manager, Lagos 2, who lauded Oba Gbadebo as a symbol of peace, an exceptional leader of his people, and a catalyst for progress. Adeyemi commended the monarch for his significant contributions to the development of Egbaland, both locally and in the diaspora, as well as to the greater Egba nation.
Furthermore, Adeyemi hailed Oba Gbadebo as an accomplished individual with a multifaceted legacy spanning public service, corporate leadership, and traditional institutions, which he believes is a source of inspiration for generations to come.
In his remarks, Adeyemi expressed heartfelt wishes for the continued good health, serenity, and prosperity of Oba Gbadebo, extending hopes for many more fruitful years. He also commended the monarch for upholding the longstanding partnership between Eagle Schnapps and the Alake's throne, describing it as "exceptionally significant."
Adeyemi stated, "Eagle Schnapps, a brand rooted in cultural heritage, is thrilled to celebrate this historic milestone of His Imperial Majesty, Oba (Dr.) Adedotun Aremu Gbadebo, CFR, the Alake and Paramount Ruler of Egbaland, on his 80th birthday. We rejoice with Kabiyesi for the gift of a life well-lived and graciously given by the Almighty."
"As you mark your 80th birthday, our prayer is that God will continue to renew your strength, grant you good health and peace of mind. We pray that you will continue to enjoy the incomprehensible peace of God. We are honored to be associated with our highly-revered royal father, and we take pride in your role as a beacon of positivity for many generations. Happy birthday, Kabiyesi, and may you have many more joyful returns," he emphasized.
Adeyemi further disclosed that, in a commitment to strengthening its partnership with the esteemed Alake throne, IDL was delighted to introduce the captivating new-look Eagle Aromatic Schnapps to Oba Gbadebo on this momentous occasion.
The celebration extended to include Alake's chiefs, sons, and daughters of Egba Kingdom both at home and abroad, fostering unity among the people.
Oba Gbadebo warmly received the Eagle Aromatic Schnapps team, expressing his profound appreciation to Intercontinental Distillers Limited for their visit and for honoring him in such a splendid manner. He offered heartfelt prayers for the prosperity and continued success of IDL.
In acknowledging the brand's affection for the Egba Kingdom, Oba Gbadebo prayed for enduring peace in Egbaland, Ogun State, and Nigeria as a whole.
"I want to extend my heartfelt gratitude to IDL, particularly Eagle Schnapps, for celebrating with me in this magnificent manner. I feel immensely honored once again. Thank you for consistently being a friend to the throne and a key partner in celebrating my 80th birthday. May IDL continue to prosper and flourish," expressed Oba Gbadebo.
Adeyemi concluded, "Eagle Aromatic Schnapps remains steadfast in upholding Nigeria's rich cultural heritage and providing an authentic prayer drink that resonates with the people."
Notable senior chiefs present during the IDL delegation's visit to the Alake included the Aro of Egbaland, Chief Oluyinka Kufile; Asipa of Egbaland, Chief AbdulRasheed Raji; Ogboye of Egba Christians, Chief Ayinla Oke; and Baagbimo Egba, Chief Akanni Akinwale.

Submit press release, news tips to us: tips@latestnaija.news | Follow us @ODUNewsNG