In a devastating natural disaster, 40 people have tragically lost their lives in a glacial lake burst that unleashed a torrential flash flood in the remote state of Sikkim, India.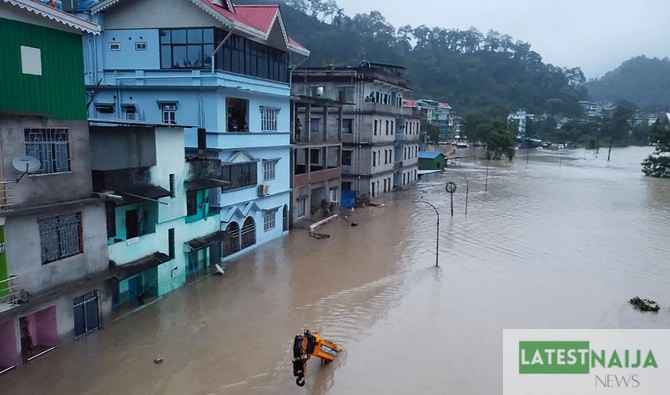 The catastrophe unfolded on Wednesday, leaving behind a trail of destruction and devastation, according to officials.
The calamity was triggered by the sudden bursting of a high-altitude glacial lake located in neighboring Nepal, sending violent torrents of water cascading downstream, wreaking havoc along the way. Climate scientists have sounded alarm bells, warning that such events could become increasingly frequent across the Himalayan region as global temperatures continue to rise and the ice melts at an alarming rate.
Search-and-rescue teams have been tirelessly working to recover bodies amid the turbulent waters, with additional casualties emerging overnight as the floodwaters surged toward the Bay of Bengal.
V.B. Pathak, the top civil servant in Sikkim state, sadly reported, "Nineteen bodies have been recovered" within the boundaries of the state.
Meanwhile, Shama Parveen, a district magistrate in neighboring West Bengal, revealed that an additional 21 bodies had been discovered in her state over the course of the past three days.
The scale of the disaster has also forced nearly 8,000 people to seek refuge in makeshift relief camps hastily established at schools, government offices, and guesthouses, as reported by a state government bulletin.
Despite the grim circumstances, there is a glimmer of hope on the horizon. Authorities have indicated that the improving weather conditions on Friday may provide a "window of opportunity for evacuation of stranded tourists by helicopters," offering a ray of hope in the midst of this tragedy.
In a stark update, LatestNaija.news on Thursday reported that the initial death toll of 10 had risen to a heart-wrenching 40, with an additional 102 individuals still missing, underscoring the gravity of the situation and the challenges faced by those involved in rescue and relief efforts.
As India grapples with this disaster, attention now turns to the long-term consequences and the urgent need for proactive measures to mitigate the growing risks posed by glacial lake bursts in the region.

Submit press release, news tips to us: tips@latestnaija.news | Follow us @ODUNewsNG